Close
New UHV computer science master's program to get underway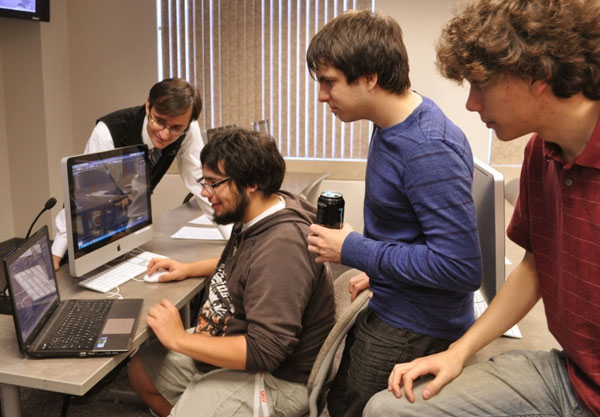 University of Houston-Victoria assistant professor Alireza Tavakkoli, left, assists students with a project. UHV will begin offering a Master of Science in computer science this fall.
With a state-of-the-art facility and established computer science faculty and courses in place, the University of Houston-Victoria already has a lot to offer students interested in software, entertainment and gaming careers.
But UHV is taking the next step this fall by offering a Master of Science in computer science. The two-year program – with an optional thesis – is designed to prepare students for competitive jobs or further study in a doctoral program.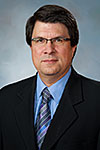 Jeffrey Di Leo
"We are pleased to add a computer science master's degree to our evolving science, technology and mathematics programs," said Jeffrey Di Leo, dean of the UHV School of Arts & Sciences. "With our fantastic motion-capture lab and a knowledgeable faculty, we think this will be an attractive degree program."
UHV already offers a bachelor's degree in computer science and a Master of Science in computer information systems.
"The computer information systems program has been growing and is now one of the largest programs in UHV's Science, Technology and Mathematics Division," said Alireza Tavakkoli, a UHV assistant professor of computer science. "It was time for us to develop a program that was more theoretical in nature."
Starting the new degree won't require UHV to hire new instructors or start new courses. Both are already in place as part of the computer information system master's degree.
"Although the two programs are within the same technical area, they look at different perspectives," Tavakkoli said. "If a student is interested in computer information systems, the core requirements would be more on the application side. For students interested in computer science, the core courses will be more theoretical, such as analysis of algorithms, theory of computation and parallel programming."
The master's in computer science requires 36 credit hours, including 15 hours of core courses. Students in the program have the option of completing 30 hours of classes and spending the remaining six hours on a master's thesis.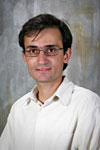 Alireza Tavakkoli
Tavakkoli said students who earn a computer science master's degree will be more competitive in obtaining industry jobs. They also tend to have higher salaries than those with only a bachelor's degree.
Another advantage of pursing a master's degree is it doubles as work experience.
"Master's students will be working on new projects, which will give them a tremendous amount of experience in terms of application of those theories," Tavakkoli said.
Some students interested in a master's degree may see it as the next step in obtaining a doctorate in computer science, mathematics or computer engineering.
"Most doctoral programs are research intensive," Tavakkoli said. "In order to start research right off the bat, students will need a good deal of exploration experience. This program will give them that experience."
Tavakkoli said two strong points of UHV's new degree are affordability and the facilities. He said UHV will compare favorably in cost to other area computer science programs. The university's computer information systems degree was named a "Best Buy" by GetEducated.com in 2011 and again in 2013.
UHV offers students access to high-speed motion capture cameras and 3-D virtual reality equipment. The university opened a Computation & Advanced Visualization Engineering, or CAVE, lab in 2013. The lab is located on the Victoria campus in the University West building.
The lab has 24 high-speed motion capture cameras capable of shooting up to 2,000 frames a second. The cameras can be used for real-time motion capture, where real-world movements of a person wearing a suit are captured. Along with the cameras, UHV also has three motion-capture giganet boxes that interact with the cameras and design software that allows users to build and animate 3-D models. Additional software helps put the models into an interactive environment.
"We think students interested in a job in the gaming or entertainment industries will be excited to work in motion-capture, visualization and simulation in our lab," Tavakkoli said. "There is a lot of research potential to tap into."
Tavakkoli said interested students need a bachelor's degree in a related field, but it doesn't have to be in computer science. Besides being admitted to graduate school, what's needed is a good grasp of mathematical areas that pertain to computer science and programming.
The degree program recently was approved by the UH System and the Texas Higher Education Coordinating Board. It will be a hybrid program where students can take face-to-face and online classes. Many of the core courses will be offered face to face or by Interactive Television.
For more information about the new master's degree, contact Tavakkoli at 361-570-4204 or tavakkolia@uhv.edu.
The University of Houston-Victoria, located in the heart of the Coastal Bend region since 1973 in Victoria, Texas, offers courses leading to more than 80 academic programs in the schools of Arts & Sciences; Business Administration; and Education, Health Professions & Human Development. UHV provides face-to-face classes at its Victoria campus, as well as an instructional site in Katy, Texas, and online classes that students can take from anywhere. UHV supports the American Association of State Colleges and Universities Opportunities for All initiative to increase awareness about state colleges and universities and the important role they have in providing a high-quality and accessible education to an increasingly diverse student population, as well as contributing to regional and state economic development.