Close
Fifth-grader wins contest with poster about Harriet Tubman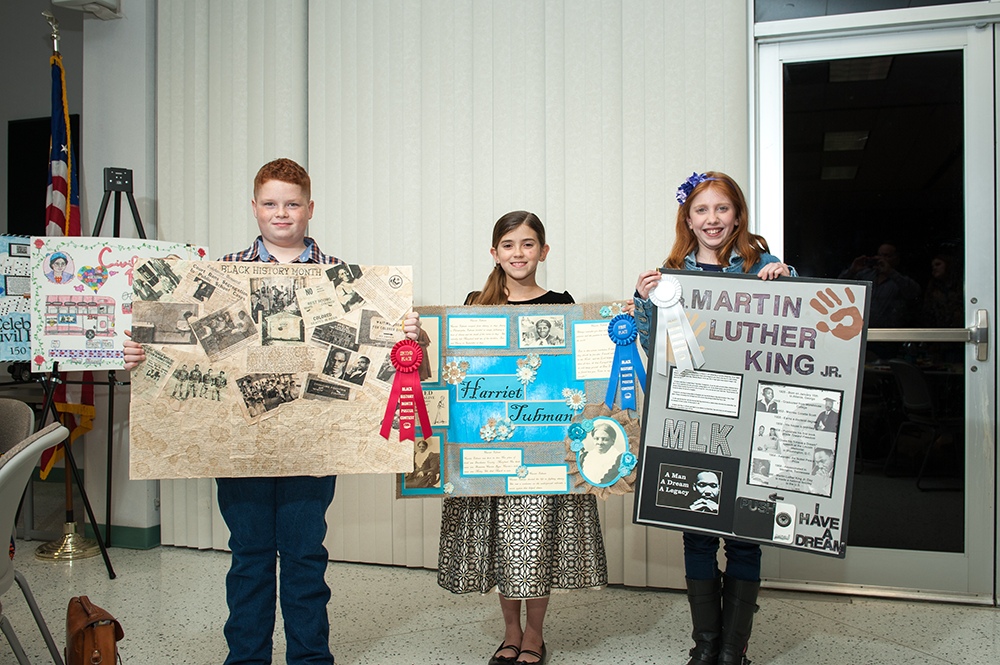 Local fifth-graders show off their winning posters Friday during the Black History Month Poster Contest Reception at the University of Houston-Victoria. From left are Caleb Smith, second place; Hannah Logan, first place; and Amber Short, third place.
Hannah Logan knew a little bit about Harriet Tubman before she entered and won the Black History Month Poster Contest, but now she knows even more.
"I learned that she had a good effect on the black community," said the Mission Valley Elementary School fifth-grader. "She helped the slaves escape from slavery."
Logan was one of seven Victoria fifth-graders honored at Friday's Black History Month Poster Contest Reception. The event attracted more than 175 people to the University of Houston-Victoria University Center to recognize the winners, eat some soul food and view the 176 posters on display throughout the building. This year's theme was "Celebrating Civil Rights."
Every year, UHV, Victoria College and the Black History Steering Committee put on the contest to encourage local fifth-graders to learn more about the achievements of African Americans throughout history. Winners are given scholarships to UHV, summer camp waivers at VC and prize bags.
Logan, the daughter of Kevin Heil and Michelle Logan of Mission Valley, was pleased to win first place in the contest. She said she spends more time raising lambs and playing softball than creating art projects, but learning how to create scrapbooks with her mother helped her with the design of her poster. She won a $2,000 UHV scholarship in addition to a VC summer camp waiver.
"She was so excited," Michelle said Monday afternoon. "She made several phone calls on the way home Friday night, and she took her certificate to school to show everyone."
Caleb Smith, a student at Schorlemmer Elementary School, came in second place for his poster featuring a collage of copies of old photos, newspaper articles, Martin Luther King Jr.'s "I Have a Dream" speech and the text of the Civil Rights Act of 1964. He won a $1,000 UHV scholarship and a summer camp waiver.
In third place was Amber Short from DeLeon Elementary School, who won a $500 UHV scholarship and a waiver. Her poster was about King and even had a button to press to hear him giving his "I Have a Dream" speech during the 1963 March on Washington.
Honorable mention awards went to Cameryn Leonard, DeLeon Elementary; Carolyn Conway, Dudley Elementary; Lily M. Leos, Guadalupe Elementary; and Jason Jacobo, Torres Elementary.
The posters were judged by members of the UHV Diversity Council. The judges based their decisions on creative use of the theme, neatness, impact and accuracy.
UHV faculty and staff members also were invited to vote for the People's Choice Awards by picking their top three favorites. Winners of the People's Choice Awards and their schools were Kristen Balentine, Adam Bouldin, Cory Cann, Sara Moghanloo and Stefanie Trevino, DeLeon Elementary; Andres Garcia, Dudley Elementary; Emily Schultz, Mission Valley Elementary; Andrue Pena, Rowland Elementary; Amar Hamasagar, Schorlemmer Elementary; Savannah Chavez, Isaiah Villarreal and Samantha Juliana Zazaleta, Smith Elementary; and Kaylyn Matula, William Wood Elementary.
All posters submitted to the contest will be on display in the UHV University Center, 3007 N. Ben Wilson St., throughout February during regular business hours.
The University of Houston-Victoria, located in the heart of the Coastal Bend region since 1973 in Victoria, Texas, offers courses leading to more than 80 academic programs in the schools of Arts & Sciences; Business Administration; and Education, Health Professions & Human Development. UHV provides face-to-face classes at its Victoria campus, as well as an instructional site in Katy, Texas, and online classes that students can take from anywhere. UHV supports the American Association of State Colleges and Universities Opportunities for All initiative to increase awareness about state colleges and universities and the important role they have in providing a high-quality and accessible education to an increasingly diverse student population, as well as contributing to regional and state economic development.