Close
UHV events to focus on local, national importance of African American history
The University of Houston-Victoria is continuing its Black History Month celebration with two free events that focus on the local and national significance of African American history.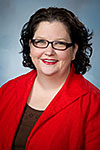 Beverly Tomek
The events are a genealogy workshop featuring the African American Cemeteries Project, a database of historical information from seven Crossroads counties, and a lecture by Douglas Egerton, a nationally known historian who will discuss major changes after the Civil War. Both events are sponsored by the UHV School of Arts & Sciences.
The genealogy workshop will be from 7 to 9 p.m. Wednesday at the Victoria College/UHV Library, 2602 N. Ben Jordan St. During the workshop, Beverly Tomek, a UHV assistant professor of history in the School of Arts & Sciences, and James Lucas, a local genealogist who created the database, will review how to use the database and search functions.
Tomek said the workshop is geared toward those interested in African American history, as well as those who want to learn about their own genealogy.
"It's important to preserve local histories," Tomek said. "There's a lot we can learn by studying what average people were doing on a given day, no matter what their race. That's why the work Mr. Lucas and other genealogists do is essential for our community."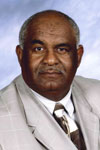 James Lucas
The African American Cemeteries Project grew out of Lucas's interest in compiling information about his family. It eventually led to funeral home records and progressed to personal interviews, checking census records, and other forms of research about deceased African Americans. The database is hosted on the VC/UHV Library website.
And while Lucas's research encompasses African American cemeteries, the workshop will go beyond that to discuss how anyone can get involved with genealogy. He will talk about his organizational and research techniques so that attendees can add their own information to the database or start their own database.
"The Internet has made genealogy much easier, but there is still a lot of piecing together of records that has to happen," Tomek said. "Databases, such as the one by Mr. Lucas, are filling in those blanks so that someone in the future won't come up against a dead end in their search."
Egerton will discuss tensions after the Civil War and the promise of reconstruction during a lecture at UHV. The date of lecture has been postponed due to travel problems. A new date will be announced later on.
Egerton is a history professor at Le Moyne College in Syracuse. He has written seven books about race in the U.S. His newly released book, "The Wars of Reconstruction: The Brief, Violent History of America's Most Progressive Era," was reviewed in the Wall Street Journal and New York Times. He also appeared on CSPAN to talk about his book, which explores state and local politics and the struggle of African Americans during the early years after the Civil War.
Egerton said that media, such as the novel "The Clansman," and films such as "Birth of a Nation" and "Gone with the Wind," have altered the perception of the U.S. after the Civil War.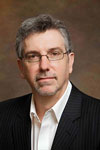 Douglas Egerton
"The cultural war waged in the early 20th century has many Americans believing that just after the Civil War was a time where Republicans in Washington sought to punish the defeated South," he said. "In fact, it was a progressive era that saw enormous strides in voting rights, education and popular democracy."
Tomek said Egerton's talk, based off his book, will bring to light an often misunderstood period in U.S. history.
"Dr. Egerton's book is able to show the tension and promise of Reconstruction, something previous books haven't been able to," she said. "He delves into the fight over what society should have looked like once slavery was outlawed. I look forward to hearing his perspective on the hope and promise after Reconstruction and how it ultimately died."
Last week, UHV kicked off its celebration of Black History Month with a poster contest reception at the UHV University Center. The event was attended by more than 175 people who recognized the winners, ate soul food and viewed the 176 posters on display throughout the building. The contest was organized by UHV, Victoria College and the Black History Steering Committee to encourage local fifth-graders to learn more about the achievements of African Americans throughout history. This year's theme was "Celebrating Civil Rights."
All posters submitted to the contest are on display in the UHV University Center, 3007 N. Ben Wilson St., throughout February. They can be viewed by the public during regular business hours.
The University of Houston-Victoria, located in the heart of the Coastal Bend region since 1973 in Victoria, Texas, offers courses leading to more than 80 academic programs in the schools of Arts & Sciences; Business Administration; and Education, Health Professions & Human Development. UHV provides face-to-face classes at its Victoria campus, as well as an instructional site in Katy, Texas, and online classes that students can take from anywhere. UHV supports the American Association of State Colleges and Universities Opportunities for All initiative to increase awareness about state colleges and universities and the important role they have in providing a high-quality and accessible education to an increasingly diverse student population, as well as contributing to regional and state economic development.