Close
UHV freshman focuses on passion for photography
As the lights dim and the curtains open, Cheri Stanton dreams of the full house watching the make-believe Broadway production of her life.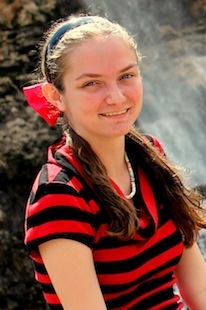 Cheri Stanton
As a communication design freshman, Stanton's passion for theater and photography are driving her studies at the University of Houston-Victoria.
Even though the university does not offer a theater program, the 18-year-old stills finds a way to incorporate that love into her classes. In her favorite class, history, one paper she wrote stands out from the rest.
"I just kept tying things back to musicals and Broadway," Stanton said. " I turned to 'Pocahontas' for one answer. Another was about policy from New Jersey, so I used that to tie in 'Jersey Boys,' and then I answered some questions with really cheesy musicals like 'Pirates of Penzance.'"
Her love of theater started early.
"I was in a musical, and the vocal director told me to never sing, to stop dancing and that I couldn't act," Stanton said.
That criticism didn't shake her. She landed a role as a salt shaker in "Beauty and the Beast."
With her healthy sense of humor, she decided to step down from the stage through another way of being involved – photography.
"Because my sister was involved in performances, I decided to take pictures of those shows," she said.
Stanton's "baby," as she calls it, is a Rebel T3 Canon camera. When school isn't in session, she spends time shooting photos at Six Flags Fiesta Texas in her hometown of San Antonio.
Her dream is to travel, shoot photos and watch theater. At some point, she would like to publish a book of pictures. She wants photography to always be a part of her life.
"My favorite thing with photos is when I randomly get a thank you note from a relative of the performers I photograph," Stanton said. "Sometimes the relatives are four states away and can't be in the audience. I smile really big because I love those moments."
Above all, she wants to be an inspiration.
"So many musicals inspire me," Stanton said. "But I have no musical talent, so I try to inspire others through photography."
I am a Jaguar is an online feature highlighting the exceptional students who attend the University of Houston-Victoria. To nominate a student, contact Paula Cobler , UHV director of marketing and communications, or call 361-570-4350.
The University of Houston-Victoria, located in the heart of the Coastal Bend region since 1973 in Victoria, Texas, offers courses leading to more than 80 academic programs in the schools of Arts & Sciences; Business Administration; and Education, Health Professions & Human Development. UHV provides face-to-face classes at its Victoria campus, as well as an instructional site in Katy, Texas, and online classes that students can take from anywhere. UHV supports the American Association of State Colleges and Universities Opportunities for All initiative to increase awareness about state colleges and universities and the important role they have in providing a high-quality and accessible education to an increasingly diverse student population, as well as contributing to regional and state economic development.