Close
Math, computer science event to explore mystery, magic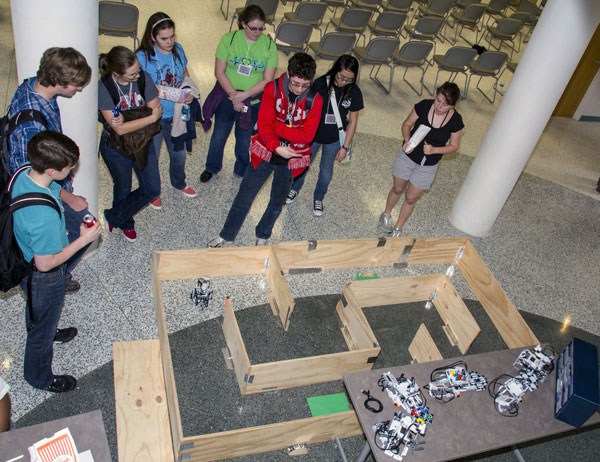 Area high school students watch a robot navigate through a maze during the 2013 University of Houston-Victoria/Victoria College Math & Computer Science Awareness Day. The robot was built by high school students who participated in an after-school program funded by an Alcoa Foundation grant.
The 19th annual Math & Computer Science Awareness Day at the University of Houston-Victoria and Victoria College will bring mystery and magic to area high school students.
This year's theme is "Mathematics, Magic & Mystery." The March 18 event is scheduled close to April's national Math Awareness Month and Robotics Awareness Month but is being held in March this year to better fit area schools' schedules.
Math & Computer Science Awareness Day will take place on the UHV and VC campuses, starting at 8:30 a.m. in the Multi-Purpose Room of the UHV University Center, 3007 N. Ben Wilson St. The event is made possible by a $20,000 grant from Alcoa Foundation.
"It's important that area high school students have the chance to explore science, technology, engineering and mathematics (STEM) outside of the classroom," said Jeffrey Di Leo, dean of the UHV School of Arts & Sciences. "We are once again honored to host an event that gives students access to university faculty and industry leaders knowledgeable in these fields."
The event's theme goes well with one of the organizer's interest in magic. Ricardo Teixeira, an assistant professor in the UHV School of Arts & Sciences and director of the mathematics program, likes to use magic in his classroom to demonstrate how math plays a part in the mystery of magic. He will show attendees some of his math-related tricks during his "Mathemagics" breakout session.
"I enjoy learning and performing magic tricks because a lot of illusions are based off mathematics and statistics," Teixeira said. "In the 'Mathemagics' session, we will break down tricks by using our mathematics knowledge."
Alexandra Corbin, a UHV senior majoring in mathematics, will talk about how math can help solve real-world crimes during another breakout session.
Three different competitions also are a big part of the UHV/VC Math & Computer Science Awareness Day. Students can compete in up to two of three areas in math, computer science or a game show.
In the math and computer science competitions, students compete against others in their grade by taking tests. The winner in each grade will receive a Kindle Fire HDX. In the game show competition, teams of four students from any grade will show off their knowledge in a fun setting.
The college-level tests were created by UHV faculty members and require students to use critical thinking and problem-solving skills. Samples from previous tests are available at mathcs.aiatuhv.com.
Teixeira said the tests are not about what formulas the students know.
"It's important for students to be good critical thinkers because they can solve a lot of problems without knowing a lot of mathematics," Teixeira said. "If a student has the necessary skills, he can do different types of math problems by just using his mind."
Event organizers have been impressed with area high school students' knowledge on the tests in previous years.
"The Crossroads area may be small compared with big cities, but the quality of the students and their knowledge is impressive," said Alireza Tavakkoli, an assistant professor in the UHV School of Arts & Sciences and director of the university's digital gaming and simulation program. "The success of the high school students who participate in this event and go on to have STEM careers has a lot to do with their excellent teachers."
After lunch, there will be robotics demonstrations from a group of high school students participating in a semester-long robotics and simulations research course, also funded by the grant from Alcoa Foundation.
Students also will have the opportunity to interact with industry professionals on a one-on-one basis. These company representatives will have booths set up where they will demonstrate hands-on activities and experiments.
"Alcoa is proud to sponsor the event, and we also thank the many faculty, staff and students from UHV and VC who go all out to make this an inspiring event," said Ben Kahrs, location manager for Alcoa Point Comfort Operations. "It is exciting to spend the day interacting with our region's top high school students as they participate in hands-on STEM activities."
Tavakkoli said the amount of work it takes to put on the event is worth it because the partnership with industry leaders benefits the students.
"This is an opportunity for high school students to meet professionals who have careers that interest them," he said. "They can ask questions, learn more about various mathematics and computer science fields, and maybe make a connection for a future job."
The day will conclude with an awards ceremony.
Area teachers who need more information or want to register their high school students to attend the event should visit mathcs.aiatuhv.com or contact Teixeira at 361-570-4206 or teixeirar@uhv.edu. Teachers are encouraged to register students by March 7.
The University of Houston-Victoria, located in the heart of the Coastal Bend region since 1973 in Victoria, Texas, offers courses leading to more than 80 academic programs in the schools of Arts & Sciences; Business Administration; and Education, Health Professions & Human Development. UHV provides face-to-face classes at its Victoria campus, as well as an instructional site in Katy, Texas, and online classes that students can take from anywhere. UHV supports the American Association of State Colleges and Universities Opportunities for All initiative to increase awareness about state colleges and universities and the important role they have in providing a high-quality and accessible education to an increasingly diverse student population, as well as contributing to regional and state economic development.