Close
UHV/ABR author expresses cultural identity through stories
At a young age, author Alex Espinoza realized he could almost hypnotize people with his stories.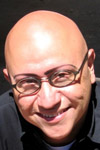 Alex Espinoza
"I would give my sisters my stories to read, and they would stop whatever they were doing to read them," he said. "I realized, as a writer, I could make the world stand still for that reader for just a little bit."
He will try to captivate attendees on March 6 as the next author in the Spring 2014 University of Houston-Victoria/American Book Review Reading Series. He will read from his latest novel, "The Five Acts of Diego León," at noon in the Alcorn Auditorium of UHV University West, 3007 N. Ben Wilson St. The public is invited to attend the free event, and light refreshments will be served.
Most of his stories in high school had gothic themes and were set in England, similar to the Shakespeare and Dickens stories he read. It wasn't until he attended community college that Espinoza discovered he was missing an entire canon of literature he could relate to – Latino literature.
"I encountered authors of color writing about experiences that mirrored my own," Espinoza said. "It was an epiphany for me to realize that I could write stories about people like my family and someone would want to read them. That's when I decided to make writing my profession."
In community college, Espinoza participated in the Puente Project, a nonprofit organization that helps first-generation Latino community college students transition to four-year universities. The program offered him mentoring, academic counseling and assistance with navigating the financial aid system. It also focused on writing, where he learned the importance of expressing his cultural identity.
"I learned how to take these stories I grew up hearing and the hardships I experienced as a child and turn them into something positive," he said.
Espinoza went on to earn a bachelor's degree from the University of California-Riverside and a Master of Fine Arts from UC-Irvine. Now he passes on his love of writing as a literature and creative writing associate professor at California State University-Fresno.
When he's not helping the next generation of writers, Espinoza is writing about his Latino culture. His fictional work has been featured in various anthologies and journals such as The Southern California Review, and his essays have appeared in The New York Times. "Still Water Saints," his debut novel, was published in 2008 simultaneously in Spanish and English.
In 2013, his second novel, "The Five Acts of Diego León," was published. The novel follows a young Mexican actor working his way up in the movie business during Hollywood's Golden Age.
Readers of the inaugural Huizache magazine in 2011 got a sneak peek of the story, which was part of an early draft of the book.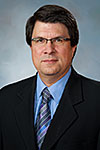 Jeffrey Di Leo
"We are so fortunate that Mr. Espinoza shared his writing talents in the first issue of our Latino literature magazine," said Jeffrey Di Leo, ABR editor and publisher, and dean of the UHV School of Arts & Sciences. "I am eager to learn more about Mr. Espinoza's journey with writing 'The Five Acts of Diego León' and hearing him read it to us."
Espinoza already is knee deep in his next novel, which explores different levels of masculinity within three generations of a Mexican American family. He recently was awarded the National Endowment for the Arts Creative Writing fellowship, which will allow him to take a sabbatical in the fall so he can finish the novel.
With Latinos becoming a majority of the minority population in the U.S., Espinoza stresses the importance of the Latino writing community as it branches out to write about the mix between heritages, cultures and political awareness.
"As a society, we must pay homage to the voices that give us a different perspective on what it means to be an American," he said. "Latino writers have the ability to look at the world around them and critique it through a specific set of eyes."
Other writers scheduled for the Spring 2014 UHV/ABR Reading Series are:
Scott Russell Sanders, March 27 – Sanders is the author of 20 books consisting of collections of nonfiction, novels and personal stories. He also is the author of three children's books and is known for his attention to nature and history in his writings. Through the years, he has collected numerous awards for his work, including the Mark Twain Award and the Lannan Literary Award.
Domingo Martinez, April 24 – Martinez is the author of "The Boy Kings of Texas." The book explores his experience growing up in the border town of Brownsville and the cultural collision of two countries. Martinez was a nominee for the 2013 Pushcart Prize and a finalist for the National Book Award. He will be the 70th speaker the UHV/ABR Reading has welcomed to Victoria.
Espinoza will be available after the reading to sign copies of his book, which can be purchased at the event. During his visit, Espinoza will meet with students and attend functions in the community.
ABR is a nonprofit, internationally distributed literary journal published six times a year. It began in 1977, moved to UHV in 2007 and has a circulation of about 8,000. The journal specializes in reviews of works published by small presses.
For more information about the UHV/ABR Reading Series, call the ABR office at 361-570-4101 or go to www.americanbookreview.org.
The University of Houston-Victoria, located in the heart of the Coastal Bend region since 1973 in Victoria, Texas, offers courses leading to more than 80 academic programs in the schools of Arts & Sciences; Business Administration; and Education, Health Professions & Human Development. UHV provides face-to-face classes at its Victoria campus, as well as an instructional site in Katy, Texas, and online classes that students can take from anywhere. UHV supports the American Association of State Colleges and Universities Opportunities for All initiative to increase awareness about state colleges and universities and the important role they have in providing a high-quality and accessible education to an increasingly diverse student population, as well as contributing to regional and state economic development.