Close
Speaker shares Compaq's successes, tribulations with UHV business students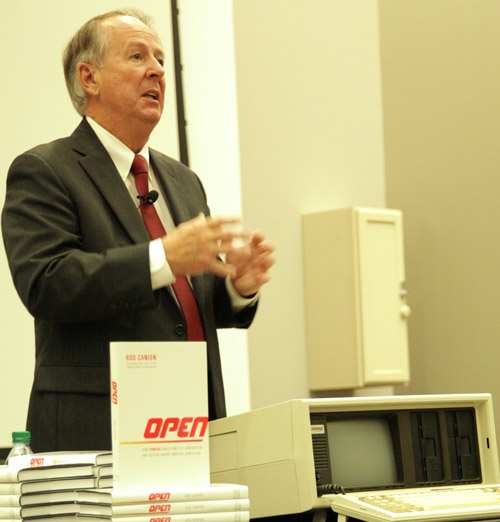 Ron Canion, co-founder and former CEO of Compaq Computer Corp., discusses an early model of the company's portable computer during a University of Houston-Victoria Willis Group Distinguished Speaker Series presentation Tuesday at UH Sugar Land. Also displayed is Canion's book, "Open: How Compaq Ended IBM's PC Domination and Helped Invent Modern Computing."
SUGAR LAND – While Compaq set a U.S. corporate record for first-year sales in 1983 by manufacturing portable computers, it was two key production decisions that shaped the future success of the company.
In a Willis Group Distinguished Speaker Series presentation for 175 University of Houston-Victoria students, alumni, faculty and staff Tuesday at UH Sugar Land, Rod Canion addressed those two key decisions and the early days of Compaq.
Canion co-founded Compaq Computer Corp. and served as its CEO for nine years. The UH alumnus and Houston native answered more than 20 questions from UHV students, several dealing with leadership strategies and how the company strived to compete with industry giant IBM.
"Mr. Canion's insightful and fascinating presentation was well received by the overflow crowd we had at the event," said Farhang Niroomand, dean of the UHV School of Business Administration. "It was great to see so many of our students engage with Mr. Canion and learn from his experiences."
Compaq was one of the first companies to make portable computers. When Compaq began, Canion thought it would sell a few thousand computers the first year.
"As Compaq started showing portable computers to retailers, it found out there was huge demand," said Jeff Blodgett, associate dean of the business school. "It was a real dilemma because company executives had to decide if they could ramp up production that fast. It wasn't easy to build factories, get parts, hire and train workers, and ensure the computers had no defects. But on the other hand, if they didn't meet this demand, someone else might have. They made a bold decision to move forward, and by the end of the first year, Compaq recorded sales of $111 million."
How Compaq arrived at the decision was a good lesson, Blodgett said. Canion brought his whole team together to discuss it.
"Compaq developed a unique culture as the company grew," Blodgett said. "If an employee didn't think something was a good idea, he was free to voice that opinion. A lot of people gave input, which was very critical."
The team had another big decision to make in January 1984. That was when IBM announced it would soon sell a portable computer to go along with its popular desktop models. Many retailers decided to wait for IBM's portable computer rather than order more from Compaq.
"Compaq didn't have a lot of warehouse space, so Canion mentioned the company had to rent semi-trailers, fill them up with portable computers and park them in the parking lot," Blodgett said. "When the parking lot became full, Canion had to call friends and use some of their parking lots. Company executives knew if IBM didn't come through, there would be pent-up demand. But at the same time, they were making all these computers without being sure they would have orders."
Canion said Compaq stayed with full production, and it paid off when IBM announced in February 1984 that its portable computer wouldn't come out until that summer.
John O'Dell, a UHV Dean's Advisory Council member and CEO of Connections Intelligence in Houston, said there were several important takeaways from Canion's speech.
"I thought he was candid, entertaining and really informative about some of the critical points in Compaq's life," O'Dell said. "In a startup company, there's a critical need to get to market and not get outrun by competitors. Compaq had to use its best judgment about next steps even when it was unclear what was happening in the market."
During his tenure as CEO, Compaq reached the Fortune 500 and the $1 billion revenue mark faster than any other company at the time. By 1991, Compaq employed more than 10,000 people and operated in 65 countries worldwide.
Since leaving Compaq in 1991, Canion has been involved in a long list of startups and early-stage companies as an angel investor, adviser and director. He helped found the Houston Technology Center in 1999 and the Goose Society of Texas in 2005, two organizations focused on encouraging entrepreneurs and helping early-stage companies succeed. He currently is a director of Invesco, ChaCha Search and Houston Methodist Research Institute.
Similar to many UHV business students, Canion had to work his way through school. He worked at Texas Instruments and took electrical engineering courses at night.
"Industry luminaries such as Rod Canion reinforce the value of the working student," said Joseph Babaian, a 2012 UHV business graduate. "Meeting with students and alumni, Rod shared his experiences working his way through school and underlined the positive ways this shaped him as a successful entrepreneur and leader. The UHV School of Business Administration continues to provide relevant opportunities to encourage, inform and stimulate its stakeholders."
The Willis Group Distinguished Speaker Series brings in local executives to discuss contemporary business issues. The Willis Group includes multiple companies that address a variety of business staffing needs and solutions. Through its agreement with the UHV School of Business Administration, the Willis Group creates opportunities by providing business students with professional development and career placement assistance, supporting faculty research and classroom instruction, and actively participating in events to promote the success of the business school and its students.
The series began in 2011. Past speakers have included Houston-area executives in the health care, oil and gas, real estate and staffing industries, such as Farouk Shami, founder and chairman of Farouk Systems; Steven Kaufman, president of Zeus Mortgage; Herber Lacerda, president and CEO of Regency Nursing & Rehabilitation Centers; and Jim McIngvale, founder and owner of Gallery Furniture.
The University of Houston-Victoria, located in the heart of the Coastal Bend region since 1973 in Victoria, Texas, offers courses leading to more than 80 academic programs in the schools of Arts & Sciences; Business Administration; and Education, Health Professions & Human Development. UHV provides face-to-face classes at its Victoria campus, as well as an instructional site in Katy, Texas, and online classes that students can take from anywhere. UHV supports the American Association of State Colleges and Universities Opportunities for All initiative to increase awareness about state colleges and universities and the important role they have in providing a high-quality and accessible education to an increasingly diverse student population, as well as contributing to regional and state economic development.