Close
Century-old Victoria architectural drawings find home at VC/UHV Library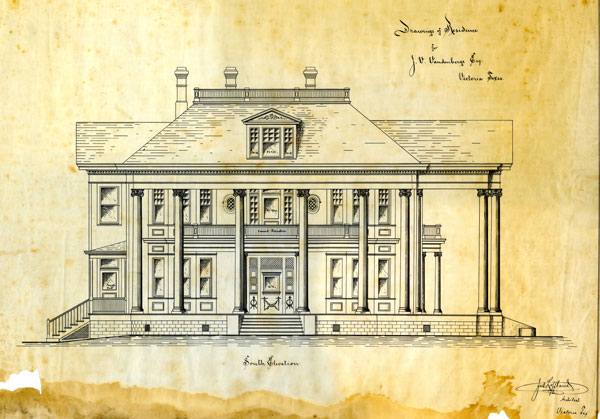 This design sketch of the J.V. Vandenberge House is one of 762 drawings by Victoria architect Jules Leffland available for public viewing at the Victoria College/University of Houston-Victoria Library. Leffland designed more than 80 structures in the late 1800s and early 1900s.
Several of the historical buildings in and around downtown Victoria started with Jules Leffland sketching out structural designs in the late 1800s or early 1900s.
More than 500 of his architectural drawings now are at the Victoria Regional History Center inside the Victoria College/University of Houston-Victoria Library. They are available for the public to view and will be useful to architects, historians or scholars wanting to get a better feel for local architecture from 1898 to 1929.
"The history of Victoria is very much tied up in its structures," said Sheron Barnes, UHV special collections librarian. "It's great to get the drawings and know we can care for them for the future. Jules Leffland was an important architect for the city."
Operating out of Victoria, Leffland designed and supervised the construction of at least 80 structures in the late 1800s and early 1900s. He designed churches, schools, banks, city halls, hotels and residences in an area from Wharton to Kingsville. A half-dozen of the Victoria drawings in this collection are buildings listed on the National Register of Historic Places.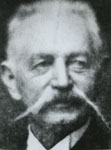 Jules Leffland
The Victoria Regional Museum Association transferred the drawings to the history center when the McNamara House Museum closed. Barnes inventoried the drawings, which included 562 from Leffland and 27 from two of his sons. Barnes said the drawings are in fairly good condition. Architecture paper tends to hold up better than other types of paper.
"A lot of the drawings were in tubes, and some were stacked," she said. "I now have them stored in our maps cases and archival boxes."
Barnes said this is the first architectural collection donated to the history center. In 2012, the center received a set of drawings by Jackson County architect Hugh L. Ottley. This collection is not yet processed for public viewing.
"It's quite a project and responsibility to handle these historical documents, but we're glad to do it so that the public has access to the drawings," Barnes said. "A long-range goal is to digitize the collection both for preservation and easier research access."
The Victoria Regional History Center acquires, preserves and makes available to students, faculty and the public archival records of enduring value that document the histories of UHV and VC as well as those records that preserve the social, political, economic and cultural history of Texas.
Leffland was born in 1854 in Usserød, Denmark, where his father and grandfather worked as architects. Leffland received his architectural training at the Institute of Technology of Copenhagen. His education and upbringing are reflected in his architectural style.
"The beautiful homes he designed are late Victorian and classic revival architecture style," Barnes said. "A lot of the structures he built are still around. A few have been razed for something else to be built on the property, but most are still standing and in use today."
The Victoria structures Leffland designed that are listed on the National Register of Historic Place are:
George H. Hauschild Building, 206 N. Liberty St.
Jules Leffland House, 302 E. Convent St.
Mrs. J.V. Murphy House, 204 E. Santa Rosa St.
Old Nazareth Academy, 105 W. Church St.
J.V. Vandenberge House, 301 N. Vine St.
Victoria Colored School, 702 E. Convent St.
Barnes said Leffland's own home is one of the more recognized residences in town. His house and the Vandenberge home are typical Leffland designs with tripartite door and window arrangements, wrap-around porches and double entrances on two sides.
In 1879, Leffland married Emilie Sophie Struck of Copenhagen, whose father owned the Horsholm, on the Baltic Sea. The couple had seven children.
Leffland and his family immigrated to Texas in 1886 at the urging of Viggo Koehler, a Bee County rancher and friend. His first jobs involved moving homes from Indianola inland to Cuero after the 1886 hurricane. Some of the other buildings he designed in Victoria were the J.E. Ryan building, Bianchi's Pharmacy, Hauschild Cigar Factory and the Mitchell School.
His Victoria business was later renamed Leffland & Son after his son, Kai, joined the profession. A second son, Paul, followed suit in the family business a few years later. At age 70, Leffland became a U.S. citizen. He died that same year, 1924, at his home in Victoria.
The drawings can be viewed at the center from 8 a.m. to 5 p.m. weekdays during the fall and spring semesters. For more information, contact Barnes at 361-570-4176 or barness@uhv.edu.
The University of Houston-Victoria, located in the heart of the Coastal Bend region since 1973 in Victoria, Texas, offers courses leading to more than 80 academic programs in the schools of Arts & Sciences; Business Administration; and Education, Health Professions & Human Development. UHV provides face-to-face classes at its Victoria campus, as well as an instructional site in Katy, Texas, and online classes that students can take from anywhere. UHV supports the American Association of State Colleges and Universities Opportunities for All initiative to increase awareness about state colleges and universities and the important role they have in providing a high-quality and accessible education to an increasingly diverse student population, as well as contributing to regional and state economic development.