Close
High school students building, guiding robots in UHV course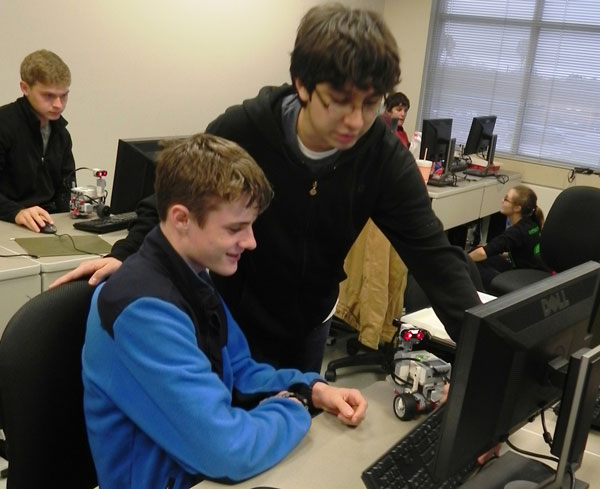 Victoria West High School students James Easton, left, and Corbin Adams discuss robot movement before class March 3 at the University of Houston-Victoria. Easton and Adams are two of 13 high school students taking a UHV robotics course.
When a robot senses it is nearing the wall of a maze, it has a choice to make – right or left.
A total of 13 area high school students taking a robotics course at the University of Houston-Victoria are in charge of assembling and programming the robot so it can complete the maze. That's often easier said than done when using artificial intelligence to control movement.
"The students have a lot of say in the programming, but at some point, it becomes the robot's choice because it is moving autonomously," said Alireza Tavakkoli, the class instructor and an assistant professor in the UHV School of Arts & Sciences.
Zach Janzow, a Victoria West sophomore taking the class, explained that the motors on the robots move the wheels and control the ultrasonic sensor. Each motor is plugged into the robot's onboard computer.
"The sensor sends out a sound wave, so the robot can read distance," Janzow said. "It will drive until it's a certain distance from the wall. Then it will shift to the left and right, and read the distance. Whatever distance is farther, it will go that way. There are a lot of engineering components involved, which is what makes it interesting to me."
The students will demonstrate their robots moving through a maze during UHV/Victoria College's Math & Computer Science Awareness Day on March 18. The theme for the 19th annual event is "Mathematics, Magic & Mystery."
In its third year, the UHV robotics consortium is a program aimed to provide educational, research and development opportunities for high school students in Victoria and surrounding counties who are interested in the fields of robotics, computer science, digital gaming and simulation.
The consortium consists of a Math & Computer Science Awareness Day, a semester-long robotics course and a summer robotics camp. Funding is made possible by a $20,000 grant from Alcoa Foundation.
Tavakkoli said every year he introduces new elements to the class, which has increased in size and scope. This year, UHV bought new robots and sensors. The students use advanced Lego robotics kits and computer programming software.
"This class is about twice the size of past years," Tavakkoli said. "Nonetheless, we are ahead of schedule, so I think we'll be able to cover a couple more items than I originally anticipated. Some of the students already had robotics experience."
Tavakkoli, who also is director of the UHV's digital gaming and simulation program, said the students started learning about the sensors and then moved on to locomotion.
"Now, we are at the stage where we are implementing artificial intelligence for autonomous movement," he said. "We will end with some more advanced artificial intelligence behavioral modeling in the robots."
Victoria West junior Anthony Villarreal said he took the class because he likes challenges. He's faced a few while putting together his robot. One problem was the robot sensor giving an inaccurate reading. When troubleshooting, Villarreal noticed a wire was too short, which caused the sensor to be attached at an angle.
"I traded out the wire, and it started working appropriately," Villarreal said. "I like the complexity of programming the robot. It's a great feeling when it gets through the maze."
Janzow also likes the hands-on aspects of the class.
"I really enjoy building things, so I decided to take engineering classes at my school," Janzow said. "My teachers told me about this class because I'm interested in mechanical engineering."
Tavakkoli said the idea is for students to see the applications of what they learned in their school math, computer science and engineering classes.
"This is a way for us to show the students that what we do at a higher education level will have real-life implications in energy or medical industries," Tavakkoli said. "The students will have a better idea of how this can be applied in real life."
Math & Computer Science Awareness Day will take place on the UHV and VC campuses, starting at 8:30 a.m. March 18 in the Multi-Purpose Room of the UHV University Center, 3007 N. Ben Wilson St.
Area teachers who want to register their high school students to attend the event should visit mathcs.aiatuhv.com or contact UHV assistant professor Ricardo Teixeira at 361-570-4206 or teixeirar@uhv.edu. Teachers are encouraged to register students by Friday.
The University of Houston-Victoria, located in the heart of the Coastal Bend region since 1973 in Victoria, Texas, offers courses leading to more than 80 academic programs in the schools of Arts & Sciences; Business Administration; and Education, Health Professions & Human Development. UHV provides face-to-face classes at its Victoria campus, as well as an instructional site in Katy, Texas, and online classes that students can take from anywhere. UHV supports the American Association of State Colleges and Universities Opportunities for All initiative to increase awareness about state colleges and universities and the important role they have in providing a high-quality and accessible education to an increasingly diverse student population, as well as contributing to regional and state economic development.