Close
UHV assistant professor starts math, science club at local elementary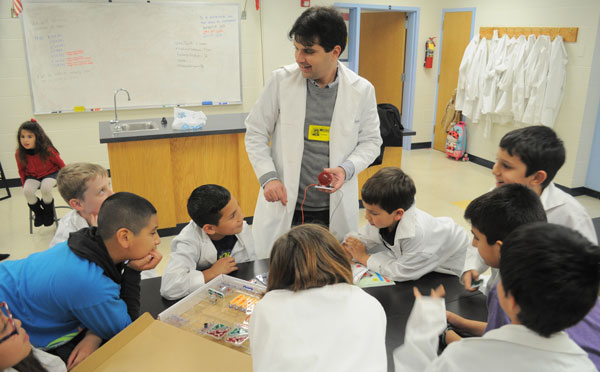 Ricardo Teixeira, center, demonstrates how electricity powers a music box on Monday during a Rowland Elementary School Math & Science Club meeting. Teixeira, a University of Houston-Victoria assistant professor of mathematics, recently started the club as a way to volunteer at his daughter's school.
Ten Rowland Elementary School students wearing white lab coats gathered around a table, patiently waiting to see if the circuit board they built would light up when they turned on the switch.
When it turned on, the group cheered and started asking questions about what happened and if they could build a new circuit. After building a light and music box using Snap Circuits, the students learned where electricity comes from and how it gets to their homes.
The students' enthusiasm for science is exactly what Ricardo Teixeira, a University of Houston-Victoria assistant professor of mathematics, was aiming for when he started a new Rowland Elementary Math & Science Club.
Earlier this year, Teixeira approached the school's administrators about organizing a club as a way for him to become more active in his daughter's school.
"Most math and science professionals chose their careers because they were inspired by the subjects at a young age," he said. "I want to show these young students how fun math and science can be so they can be the next generation of math and science professionals."
Teixeira works with Rowland instructional coach Karen Johnson and kindergarten teacher Nache Holub to organize the experiments and students.
"The club has been a great addition to our school because it allows the students to foster their own curiosity," Johnson said. "This isn't a structured environment like the classroom, so there is more room for discovery. They are able to learn a lot and have fun by doing the experiments on their own."
All Rowland students are able to participate in the free club, which averages about 15 students at each meeting. The club is split into two age groups – first- and second-graders and third- through fifth-graders. Each group meets once a month on Mondays after school. Teixeira said he likes having two groups.
"The older group has so many questions and wants to see a lot of experiments, while the younger group wants to touch everything and do things at a slower pace," he said.
Each student who joined the club had to write a paragraph about why he wanted to participate. Holub said most of the students wrote that they wanted to do more hands-on projects and see what the club was all about. After the first meeting, they already were telling their friends how much fun they had, she said.
"The hands-on experiments are what the students seem to like the most," Holub said. "It makes them think about what is happening in the experiment so that they really grasp the concept."
Teixeira doesn't have a set curriculum he is following but is going off what interests the students. At the next meeting, he plans to demonstrate magic tricks, a passion of his, and reveal the tricks by using math.
He said he's enjoying the club so far.
"I'm used to teaching college students, so this is vastly different," he said. "The kids are always curious and excited about math and science, which is exactly what I wanted to happen with this club."
The University of Houston-Victoria, located in the heart of the Coastal Bend region since 1973 in Victoria, Texas, offers courses leading to more than 80 academic programs in the schools of Arts & Sciences; Business Administration; and Education, Health Professions & Human Development. UHV provides face-to-face classes at its Victoria campus, as well as an instructional site in Katy, Texas, and online classes that students can take from anywhere. UHV supports the American Association of State Colleges and Universities Opportunities for All initiative to increase awareness about state colleges and universities and the important role they have in providing a high-quality and accessible education to an increasingly diverse student population, as well as contributing to regional and state economic development.