Close
Senior math major fast-tracks degree plan
There's more to math than meets the eye.
For Alexandra Corbin, a 27-year-old University of Houston-Victoria senior, it's a nonconformist way of looking at the world and solving its problems.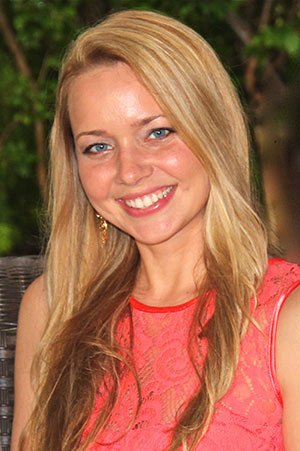 Alexandra Corbin
"I love math," Corbin said. "Anything that has to do with numbers, I like."
Corbin, who was born and raised in Germany, is dually enrolled in her bachelor's and master's degrees in Victoria.
In August 2011, with three months notice, she and her husband, Carson, a member of the U.S. Coast Guard, packed up from Miami for a new opportunity brought on by transfer orders to Port O'Connor. They arrived a week before classes started at UHV.
UHV fit exactly what she was looking for in a university.
"Getting my application in and finding a place to live was mania," Corbin said.
Her goal is to earn a doctorate and become a math professor. She will get to practice her skills when she teaches a seminar about forensic science on March 18 during the UHV/Victoria College Math & Computer Science Awareness Day.
Corbin has received numerous university honors for achieving good grades. She credits her strong work ethic to her German upbringing. Although she admits she is hard on herself, she said it's a good thing.
"I'm so meticulous to the end," she said. "If I don't know something perfectly, I'll stay up all night until I do."
When she's not in class, Corbin works full time at the Victoria Police Department as an investigations clerk.
Corbin is fluent in five languages – English, French, German, Italian and Spanish. She said it is helpful at the police department and will continue being an asset when she becomes a professor.
"Especially at the university level, there are so many international students who might benefit from me explaining a concept in another language," she said.
If her husband does not get a year extension, they are expecting to be relocated in the summer of 2015.
"I'm trying to finish as much as I can because I want all my education at UHV," Corbin said. "I love the professors and the environment, especially Dr. Ricardo Teixeira, who has been an inspiration to me as a mathematics professor."
When she graduates in May, she will have completed two courses toward her master's degree.
"At the rate I'm going, it's up to UHV if there are enough graduate courses for me to go at a faster pace," Corbin said as she laughed.
She said she gets more one-on-one attention from professors than she experienced while working on her associate degree in Florida.
"UHV professors care that you learn the material instead of just getting a good grade," Corbin said. "I'm happy I ended up here, even if it was by chance."
I am a Jaguar is an online feature highlighting the exceptional students who attend the University of Houston-Victoria. To nominate a student, contact Paula Cobler , UHV director of marketing and communications, or call 361-570-4350.
The University of Houston-Victoria, located in the heart of the Coastal Bend region since 1973 in Victoria, Texas, offers courses leading to more than 80 academic programs in the schools of Arts & Sciences; Business Administration; and Education, Health Professions & Human Development. UHV provides face-to-face classes at its Victoria campus, as well as an instructional site in Katy, Texas, and online classes that students can take from anywhere. UHV supports the American Association of State Colleges and Universities Opportunities for All initiative to increase awareness about state colleges and universities and the important role they have in providing a high-quality and accessible education to an increasingly diverse student population, as well as contributing to regional and state economic development.