Close
Associate nursing professor, faculty leader named UHV interim provost
A longtime nursing faculty member with administrative experience has stepped into an interim role as University of Houston-Victoria's top academic officer.
On Monday, UHV President Phil Castille named Denise Neill interim provost and vice president for academic affairs. She started the position immediately.
"I have the utmost regard for Dr. Neill and her dedication to the success of both UHV and the nursing profession," Castille said. "She has been instrumental in launching and expanding the nursing school and has served admirably in many teaching and administrative capacities."
Jeffrey Cass, who had held the UHV provost position since February 2012, now serves as a special assistant to the president and accreditation liaison. He will continue to lead UHV's preparation for next month's accreditation review by the Southern Association of Colleges and Schools Commission on Colleges.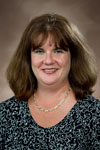 Denise Neill
Neill, an associate professor of nursing, will largely work from UH Sugar Land, where UHV offers many courses and degree programs. She will continue to teach classes in Greater Houston and make regular visits to the university's main campus in Victoria.
"In my new role, I look forward to working more closely with the UHV faculty and administration, as well as the UH System," Neill said. "I think that having a UHV administrative presence in the Greater Houston area will be positive."
The provost is the president's primary adviser for academic planning, development, oversight, program evaluation and student success. The deans of UHV's four schools report to the provost, and she sits on the President's Cabinet and university budget committee. She also chairs the Deans' Council and the Academic Council.
Neill has taught nursing for 18 years, including the past eight at UHV. She played a critical role in getting the Texas Higher Education Coordinating Board to approve a proposal in 2007 to create the UHV School of Nursing and to start the Master of Science in Nursing program. She served as interim co-director of the nursing program before assuming the role of Registered Nurse to Bachelor of Science in Nursing and MSN coordinator.
Neill was promoted to associate professor and earned tenure in 2012. She has served on the UHV Faculty Senate since 2009 and was Senate president during the 2012-2013 school year.
"It is a mark of Dr. Neill's leadership that she is past president of the Faculty Senate and thus holds the respect of her faculty colleagues at UHV," Castille said. "The faculty is the heart of the university, and faculty members have to feel there are clear lines of communication open to the upper administration."
In 2012, Neill relocated to the Lone Star College University Center at Montgomery to oversee the expansion of UHV's RN to BSN program in The Woodlands. She previously has taught at UH Sugar Land, the UH System at Cinco Ranch and UHV's campus in Victoria
"Dr. Neill has taught at multiple locations in her many years of service to UHV," Castille said. "Her experience with academic programs, facilities, technology and students throughout UHV's service area makes her uniquely qualified to hear from and speak for UHV faculty members, whether they are teaching face-to-face, hybrid or online classes."
Born in South Arkansas, Neill grew up in the Houston area and began her nursing career at Southern Arkansas University in Magnolia. She earned bachelor's and master's degrees from the University of Central Arkansas in Conway and completed her doctoral studies at Texas Woman's University in Denton.
In addition to teaching at UHV, Neill is leader of the Gulf Coast Regional Texas Team, a nonprofit organization formed to advance health in Texas, and chair of the Lone Star Nursing Advisory Board, which serves the five Lone Star community colleges in the north and west Houston area. She also serves on the Texas Nurses Association's audit committee. She is a past president of the TNA District 20.
This past summer, Neill was one of 40 educators nationwide selected as a 2013-2014 fellow of the Leadership for Academic Nursing Program presented by the American Association of Colleges of Nursing. In November, she was named among the top 20 outstanding nurses in the Houston region by TNA District 9.
Neill and Cass are two of several UHV administrators and faculty members getting ready for the accreditation review on April 6 to 9. Although UHV already is accredited by SACSCOC, member institutions from Texas to Virginia must go through periodic reviews that show the university is continuing to provide quality education consistent with guidelines and standards. UHV's last SACS visit took place in 2003.
"I want to extend my thanks to Dr. Cass for all he has done for UHV the past two years," Castille said. "Among his many accomplishments are leading the teams that have prepared UHV's accreditation audit, Quality Enhancement Plan, new strategic plan and new core curriculum. I look forward to continuing to work closely with him in all these areas and others in his new role."
The University of Houston-Victoria, located in the heart of the Coastal Bend region since 1973 in Victoria, Texas, offers courses leading to more than 80 academic programs in the schools of Arts & Sciences; Business Administration; and Education, Health Professions & Human Development. UHV provides face-to-face classes at its Victoria campus, as well as an instructional site in Katy, Texas, and online classes that students can take from anywhere. UHV supports the American Association of State Colleges and Universities Opportunities for All initiative to increase awareness about state colleges and universities and the important role they have in providing a high-quality and accessible education to an increasingly diverse student population, as well as contributing to regional and state economic development.