Close
Racism in politics is topic of UHV history symposium
Race continues to play a role in elections even though it isn't as obvious as it was in the past, according to a scholar and author making a presentation on March 20 at the University of Houston-Victoria.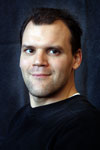 Chris Danielson
Chris Danielson, an associate professor of history at Montana Tech University in Butte, will discuss race and politics during a symposium from noon to 1 p.m. in the UHV University West Alcorn Auditorium, 3007 N. Ben Wilson St. His talk is sponsored by the UHV School of Arts & Sciences. The free event is open to the public.
Danielson wrote the 2013 book "The Color of Politics: Racism in the American Political Arena Today." Danielson said the book challenges the notion of a post-racial era and historically looks at the role race has played in elections.
"There is a chapter on racial dirty tricks that looks at Willie Horton and other advertisements that were used to stir fears in white voters," Danielson said about the famous TV campaign advertisement that aired in 1988. "Race has been used as an issue, even after the civil rights movement. It's become more subtle now after it was overtly used in the past."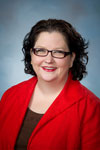 Beverly Tomek
The Victoria College/UHV Library announced on Dec. 17 that Danielson's book was its Book of the Week.
Beverly Tomek, an assistant professor of history in the UHV School of Arts & Sciences, said there is a popular perception that civil rights were won, and now everything is fair.
"A lot of people don't realize the multiple ways in which race and politics continue to interact in this country," she said. "I think Dr. Danielson's talk will present a fair and honest assessment of where we are as a nation and where we still need to go to reach the point at which everyone has a fair shot at representation and an equal voice."
Danielson will be making his first trip to Victoria, but he is familiar with the UH System. He earned bachelor's and master's degrees from UH and his doctorate in American history from the University of Mississippi in Oxford. Danielson also has written "After Freedom Summer: How Race Realigned Mississippi Politics, 1965-1986."
"The Color of Politics" is a detailed analysis examining the role of race and racism in American politics since the 1980s. The book argues that even with the election of President Barack Obama, the effects of white supremacy still divide American society and affect voter behavior today.
Each of the seven chapters explores a specific political issue from its historical origin to its legacy in present-day politics. Chapters include discussion of the Tea Party, Obama's rise to power and whether white people will vote for a black candidate.
Danielson also reveals the current political policies that continue to disenfranchise minority voters.
"Voter ID laws have become the voter suppression of today," Danielson said. "Back in earlier times, literacy tests and poll taxes were used to keep low-income – predominantly minority people – from voting. Now, the Republican Party is pushing for voter ID laws. However, it's being cloaked in this nonracial way."
Danielson said that proponents of voter identification laws typically argue that identification prevents fraud.
"But there have been numerous studies that show in-person voter fraud almost never happens," he said. "This is an example of how racial issues live on today."
Tomek said symposium attendees will learn about voter identification and politicians' "Southern Strategy."
"I think the entire trajectory of what he will discuss will resonate with people today," she said. "He will explain what has happened with race and politics from the 1960s to today in a way that will illuminate why we continue to face the same issues."
The University of Houston-Victoria, located in the heart of the Coastal Bend region since 1973 in Victoria, Texas, offers courses leading to more than 80 academic programs in the schools of Arts & Sciences; Business Administration; and Education, Health Professions & Human Development. UHV provides face-to-face classes at its Victoria campus, as well as an instructional site in Katy, Texas, and online classes that students can take from anywhere. UHV supports the American Association of State Colleges and Universities Opportunities for All initiative to increase awareness about state colleges and universities and the important role they have in providing a high-quality and accessible education to an increasingly diverse student population, as well as contributing to regional and state economic development.