Close
Accomplished ABR author, storyteller looks for hope in world
Renowned author Scott Russell Sanders writes essays to explore questions, and he writes stories to examine an image or character.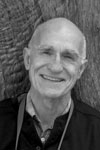 Scott Russell Sanders
"The essays are questions about things that interest or puzzle me," Sanders said. "I am writing to gain greater clarity. I don't expect to get definitive answers for hard questions. I am just hoping to find a little more illumination and a deeper understanding than what I began with. For storytelling, curiosity is what drives the fiction forward."
Sanders will present an essay and stories with images at the March 27 University of Houston-Victoria/American Book Review Spring Reading Series. He will read from two forthcoming books at noon in the Alcorn Auditorium of UHV University West, 3007 N. Ben Wilson St. The public is invited to attend the free event, and light refreshments will be served.
Sanders is the author of 20 books consisting of collections of nonfiction, novels and personal stories. His writing examines the human place in nature, pursuit of social justice, relations between culture and geography, and search for a spiritual path.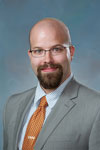 Jeffrey Sartain
"Scott Sanders is interesting because he's a fiction writer who looks for hope in the world," said Jeffrey Sartain, a UHV assistant professor of English and ABR managing editor. "He understands how tenuous all things are in the world. From this fragility comes his commitment to people and the environment."
Sanders plans to read "Useless Beauty" from an upcoming book of essays titled "The Way of Imagination." He said the essay is about patterns of beauty in the natural world and human artifacts.
"It reflects on what beauty is, why it moves us so deeply and what our sense of connection to beauty reveals about our place in the universe," he said.
While not a philosopher, Sanders took on the challenge of clarifying what beauty means.
"We might find a sunset beautiful, which no one has a hand in making, or we might find a musical composition or scientific equation beautiful," he said. "What do those quite-different objects and experiences that we call 'beautiful' have in common?"
Sanders also will be reading three or four stories from "Ordinary Wealth." Each of the stories is coupled with a photograph by Peter Forbes. The mixed media book will have a photograph on the right-hand page and an entire story on the left-hand page.
"These are really tiny stories that arise from my responses to the photographs," Sanders said. "As I read each tale, the audience will get to see the photograph that inspired it."
Sanders is a distinguished professor emeritus of English at Indiana University, where he taught from 1971 to 2009. Through the years, he has collected numerous awards for his work, including the Mark Twain Award and the Lannan Literary Award.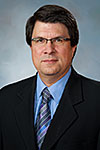 Jeffrey Di Leo
Jeffrey Di Leo, ABR editor and publisher, and dean of the UHV School of Arts & Sciences, said Sanders is a deeply empathic individual.
"The empathy is reflected in his characters and subject matters," he said. "It's a fantastic opportunity for our students and community members to hear a gifted writer whose attention to nature and history is remarkable."
Sanders' latest book, "Divine Animal," is a story of healing, traced through the lives of characters bound together by a secret trauma. Although there is a print version for sale, Sanders is giving away the book electronically. It can be downloaded for free from his website, www.scottrussellsanders.com, onto computers and mobile devices.
"For many artists, musicians, writers and dancers, the impulse is to make art and give it away instead of creating a commodity," Sanders said. "I understand that most people who make art need to earn money from making it, and they deserve to do so. But I don't think that is why people set out to make art. There are a lot of easier ways to make money."
Sanders said the fundamental nature of art is that it's a gift, such as a child giving away a finger painting. He wanted people who encountered his book to think about how most art has become merchandise and involves sales pitches.
"I want to offer a tiny counter voice to that," he said. "I'm under no illusion that I'm going to end commercialization of art in America. But I do have the freedom within my own life to choose to give things away that I don't need to sell. Perhaps if more of us would give things away, we would all live in a richer world."
During his visit to UHV, Sanders will meet with students and attend functions in the community.
ABR is a nonprofit, internationally distributed literary journal published six times a year. It began in 1977, moved to UHV in 2007 and has a circulation of about 8,000. The journal specializes in reviews of works published by small presses.
The final Spring 2014 UHV/ABR Reading Series author is Domingo Martinez. He will give a reading on April 24. Martinez is the author of "The Boy Kings of Texas." The book explores his experience growing up in the border town of Brownsville and the cultural collision of two countries. Martinez was a nominee for the 2013 Pushcart Prize and a finalist for the National Book Award.
For more information about the UHV/ABR Reading Series, call the ABR office at 361-570-4101 or go to www.americanbookreview.org.
The University of Houston-Victoria, located in the heart of the Coastal Bend region since 1973 in Victoria, Texas, offers courses leading to more than 80 academic programs in the schools of Arts & Sciences; Business Administration; and Education, Health Professions & Human Development. UHV provides face-to-face classes at its Victoria campus, as well as an instructional site in Katy, Texas, and online classes that students can take from anywhere. UHV supports the American Association of State Colleges and Universities Opportunities for All initiative to increase awareness about state colleges and universities and the important role they have in providing a high-quality and accessible education to an increasingly diverse student population, as well as contributing to regional and state economic development.