Close
UHV students to increase success by living, learning together
University of Houston-Victoria faculty and staff are busy preparing for a new program starting in the fall that will help increase student success both inside and outside of the classroom.
The university's Quality Enhancement Plan, a required component of UHV's 2014 accreditation review by the Southern Association of Colleges and Schools Commission on Colleges, focuses on residential learning communities.
The "Living & Learning" theme highlights how the university will integrate the academic and social aspects of the university so that each group of 20 to 25 students will live and learn together.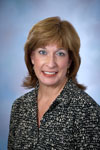 Jill Fox
The residential learning communities will reinforce student learning in ways that are meaningful, said Jill Fox, UHV director of assessment and QEP co-organizer.
"The theme is a powerful idea that fits perfectly with UHV's goal of becoming a destination university," she said. "We will reach out to students from different avenues using new technology, community engagement and university resources so that they will have a well-rounded learning experience."
UHV officials anticipate that students participating in the QEP will have higher grade-point averages, better team-working skills, increased engagement with faculty and be more likely to return to the university their sophomore year. These outcomes are what drove university officials to design a program that combines academic and social experiences.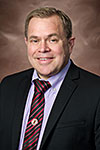 Jeffrey Cass
"UHV has changed a lot since freshmen and sophomores joined the campus in 2010," said Jeffrey Cass, UHV provost and vice president for academic affairs. "We wanted to offer a program that would help our students, many of whom are first-generation college students, to succeed in the classroom and be better prepared for the workforce once they graduate."
The residential learning communities program will have six components:
Linked classes – The same group of students will take a core class and a First-Year Seminar course.
Student life – Students will participate in group activities outside of the classroom.
Student success – Students will be provided with resources such as tutoring.
Support team – Each team will consist of two faculty members, a librarian, a student success coach and a student life staff member to advise a class.
Living & Learning Commons – Residential learning communities will have a designated space inside Jaguar Suites for group meetings and special events.
Learning & Teaching Institute – Faculty will use this resource to learn innovative ways to improve their students' classroom experiences.
In the fall, the classes linked to the "First-Year Experience" course will be in the subjects of math, English and criminal justice. Incoming freshmen will learn about participating in the first year of the residential learning communities during recruitment events and when UHV staff members advise them about their classes.
Based off research of similar programs at comparable universities, UHV officials expect positive results the first year.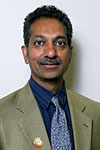 Uppinder Mehan
"We originally anticipated that it would take five years until every freshman was involved with the residential learning communities, but now we plan to have it at full capacity in three years," said Uppinder Mehan, UHV associate provost and QEP co-organizer.
UHV officials expect lessons learned in the residential learning communities to have a lasting effect on the students. One of those benefits is the team-working skills students will gain, something Mehan said employers want.
"Teamwork is an important skill we hear company owners say they want in their employees," he said. "The residential learning communities will allow students to embrace teamwork and leadership in a small, comfortable setting. They then can expand those skills by leading student organizations and eventually lead in the workforce."
Based in Atlanta, SACSCOC is the accrediting agency for all public, private, and for-profit colleges and universities in an 11-state region, from Virginia to Texas. An on-campus accreditation visit will take place April 6 to 9 at UHV.
The University of Houston-Victoria, located in the heart of the Coastal Bend region since 1973 in Victoria, Texas, offers courses leading to more than 80 academic programs in the schools of Arts & Sciences; Business Administration; and Education, Health Professions & Human Development. UHV provides face-to-face classes at its Victoria campus, as well as an instructional site in Katy, Texas, and online classes that students can take from anywhere. UHV supports the American Association of State Colleges and Universities Opportunities for All initiative to increase awareness about state colleges and universities and the important role they have in providing a high-quality and accessible education to an increasingly diverse student population, as well as contributing to regional and state economic development.