Close
Grant assists VC/UHV Library in preserving historic documents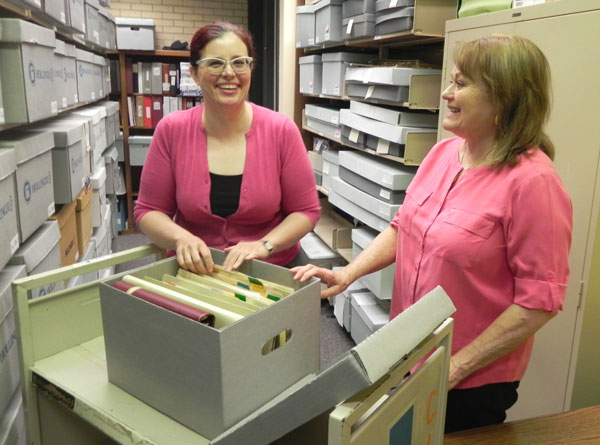 Rebecca Elder, left, adjunct preservation field services officer for Amigos Imaging and Preservation Services, and Sheron Barnes, special collections librarian at the Victoria College/University of Houston-Victoria Library, share a laugh while looking through documents. Elder recently conducted an on-site survey of the library's preservation practices.
As the Victoria College/University of Houston-Victoria Library acquires more historical documents, questions have come up about how to preserve the items for future generations.
A $6,000 federal grant is being used to launch a long-term preservation plan for books, maps, drawings, photos and other historical materials.
The Victoria Regional History Center inside the VC/UHV Library received the grant in January from the National Endowment for the Humanities. The bulk of the money was used for a consultant to conduct an on-site survey of preservation practices and make recommendations for improvements.
"We do some fairly basic preservation, but as we grow, we have to get into a more intense preservation of these documents," said Sheron Barnes, UHV special collections librarian. "This is a launching point for the center's long-term plan."
Rebecca Elder, adjunct preservation field services officer for Amigos Imaging and Preservation Services, visited the history center March 26 and 27 for the consulting assessment. She examined the building, storage and environmental conditions, and talked with library leaders about the goals for the survey and challenges facing the collection.
Elder, who works out of Amigos' Austin office, gave high marks to the center staff for knowing the entire collection and where each of the documents was located. She said those attributes are surprisingly rare.
"I also like that everything is standing straight on the shelves, which is not only attractive, but also good for the books," Elder said. "I haven't found dust anywhere. Often when I visit places, I can write my name in the dust on the top of the books. The center also is using quality boxes and file folders. Both of those have a huge affect on the lifespan of materials."
Elder said she will recommend installing data loggers that take readings every 20 minutes. The loggers are devices that measure humidity and temperature inside the library.
She also suggested library staff preserve some of the documents in different ways using folders and drawers. Elder taught staff some inexpensive preservation procedures, such as mending and encapsulating fragile items in polyester. About $1,000 from the federal grant can be used to purchase supplies.
"It is good practice to give things a couple of layers of protection instead of just having the item in a drawer," Elder said.
Elder also recommended the center come up with a disaster plan. While UHV and VC have emergency plans, there may be added activities the center can do to try to save original documents. Elder said if a hurricane appears to be coming, the center should refer to the plan to know what disaster supplies to have on hand, what to do if there's a water leak and what staff should take with them during an evacuation.
The Victoria Regional History Center acquires, preserves and makes available to students, faculty and the public archival records of enduring value that document the histories of UHV and VC as well as those records that preserve the social, political, economic and cultural history of Texas.
Barnes decided to seek preservation funding after the center acquired more than 500 architectural drawings sketched by Victoria architect Jules Leffland and a set of drawings by Jackson County architect Hugh L. Ottley. In 2012, Barnes applied for the Preservation Assistance Grant for Smaller Institutions from the National Endowment for the Humanities. The attempt was unsuccessful. She applied for the same grant last year, and it was accepted.
Elder will send Barnes her final report in a couple of weeks. Library leaders then will begin working on a long-range preservation plan to improve the storage arrangements and environment. Barnes wants to have the plan in place by June 2015.
"We will use that long-range plan to apply for additional grants to improve our conditions, storage, supplies or shelving," she said.
Elder said having a consultant write a report as an objective party often is helpful in pursuing funding.
"The report I write will be excellent background material for further grant opportunities," she said. "The library staff can pick from the recommendations what projects they want to attack and then start looking for funding."
The University of Houston-Victoria, located in the heart of the Coastal Bend region since 1973 in Victoria, Texas, offers courses leading to more than 80 academic programs in the schools of Arts & Sciences; Business Administration; and Education, Health Professions & Human Development. UHV provides face-to-face classes at its Victoria campus, as well as an instructional site in Katy, Texas, and online classes that students can take from anywhere. UHV supports the American Association of State Colleges and Universities Opportunities for All initiative to increase awareness about state colleges and universities and the important role they have in providing a high-quality and accessible education to an increasingly diverse student population, as well as contributing to regional and state economic development.