Close
UHV business alumni return to share experiences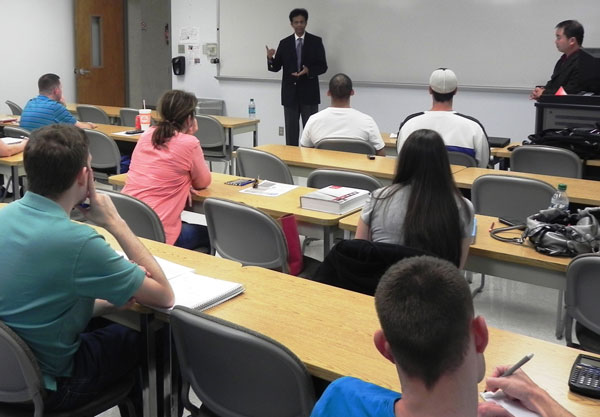 BJ Abraham, vice president of finance at Regency Post-Acute Healthcare System, makes a presentation March 27 to a University of Houston-Victoria "Intermediate Accounting I" class. Abraham was one of 20 UHV School of Business Administration alumni who visited classes during alumni week.
Marcus Northrup's career advice and stories about how his University of Houston-Victoria business degree has helped him run a Houston industrial distribution company were valuable lessons for students taking an "Operations Management: Creating Competitive Advantages," class.
But what really got the UHV graduate students' attention was when they found out that Northrup was a former Master of Business Administration Case Conference champion.
Northrup, president and CEO of Triplex Inc., provided tips about how to prepare for the competition each semester that features teams of MBA students presenting a case in front of judges. At the conclusion of the pointers, Northrup slipped in the fact that his team won the competition in 2009.
"That's when the students thought my advice was really valuable," Northrup said as he laughed. "They asked me to go back and repeat some of it."
Northrup was one of 20 UHV School of Business Administration alumni who visited classes in Victoria, Katy and Sugar Land March 24 to 27. This marked the third time the school has made a collective effort to bring back alumni at the same time to talk to students.
"This year's alumni week was the largest number of graduates we've ever had come back to share their wisdom with our students," said Farhang Niroomand, dean of the UHV School of Business Administration. "Our alumni have been eager to share their triumphs and tribulations, and our students appreciate the stories from people who were in their shoes not long ago."
BJ Abraham, vice president of finance at Regency Post-Acute Healthcare System in Victoria, spoke March 27 to UHV's "Intermediate Accounting I" class.
"I originally did not have any intention of getting an MBA," Abraham told the class. "I already was a CPA and was doing all right in my career."
When Abraham's company experienced problems, he decided to give graduate school a try. Like many UHV students, Abraham worked full time while taking business classes in the evenings. In 2012 – Abraham's final year at UHV – the business school started the Willis Group Distinguished Lecture Series. One of the first speakers was Regency President Heber Lacerda.
"He talked about health care, his company and various opportunities," Abraham said. "I went up to meet him after that, and we started a conversation. To make a long story short, I ended up with a job. My MBA directly paid off."
Ziyun Yang, a UHV assistant professor teaching the accounting course, said he appreciated Abraham returning to take part in alumni week.
"I think it's a great opportunity for current students to meet alumni," Yang said. "If alumni can build a connection with students, it could lead to recruitment opportunities and potential job placement. Also, the stories and experiences the alumni share help students as they embark on their own careers."
Northrup said he talked with the management class about logistics and the supply chain. Most of the questions, however, had to do with how to take their careers to the next level.
In response to a question about what companies look for in graduating students, Northrup said displaying personality can be an asset if direct experience is lacking. He said students should confidently talk about what they can do for the company and explain why their work traits are a good fit.
Other speakers during the UHV School of Business Administration Alumni Week were:
Segun Ariyo, owner of D4J CONSULTING, a human resources and life coaching company
Joseph Babaian, an IT consultant in the health care administration industry
Nafis Bhuiyan, marketing manager for Eutex International, a global oil and gas company specializing in electrical cables for oil rigs
Mike Breath, chief financial officer of the wealth and retail bank of BBVA Compass Bank
Ray Cernota, material director in energy and chemical construction for the Fluor Corp., an engineering, procurement, construction, maintenance and project management company
Brenan Drake, supply chain manager for Cameron Process Systems, a company providing separation and processing equipment services for the oil and gas industry
Laquitta DeMerchant, founder of FuzionApps. She developed Aequitas, an app designed as a tool for women to educate themselves about the average salaries of various jobs.
LaToya Henry Johnson, associate director of IT finance at AIG
Valerie Kemp, corporate accountant for Regency Post-Acute Healthcare System
Pavan Ladha, value stream manager at Pentair Valves & Control
Ashley G. Northrup, chief financial officer of QED Energy Associates, an engineering and geoscience technician training and consulting services company in the upstream petroleum industry
Chris Pemberton, executive consultant at Walkercom Inc., a telecommunications service company
Wednesday Rozsypal, senior relationship analyst for Dutch bank Rabobank
Nyma Shah, director of development research for the UT MD Anderson Cancer Center.
Manan Sharma, vice president at JPMorgan Chase and Co
Terrance Wakefield, sales consultant for Comverge Inc., which specializes in energy efficiency, demand response and infrastructure services
John White, facility administrator for DaVita Healthcare Partners
Anthony Williams, senior vice president of Investment Services at Wallstreet Texas, an investment and brokerage firm
The University of Houston-Victoria, located in the heart of the Coastal Bend region since 1973 in Victoria, Texas, offers courses leading to more than 80 academic programs in the schools of Arts & Sciences; Business Administration; and Education, Health Professions & Human Development. UHV provides face-to-face classes at its Victoria campus, as well as an instructional site in Katy, Texas, and online classes that students can take from anywhere. UHV supports the American Association of State Colleges and Universities Opportunities for All initiative to increase awareness about state colleges and universities and the important role they have in providing a high-quality and accessible education to an increasingly diverse student population, as well as contributing to regional and state economic development.