Close
Behavioral scientist maps out health in workplace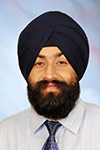 Barjinder Singh
Through "sweat therapy," Barjinder Singh, an assistant professor at the University of Houston-Victoria, hopes to change the way the world deals with professional and personal stresses.
"People who exercise increase their self-efficacy, their self-confidence and feel they have the ability and power to triumph over obstacles in their lives," Singh said.
His research has shown that through exercise, people reduced the strains and stresses they encounter on a daily basis, and even boost their ability to deal with work-family conflict and restore balance in these two areas.
Although the common excuse is lack of time, people who want to create a positive difference in their lives through exercise will make time.
"It's a matter of choice," Singh said.
Along with improving the business world's attitude toward psychological health and "sweat therapy," Singh, who also is the 2013-2014 Partnership Professor of Management in the UHV School of Business Administration, is focusing on the business world's attitude toward workplace diversity.
A Sikh by religion, Singh came to the U.S. in 2006 from Punjab, located in the northern part of India, to begin his doctoral work at the University of Wisconsin-Milwaukee. Already, he had developed a passion for the subject while working with India's biggest chamber of commerce, the Confederation of Indian Industry.
"The key question businesses are facing today is management of diversity," he said. "Diversity is increasing, not just at the surface level with different races, ethnicities and religions, but also at the deep level with views and ideologies, and diversity of opinion."
His research, which focuses on managing diversity at work, was inspired by firsthand experiences.
When he arrived in the U.S., early experiences solidified his goals.
"The times were not proper for someone like me who has a beard and wears a turban," he said. "I was often mistaken for an Arab, and I could easily sense a feeling of discomfort in the locals when they interacted with me."
He joined UHV in 2011 after earning his doctorate from the Sheldon B. Lubar School of Business at the University of Wisconsin-Milwaukee, where he also held an academic position.
He wants to continue researching the management of racial and religious diversity, and help organizations create a climate where all employees feel included and psychologically safe. Only then can organizations claim to reap the benefits of diversity, he said.
Singh enjoys being part of the UHV faculty because the university is a prime environment for teaching, researching and community involvement, he said.
He also sees an abundance of diversity and openness in Texas.
"Diversity is on the rise in the U.S., and it gives me a great pleasure to see that Texas is no different," he said. "My family and I feel at home here."
The Faculty Feature is an online feature highlighting faculty members from each of the University of Houston-Victoria's four schools. To nominate a faculty member, email Paula Cobler, UHV director of marketing and communications, or call her at 361-570-4350.
The University of Houston-Victoria, located in the heart of the Coastal Bend region since 1973 in Victoria, Texas, offers courses leading to more than 80 academic programs in the schools of Arts & Sciences; Business Administration; and Education, Health Professions & Human Development. UHV provides face-to-face classes at its Victoria campus, as well as an instructional site in Katy, Texas, and online classes that students can take from anywhere. UHV supports the American Association of State Colleges and Universities Opportunities for All initiative to increase awareness about state colleges and universities and the important role they have in providing a high-quality and accessible education to an increasingly diverse student population, as well as contributing to regional and state economic development.