Close
H-E-B Houston president shares management, customer service tips with UHV students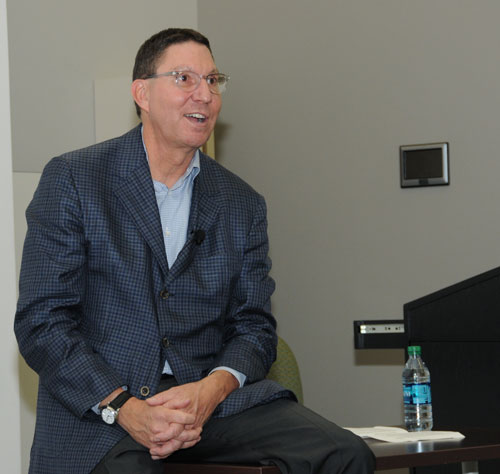 H-E-B Houston President Scott McClelland makes a presentation to University of Houston-Victoria students, faculty, staff and community members April 2 at UH Sugar Land. McClelland's speech was part of the UHV School of Business Administration's Willis Group Distinguished Speaker Series.
SUGAR LAND – Salsa was not on assistant professor Jun Yang's grocery list the evening of April 2, but the spicy sauce became a must buy because of H-E-B Houston President Scott McClelland's marketing skills.
In a speech at the University of Houston Sugar Land, where University of Houston-Victoria offers many of the programs, McClelland told UHV students, faculty and community members a story about how the grocery store started selling That Green Sauce.
"McClelland and his colleagues ate at a Mexican restaurant and thought their salsa was the best they had ever tasted," said Jeff Blodgett, associate dean of the UHV School of Business Administration. "They asked the owner if he would sell the recipe, but he declined, so they figured out how to make it on their own. Now it is the best-selling salsa in H-E-B stores."
Yang, who teaches marketing at UHV, said she and her husband felt compelled to stop at H-E-B on the way home from the speech and purchase the salsa.
"That Green Sauce story shows how business leaders have to be creative and keep an open mind," she said. "It's also an example of how they can drive customers to the store since it's not a national brand they can get anywhere. The same principle applied when H-E-B started selling Whataburger ketchup."
Farhang Niroomand, dean of the UHV School of Business Administration, said McClelland described the importance of product innovation, discussing why H-E-B added in-store sushi counters and tortilla bakeries.
"The innovations have allowed H-E-B to serve its customers better and to remain highly profitable," Niroomand said. "All of our students have been to H-E-B, so they recognized the value of Mr. McClelland's advice and success stories."
McClelland was invited to speak at UHV as part of the Willis Group Distinguished Speaker Series. He began working for H-E-B in 1990 and served in a number of marketing and operations positions before being named chief marketing officer in 2000. He became division president in 2003. McClelland is responsible for H-E-B's operations in Houston, east Texas and at Mi Tienda, the company's Latino-focused stores in South Houston.
Blodgett said another interesting part of the speech covered H-E-B's management style. McClelland visits three stores a week to talk with customers and employees. He views employees as partners, so everyone is on a first-name basis.
"He has even visited with customers in their homes to learn how they manage their grocery budget," Blodgett said. "About 25 percent of H-E-B's customers have annual incomes of $25,000 or less, so when he talks to these customers, he tries to learn what they buy. With lower-income customers in mind, H-E-B launched JoeV's stores, which are designed to allow for lower prices. They have fewer items per category, and instead of putting products on the shelf, they are displayed on pallets."
Nicole Conda, a UHV alumna and a strategic management consultant in Houston, said she liked McClelland's honesty, knowledge of markets and how he caters to H-E-B customers. She appreciated how H-E-B leaders are on top of trends in the industry and proactive in changes.
Conda also is an adjunct instructor at UH Sugar Land. Her students attended the speech.
"They had a ton of takeaways from McClelland, such as segmenting the market and vertical integration," Conda said. "He used a lot of terms they could relate to and understand. I appreciate that because it really facilitated discussion in the classroom."
The Willis Group Distinguished Speaker Series brings local executives to discuss contemporary business issues with UHV alumni, faculty and students. The Willis Group includes multiple companies that address a variety of business staffing needs and solutions. Through its agreement with the UHV School of Business Administration, the Willis Group creates opportunities by providing business students with professional development and career placement assistance, supporting faculty research and classroom instruction, and actively participating in events to promote the success of the business school and its students.
The series began in 2011. Speakers this school year have included Jim McIngvale, founder and owner of Gallery Furniture, and Rod Canion, co-founder and former CEO of Compaq Computer Corp.
"These presentations have connected our students with the local community," Yang said. "Hopefully, all those outreach efforts will generate job opportunities and more awareness of our school."
The University of Houston-Victoria, located in the heart of the Coastal Bend region since 1973 in Victoria, Texas, offers courses leading to more than 80 academic programs in the schools of Arts & Sciences; Business Administration; and Education, Health Professions & Human Development. UHV provides face-to-face classes at its Victoria campus, as well as an instructional site in Katy, Texas, and online classes that students can take from anywhere. UHV supports the American Association of State Colleges and Universities Opportunities for All initiative to increase awareness about state colleges and universities and the important role they have in providing a high-quality and accessible education to an increasingly diverse student population, as well as contributing to regional and state economic development.