Close
Spring Nursing Forum to discuss health collaboration
The seventh annual University of Houston-Victoria Spring Nursing Forum on April 25 will bring together nurses and nursing students to discuss the best way to provide health for the community through the collaboration of health professionals.
The forum's theme is "Collaboration Evidence-Based Care to Meet Population Health Needs." The event will be from 9 a.m. to 1 p.m. in the UHV University Center Multi-Purpose Room, 3007 N. Ben Wilson St. Attendees can register and eat a continental breakfast from 8:30 to 9 a.m. before the program begins.
The forum will look at collaboration from three different sides.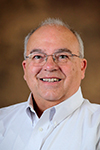 Terry Kirk
Terry Kirk, an associate clinical professor in the UHV School of Nursing, will discuss how evidence-based research can guide the care of patients where gaps exist in South Texas. Kirk will discuss the Dartmouth Atlas of Health Care in relationship to South Texas health care issues.
"By coming together, we can mitigate the gaps in our health care system so there are an adequate number of health professions and medical resources for all South Texans," he said. "Collaboration can guide us to reach out to populations who are in need of disease management and access to appropriate care."
Also presenting during the forum will be Mary Desvignes-Kendrick, Fort Bend County health public authority. She will talk about the importance of community partners. Linda Hook, an instructor at the University of Incarnate Word in San Antonio, will lead a panel discussing collaboration among professionals.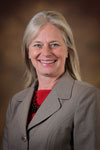 Kathryn Tart
Kathryn Tart, founding dean of the UHV School of Nursing, said collaboration creates nurses who are better prepared to care for their patients and understand different modes of care available.
"With the Affordable Care Act in place, health care professionals need to focus more on population health and how best to care for our community so they remain healthy," she said. "Collaboration can be in many forms, but primarily we want to establish partnerships and advocacy for our patients."
Kirk agreed that while the Affordable Care Act has given easier access to care, there still is a distance between the patient and the health care system. He said health care professionals need to create methods to educate the population in a way they will understand.
Kirk said education, such as the nursing forum and teaching new nurses, is a good step to reaching that goal.
"Sometimes it's the right collaboration that ensures the best resources are in place to deal with a patient's illness," he said. "Knowing the community's needs is essential in getting the right collaborative plan in place."
With a large number of patients who have diabetes, and chronic respiratory and heart diseases, it is essential that South Texas has good nurses who are able to meet the needs of a culturally diverse population, Kirk said.
"The health care community needs to focus on prevention and wellness, as well as how to coordinate and manage chronic illnesses among a team of health care providers," he said. "Collaboration with community members, physicians, nurse practitioners and other health partners is the key to success."
The forum is the kick-off event for UHV's celebration of National Nurses Week, which is the first week of May.
"We want to honor Victoria nurses and thank them for the work they do every day in providing nursing care in our community," Tart said. "Hosting this educational event is one way we can bring information to them as a thank you."
The forum is open to any licensed Registered Nurse, Vocational Nurse or Advanced Practiced Registered Nurse. The cost is $15, but nursing students and faculty may attend for free with a valid ID badge.
Nurses are encouraged to register early as seating is limited. The advance registration deadline is April 23. To register online, visit www.uhvconnect.org. Participants also may register at the door if seating is available.
The forum will include a poster presentation highlighting evidenced-based nursing practices by UHV graduate nursing students.
The event is sponsored by the Houston Endowment, UHV's Phi Chi chapter of the Sigma Theta Tau International Honor Society of Nursing and Texas Nurses Association District 20.
For more information, contact the UHV School of Nursing at 361-570-4370 or nursing@uhv.edu.
The University of Houston-Victoria, located in the heart of the Coastal Bend region since 1973 in Victoria, Texas, offers courses leading to more than 80 academic programs in the schools of Arts & Sciences; Business Administration; and Education, Health Professions & Human Development. UHV provides face-to-face classes at its Victoria campus, as well as an instructional site in Katy, Texas, and online classes that students can take from anywhere. UHV supports the American Association of State Colleges and Universities Opportunities for All initiative to increase awareness about state colleges and universities and the important role they have in providing a high-quality and accessible education to an increasingly diverse student population, as well as contributing to regional and state economic development.