Close
Outstanding Arts & Sciences graduates eager to help others
Karla Jimenez-Novick is passionate about becoming a bilingual school psychologist to help culturally diverse children, and she will be empowered for that pursuit with the graduate degree she receives from the University of Houston-Victoria.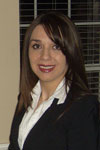 Karla Jimenez-Novick
"When a child is learning a second language, his or her learning pattern might be mistaken for a disability, so it's important to have bilingual professionals in schools who are skilled at distinguishing between cultural factors and what truly is a disability," said Jimenez-Novick, who is fluent in Spanish and English and was born and raised in Costa Rica.
The UHV School of Arts & Sciences recently named Jimenez-Novick its outstanding spring graduate student, and Kirsten Lynn Machicek its outstanding spring undergraduate student. Jimenez-Novick, a Houston resident, will graduate with a master's degree in school psychology, and Machicek, a Louise resident, will graduate with a bachelor's degree in biology.
Each semester, professors from UHV's four schools select an outstanding student from both their graduate and undergraduate programs to be honored during commencement. Grade-point average is a key consideration.
UHV will hold two spring graduation ceremonies on May 10 at Faith Family Church, 2002 E. Mockingbird Lane. The 9 a.m. ceremony will be for graduates of the schools of Arts & Sciences and Education and Human Development. The 1 p.m. ceremony will be for graduates of the schools of Business Administration and Nursing.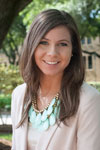 Kirsten Lynn Machicek
Both Jimenez-Novick and Machicek plan to use their degrees to make a positive difference in the world. After graduation, Machicek intends to apply for a physician assistant master's degree program.
"My senior year in high school, I decided I liked medicine," she said. "I wasn't sure I wanted to go the extra miles to become a doctor, but I knew I wanted to do something with medicine. I like being around people and helping people. I also love learning and science, and with medicine, you're learning something new every day."
While going to school, Machicek studied her future career by job-shadowing a physician assistant and working part time. Since September, she also has volunteered every weekend with Habitat for Humanity and weekly in the day-surgery nursing unit at the Memorial Hermann Sugar Land Hospital.
"I feel like if I have that chance to make a difference, I'm going to do it," Machicek said. "I cannot see myself sitting at home because I don't like just sitting still. I like helping people, learning and experiencing new things, and meeting people."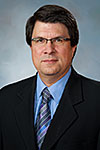 Jeffrey Di Leo
It's that kind of initiative and concern for others that makes Machicek and Jimenez-Novick outstanding students, said Jeffrey Di Leo, dean of the UHV School of Arts & Sciences.
"These women are inspiring examples of how people can transform knowledge into a powerful tool to improve their surroundings and the quality of life others enjoy," he said. "They exemplify what this university is about."
Jimenez-Novick said she is thankful that she has come this far in her studies.
"I'm really excited about getting my master's degree," she said. "It's going to open more doors for me and enable me to reach a wider population of students."
She came to the U.S. at age 16 to attend college in Philadelphia, where her father was employed at a university hospital. After working there for eight years as an elementary school teacher, she moved to Houston, where she has lived and worked for the past 10 years.
Jimenez-Novick credits UHV for making it possible to pursue graduate studies while working simultaneously as an educational diagnostician for different school districts on a contractual basis. As such, she evaluated students suspected of having learning or intellectual disabilities.
"I had always wanted to be a school psychologist, and it was just a matter of being able to go to school part time and work part time," she said. "UHV's program offered the flexibility for my situation as a working adult, and to be honest, I wouldn't have been able to do it without the features this program offers. I was able to go to class on weekends and in the evenings and take some courses online, and it was an affordable quality education."
Likewise, Machicek found UHV to be the ideal fit for her.
"I first went to a junior college for two years but then realized UHV better suited me because I could save money, stay close to home and still get my degree," she said.
Machicek also credits her faith, family, hard work, work/life balance and academic focus for helping her overcome the challenges of getting through school.
"I wouldn't be where I am today if it weren't for my family and their love and support," she said.
The University of Houston-Victoria, located in the heart of the Coastal Bend region since 1973 in Victoria, Texas, offers courses leading to more than 80 academic programs in the schools of Arts & Sciences; Business Administration; and Education, Health Professions & Human Development. UHV provides face-to-face classes at its Victoria campus, as well as an instructional site in Katy, Texas, and online classes that students can take from anywhere. UHV supports the American Association of State Colleges and Universities Opportunities for All initiative to increase awareness about state colleges and universities and the important role they have in providing a high-quality and accessible education to an increasingly diverse student population, as well as contributing to regional and state economic development.