Close
Expert to speak about using technology in classrooms at UHV Spring Symposium
Some teachers want to use technology more in their classrooms but face roadblocks because of funding, the pace of technology or resistance to change.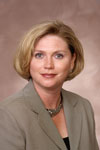 Carol Klages
The University of Houston-Victoria School of Education & Human Development is holding a free symposium April 28 to address how teachers and school leaders can use more technology in schools.
"Students crave technology, and educators need to learn how to use it better," said Carol Klages, a UHV associate professor of education.
The Spring Symposium will take place from 6 to 7:15 p.m. in the Alcorn Auditorium of UHV University West, 3007 N. Ben Wilson St. The event is open to the public.
The symposium's theme is "Transformative, Content-Focused Classroom Technology Integration." Joan Hughes, an associate professor at the University of Texas at Austin, will discuss what that means and how school leaders and teacher educators can support its development.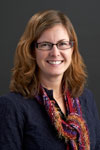 Joan Hughes
"To help assist in this change, I'll outline some ways school leaders – not just those in administrator roles – can support this kind of technology integration," Hughes said. "I'll also outline experiences that new teachers should have to prepare them to enact this kind of technology integration when they become professional teachers."
Klages said many teachers want to use technology, but there are limitations holding them back.
"One of those limitations could be personal knowledge," she said. "Technology moves so quickly, it's difficult to keep up with it. Second, some school districts don't provide the support that teachers need to use technology. Support doesn't just mean money for the technology, but time and training to use it appropriately so it's meaningful to teaching and learning."
Hughes said her advice is for teachers to focus on problems of practice specific to their teaching or students' learning.
"There is no need for teachers to know every new technology that exists," she said. "But it's important to identify challenge areas in teaching and learning, and then explore potential technological solutions to those challenges. Your challenge areas will set some boundaries on what technologies are applicable, thus limiting your search."
Fred Litton
Fred Litton, dean of the UHV School of Education & Human Development, said the university is devoting more attention to educational technology. This summer, the university will begin offering an educational technology concentration in the Master of Education in curriculum and instruction. Also in development is an educational technology master's degree.
"We want our students to have the tools and knowledge at their disposal to effectively integrate technology in the classroom," Litton said. "We realize there are obstacles in getting there, which is why we're devoting this symposium to educational technology. We're pleased Dr. Hughes has agreed to lead this discussion."
Hughes earned a bachelor's degree in English from Pomona College in Claremont, Calif., and a doctorate in educational psychology from Michigan State University in East Lansing. She studies how teachers and K-12 students use technologies inside and outside the classroom for learning and how school leaders support the use of technology in classrooms.
"Looking at what she has presented, her work is very practical," Klages said. "A teacher who comes to this presentation can immediately take something back and apply it."
Hughes said she would like university education programs to create experiences that prepare new teachers as technology leaders.
"These new leaders can help change the K-12 schools they enter," she said. "I don't see this happening yet. Generally, I see programs focusing too much on learning tools and less on learning how to frame the technology tool's contribution to teaching and learning."
This is the fourth symposium hosted by the UHV School of Education & Human Development. The school hosts a symposium about a different education topic each semester. The three previous ones focused on emotional intelligence, autism and bilingual education.
For more information about the symposium, contact the school at education@uhv.edu or 361-570-4262.
The University of Houston-Victoria, located in the heart of the Coastal Bend region since 1973 in Victoria, Texas, offers courses leading to more than 80 academic programs in the schools of Arts & Sciences; Business Administration; and Education, Health Professions & Human Development. UHV provides face-to-face classes at its Victoria campus, as well as an instructional site in Katy, Texas, and online classes that students can take from anywhere. UHV supports the American Association of State Colleges and Universities Opportunities for All initiative to increase awareness about state colleges and universities and the important role they have in providing a high-quality and accessible education to an increasingly diverse student population, as well as contributing to regional and state economic development.