Close
Debut book of final ABR spring author in production as possible HBO series
When it came time for Salma Hayek and her production team to hire a screenwriter for the "Boy Kings of Texas" TV series, they turned to the book's author, Domingo Martinez.
"Apparently that is quite unusual because typically they separate the author from his material, so that it works for television," Martinez said. "The author Richard Price once said 'Trying to adapt a screenplay from your own novel is like trying to do brain surgery on yourself.' Now I know what he means."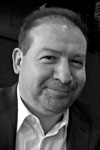 Domingo Martinez
Martinez will be the final author Thursday in the Spring 2014 University of Houston-Victoria/American Book Review Reading Series. His 2012 book, "Boy Kings of Texas," explores Martinez's experiences growing up in the 1980s in Brownsville and the cultural collision of two countries.
Martinez will read from "Boy Kings of Texas" and from his upcoming book, "My Heart is a Drunken Compass," at noon in the Alcorn Auditorium of UHV University West, 3007 N. Ben Wilson St. The public is invited to attend the free event, and light refreshments will be served.
Part a reflection on the culture of machismo and part an exploration of the author's boyhood spent in his sister's hand-me-down clothes, "Boy Kings of Texas" delves into the enduring, complex bond between Martinez and his deeply flawed but fiercely protective older brother, Daniel. It features a cast of memorable characters, including his gun-hoarding former farmhand, Gramma, and two older sisters – The Mimis – who for a short, glorious time manage to transform themselves from poor Latina adolescents into upper-class white girls.
The memoir took Martinez nearly 20 years to write, but it didn't take long for it to become a hit. Martinez was a Gold Medal Winner for The Independent Publisher Book Awards and a finalist for the 2013 Pushcart Prize and the 2012 National Book Award, where he was the only finalist who was a first-time author. He also was the only finalist not to have won a Pulitzer Prize.
HBO has optioned the book as a potentially viable series. Hayek and Jerry Weintraub are the producers. In writing the scripts, Martinez has turned to voice-over narration to tell the stories.
"I know it's not the norm for screenwriters, but I love voice-over narration," Martinez said. "I'm trying to keep the tone and the quality of the book. That may be why HBO decided that it couldn't find a screenwriter to treat this in the same voice as I could. I really walk a fine line being a participant and the narrator in these stories."
Martinez said what stood out to him about the book is that he had a firmly planted foot in the old world and could talk about ethnic scenarios, but he relayed the stories for his Seattle home using modern language.
"I'm both part of the experience and the detached observer," he said. "That was the whole point of the book. This was a message of America. It's not a story I wanted to tell back to the Mexican Americans and other Hispanics of South Texas. They didn't need to hear this story, though they loved it. Ultimately, it's about second- and third-generation assimilation in America. It resonated with people who are Polish or Irish – anyone whose parents came in, didn't speak English and stuck to their traditions."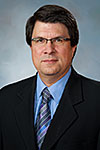 Jeffrey Di Leo
Jeffrey Di Leo, ABR editor and publisher, and dean of the UHV School of Arts & Sciences, said he appreciates how Martinez tried to make sense of cultural identity using memorable characters.
"Mr. Martinez is a terrific story teller, and what a story he had to tell in 'Boy Kings of Texas,'" Di Leo said. "While I'm sure the book ruffled a few feathers, it's deserving of all the critical praise and awards. We're excited to have him close out the Spring Reading Series."
Martinez's story, "Changes in Attitude," about his time living in South Padre Island appeared in the fall 2013 issue of Huziache magazine, a Latino literary magazine published at UHV. The story was intended for "Boy Kings of Texas" but was cut because of space and flow issues.
Martinez said his second book took a little longer than he expected because it deals with some painful subjects.
"It starts out with my own family's personal tragedy that I missed because I was living in Seattle," Martinez said. "My youngest brother burned out of school, fell apart and disappeared. The next time we heard from him, he was in the hospital."
Martinez was in therapy shortly thereafter when he met a woman who also had suffered a loss.
"We sort of bonded over tragedy, which is never a good sign," he said. "In the rest of the book, we lurch forward and talk about getting married even though we were polar opposites. We get engaged and then separate, and then a month later she has a seizure when she's driving and ends up in a coma."
Martinez said "My Heart is a Drunken Compass" will have lighthearted moments surrounding or during the somber parts.
"It's the only way to endure tragedy," he said. "The only thing that keeps you buoyant is the funny moments. When I get locked into writing the tragic part, the comedy surfaces right in there. That's really how I experienced things."
Martinez will be available after the reading to sign copies of his book, which can be purchased at the event. During his visit, Martinez will meet with students and attend functions in the community.
ABR is a nonprofit, internationally distributed literary journal published six times a year. It began in 1977, moved to UHV in 2007 and has a circulation of about 8,000. The journal specializes in reviews of works published by small presses.
For more information about the UHV/ABR Reading Series, call the ABR office at 361-570-4101 or go to www.americanbookreview.org.
The University of Houston-Victoria, located in the heart of the Coastal Bend region since 1973 in Victoria, Texas, offers courses leading to more than 80 academic programs in the schools of Arts & Sciences; Business Administration; and Education, Health Professions & Human Development. UHV provides face-to-face classes at its Victoria campus, as well as an instructional site in Katy, Texas, and online classes that students can take from anywhere. UHV supports the American Association of State Colleges and Universities Opportunities for All initiative to increase awareness about state colleges and universities and the important role they have in providing a high-quality and accessible education to an increasingly diverse student population, as well as contributing to regional and state economic development.