Close
Students from UHV's first freshman class ready to graduate
Ashley Winegeart isn't afraid of being first.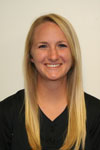 Ashley Winegeart
On Nov. 19, 2009, she became the first freshman to sign with the University of Houston-Victoria softball team. The Corpus Christi native was one of UHV's first freshman starting classes in fall 2010, when the university began offering classes for freshmen and sophomores. Soon she will be one of the university's first graduates who have attended UHV all four years of college.
"It's pretty cool to be a part of history," Winegeart said. "It's gratifying to be one of the first students to attend UHV for four years."
A total of seven UHV students who started at the university in fall 2010 have applied to graduate on May 10. Joining Winegeart are Isaac Babalola and Kristina Droz, both of Missouri City; Megan Carter of Woodsboro; Amber Hermes of Hallettsville; Danielle Mapps of Fresno; and Vanessa Plasencia of Rosenberg.

Umaima Mal of Denison became the first freshman who started in fall 2010 to graduate. She finished her degree in summer 2013. Four other students who started in fall 2010 graduated in December. They are Marley Moehrig of Victoria, Linda Nguyen of Houston, Danielle Delgado of San Antonio and Lauren Brister of Palacios.

Another 49 students who started in fall 2010 are still enrolled at UHV and working toward their degrees.
UHV will hold two graduation ceremonies in Victoria. Both will take place in Faith Family Church, 2002 E. Mockingbird Lane, the largest indoor facility available in Victoria. The 9 a.m. ceremony will be for graduates of the schools of Arts & Sciences and Education & Human Development. The 1 p.m. ceremony will be for the schools of Business Administration and Nursing. Victoria Mayor Paul Polasek will deliver the keynote address at both ceremonies.
UHV was an upper-level institution for 37 years after its founding in 1973. Freshman recruitment efforts began after Texas Gov. Rick Perry signed House Bill 1056 in June of 2009 to allow UHV to admit underclassmen for the first time in fall 2010.
"When I first chose UHV, I liked that I could be part of the first group of freshmen and start something new," Babalola said. "Now, being part of the first freshmen to graduate is a big milestone. I can say I was there from the very beginning."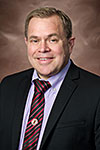 Jeffrey Cass
Jeffrey Cass, UHV provost and vice president for academic affairs, said commencement will mark another banner day on the university's road to being a destination university.
"I'm proud of these students for all they have accomplished the past four years," he said. "It takes courage to choose to come to a university that had never admitted underclassmen before. In the classroom, sports fields and student organizations, these students have displayed their intellect, talent and perseverance. It's an honor to bestow them with diplomas."
Babalola said the last four years have gone by fast. He lived in Victoria for the first three but moved back to his hometown of Missouri City for his senior year. He takes classes online and at UH Sugar Land, where UHV offers many of the programs.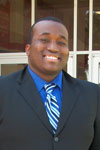 Isaac Babalola
"Living on campus during my freshman year was a big change because it was my first time away from home," Babalola said. "It required me to be more independent and more disciplined with my time. During my sophomore and junior years, I became wiser about college. My professors and classmates have all made an impact on me. I don't regret anything. The college experience at UHV has made me a better person."
Babalola said his grades were a work in progress the first year at UHV.
"In the beginning, I was stuck, but I learned to lean on the resources given, such as the Academic Center and my professors," he said. "What I love about UHV is the faculty and staff really care about students' futures. They encourage me to push myself to be better inside and outside of the classroom."
Winegeart also said one of her favorite aspects of attending UHV was getting to know her professors. She will earn a Bachelor of Business Administration with a health care administration concentration. Her next step is graduate school at Texas Women's University in Denton, where she will pursue dual master's degrees in business administration and health systems management.
Winegeart has won a number of academic of accolades, including twice being named to the College Sports Information Directors of America All-District team. She was chosen as a 2013 Daktronics-National Association of Intercollegiate Athletics Scholar Athlete. On the field, UHV's starting shortstop is the university career leader in games played, games started, at bats and walks. Winegeart was named the UHV Softball Player of the Year during Monday's Jaguar athletic banquet.
Winegeart said it took discipline and time management skills to excel in the classroom before and during softball season. She credits UHV's softball coaches for emphasizing academics. Carter and Droz also are softball players.
"It's nice to be able to walk across the stage with my teammates," Winegeart said. "Our softball team works as a family."
Babalola will earn a Bachelor of Business Administration May 10. He plans on enrolling in UHV's Master of Business Administration program. While he isn't sure what type of business career is right for him, he's confident that the UHV faculty and his fellow students will help him figure it out.
"If you are disciplined and do the work, then UHV's professors are happy to help you understand the material," Babalola said. "My classmates also had an impact on my education. Life is all about relationships. When you have those connections, windows of opportunities are open for jobs, internships and volunteer programs."
Winegeart said Alex Gonzalez and Brenda Leal-Flores, two high school seniors from her alma mater, Corpus Christi Carroll High School, are coming to play softball at UHV next season. As the fifth freshman class, they will have a better idea about what life is like at UHV compared with fall 2010 when Winegeart and Babalola arrived.
"I tell high school students that UHV is a very friendly university," Winegeart said. "Professors are willing to get to know you, work with you and help you succeed."
The University of Houston-Victoria, located in the heart of the Coastal Bend region since 1973 in Victoria, Texas, offers courses leading to more than 80 academic programs in the schools of Arts & Sciences; Business Administration; and Education, Health Professions & Human Development. UHV provides face-to-face classes at its Victoria campus, as well as an instructional site in Katy, Texas, and online classes that students can take from anywhere. UHV supports the American Association of State Colleges and Universities Opportunities for All initiative to increase awareness about state colleges and universities and the important role they have in providing a high-quality and accessible education to an increasingly diverse student population, as well as contributing to regional and state economic development.