Close
UHV recognizes faculty for exceptional teaching, service, research
University of Houston-Victoria faculty members from the fields of biology, counseling and nursing were selected by their students and peers this week for the university's prestigious teaching, research and service awards for 2014.
Siva Somasundaram earned the Enron Teaching Excellence Award.
Jennifer Boswell was named the recipient of the Research and Scholarly Activity Excellence Award.
Denise Neill was given the Distinguished Faculty Service Award.
The three faculty members were selected by committees that oversaw nominations and chose finalists before naming a winner. Each winner will receive a plaque and a monetary award.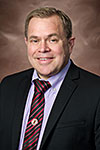 Jeffrey Cass
Somasundaram, Boswell and Neill also will be honored during UHV's two graduation ceremonies May 10 at Faith Family Church, 2002 E. Mockingbird Lane in Victoria. A 9 a.m. ceremony will be for graduates of the schools of Arts & Sciences and Education & Human Development. A 1 p.m. ceremony will be for graduates of the schools of Business Administration and Nursing.
"The committee had its work cut out for it this year because of so many excellent nominees," said Jeffrey Cass, UHV provost and vice president for academic affairs. "While they all should be commended, I'd like to especially thank the winners for their dedication to teaching our students, providing dynamic research and serving the university and the community."
The Enron Teaching Excellence Award was established in 1993. UHV students nominate professors who exemplify innovative, high-quality instruction relevant to their lives and careers.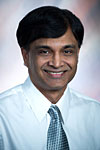 Siva Somasundaram
Somasundaram is a biology professor in the UHV School of Arts & Sciences and serves as the director of undergraduate biology programs.
Students complimented Somasundaram's teaching methods and availability.
"He uses methods that actually do impart the course content to the student, whether it is through summary of video lectures or through quizzes for each chapter," said one student who nominated Somasundaram. "He has managed to make topics I have previously had trouble with come alive; I find myself elated at finally understanding."
Somasundaram said all his students start the semester with an A letter grade.
"If students don't do the homework or prepare for the exams, then they won't keep their A," he said. "Most students like that approach because they are motivated to keep the grade. They will come to me to ask questions or get help with concepts or segments they don't fully understand. When they do, it also helps me learn what I can do to teach the course better."
The Research and Scholarly Activity Excellence Award recognizes professors who have made outstanding research and scholarly contributions to their scientific and scholarly communities.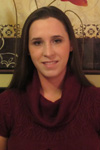 Jennifer Boswell
Boswell, an assistant professor of counseling, is completing her first year on the university's UHV School of Education & Human Development faculty. She previously taught at Oakland University in Rochester, Mich.
During the past three years, Boswell has published 12 journal articles in the areas of general and children's counseling. She has been an active participant in various research conferences and has served as editor, managing editor and assistant editor in regional, national and international journals.
"I pick a day of the week each semester to write and try not to let other work commitments take it over," she said. "I really enjoy writing and publishing. I also have a writing group that meets weekly to discuss goals. The support system helps encourage me to keep going."
Rupak Rauniar, chair of the UHV Faculty Awards Committee and an assistant professor of management, said Boswell's writing has appeared in many top-tier journals.
"The committee noted Dr. Boswell's effort to collaborate with colleagues within UHV and other professionals around the U.S. on a variety of topics, such as treatment of children, religious/spiritual issues in counseling and mentoring needs of women," he said.
UHV faculty members also annually recognize a peer with the Distinguished Faculty Service Award. This faculty member admirably serves both the university and community.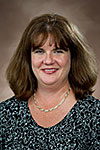 Denise Neill
Neill, an associate professor in the UHV School of Nursing, has taught nursing for 18 years, including the past eight at UHV. She has been a member of UHV's Faculty Senate since 2009 and was Senate president during the 2012-2013 school year. She also serves on the UHV Human Subjects Committee.
Neill is leader of the Gulf Coast Regional Texas Team, a nonprofit organization formed to advance health in Texas, and chair of the Lone Star Nursing Advisory Board, which serves the five Lone Star community colleges in the north and west Houston areas. In summer 2013, Neill was one of 40 educators nationwide selected as a 2013-2014 fellow of the Leadership for Academic Nursing Program presented by the American Association of Colleges of Nursing.
"Nursing is a service profession," she said. "It's nice to be honored by my peers for something that I value, which is being able to give back internally in the School of Nursing and externally in the community."
Neill said one of the service endeavors she has enjoyed the most is HOSTS, a mentoring and tutoring program in the Victoria Independent School District.
"I still keep up with the last student I mentored through the HOSTS program," she said. "I followed her for her entire high school career, and now she is about to finish her freshman year of college."
The University of Houston-Victoria, located in the heart of the Coastal Bend region since 1973 in Victoria, Texas, offers courses leading to more than 80 academic programs in the schools of Arts & Sciences; Business Administration; and Education, Health Professions & Human Development. UHV provides face-to-face classes at its Victoria campus, as well as an instructional site in Katy, Texas, and online classes that students can take from anywhere. UHV supports the American Association of State Colleges and Universities Opportunities for All initiative to increase awareness about state colleges and universities and the important role they have in providing a high-quality and accessible education to an increasingly diverse student population, as well as contributing to regional and state economic development.