Close
Opportunities await UHV outstanding business graduates
Daniel Matsumura envisioned a bright future after earning his undergraduate degree several years ago and landing a job at a prominent biotech firm in the San Francisco Bay Area – that is until the company was taken over by a global pharmaceutical giant.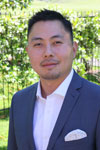 Daniel Matsumura
"When a company goes through a hostile takeover, everything changes," Matsumura said. "One year it's one of the best companies to work for and the next it's facing restructuring, redundancy eliminations and all-time lows in morale. That was the point where my wife and I knew we had to do something to protect the livelihood of our family."
Three years later, he is set to receive his Global Master of Business Administration with a concentration in finance and general business on Saturday from the University of Houston-Victoria School of Business Administration. The school named Matsumura of Katy its outstanding spring graduate student, and Connie Chao of Sugar Land its outstanding spring undergraduate student. Chao will receive her Bachelor of Business Administration with a concentration in accounting.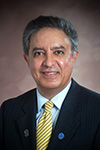 Farhang Niroomand
"Daniel's and Connie's commitment to excellence has shined through in their academic work and will surely show in their future professional pursuits, as well," said Farhang Niroomand, dean of the UHV School of Business Administration.
Each semester, professors from the four UHV schools select outstanding students to be honored during commencement. UHV will hold two spring graduation ceremonies on Saturday at Faith Family Church, 2002 E. Mockingbird Lane. The 9 a.m. ceremony will be for graduates of the schools of Arts & Sciences and Education & Human Development. The 1 p.m. ceremony will be for graduates of the schools of Business Administration and Nursing.
Both Matsumura and Chao hail from California. Chao was a baby when her family moved to the U.S. from Taiwan. She was raised and attended high school in Los Angeles. Matsumura was born and raised in Honolulu, Hawaii, and graduated from high school in Pittsburg, Calif., in the San Francisco Bay Area. While Matsumura aspires to be a crude oil or natural gas trader for a large oil and gas company, Chao ultimately wants to become a Certified Public Accountant and run her own accounting firm.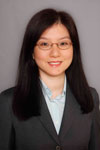 Connie Chao
Chao is excited about the professional doors her degree can open for her.
"I chose this field because it's very practical and applicable to a lot of areas, and it's a good fit for my personality," she said. "I'm pretty detail-oriented, methodical and good with numbers."
Chao worked for six years while going to school. After graduating, she plans to work in the accounting field but not until she takes a long-awaited mini vacation. She looks forward to some simple pleasures that she had little time for while going to school. These include playing tennis and making vegan cuisine.
"I enjoy cooking vegan meals for my friends," she said. "The primary reason I eat vegan is because of my concern for animal welfare, but I also think it is healthier."
Matsumura, too, plans to take a breather after graduating.
"I'd like to take some time to reconnect with my family," he said. "The first thing that I want to do is make up for all of the times that I had to study."
His wife, Catherine, also is graduating Saturday from UHV with a Strategic MBA.
"Looking back over the past three years, this was the best decision we could have made for our family," Matsumura said. "Taking this opportunity to step away from our former jobs and realize our dreams of achieving MBAs has taken us on a journey that has shown us that anything is possible with hard work, dedication and sacrifice."
The University of Houston-Victoria, located in the heart of the Coastal Bend region since 1973 in Victoria, Texas, offers courses leading to more than 80 academic programs in the schools of Arts & Sciences; Business Administration; and Education, Health Professions & Human Development. UHV provides face-to-face classes at its Victoria campus, as well as an instructional site in Katy, Texas, and online classes that students can take from anywhere. UHV supports the American Association of State Colleges and Universities Opportunities for All initiative to increase awareness about state colleges and universities and the important role they have in providing a high-quality and accessible education to an increasingly diverse student population, as well as contributing to regional and state economic development.