Close
'Ready Player One' selected as next UHV Community of Readers book
The choice for the next University of Houston-Victoria Community of Readers book often is described as a page turner because the story develops rapidly.
"The action in 'Ready Player One' starts taking place right away, and while you begin to figure things out, you also can't wait to know more," said Amanda Breu, chair of the Community of Readers Committee, and instruction and outreach librarian at the Victoria College/UHV Library.
After considering 40 books, the committee selected the 2011 debut novel of Austin native Ernest Cline. The science fiction novel is packed with adventure, gaming and pop-culture references. Those elements generally appeal to incoming UHV freshmen, who will receive a free copy of the book as part of the First Year Academic Experience.
"Video games have become such an important part of popular culture that it gives us a pathway that many students are already familiar with to introduce them to concepts like government, social control, economics and crime," said J. Keith Akins, director of the First Year Academic Experience. "What I like about the book is it shows the interconnectedness of society with economics, religious beliefs and technology."
The Community of Readers program is designed to establish a common academic experience between first-year students and the larger community. Everyone is asked to read a book that can provide cross-disciplinary perspectives, generate discussion and foster the exchange of diverse ideas. Lessons from the book are incorporated into class lectures and projects. Book-themed special events or presentations are planned for students and community members during the fall semester.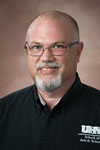 J. Keith Akins
"Ready Player One" is set in Oklahoma in the year 2044. Like most of humanity, Wade Watts escapes his grim surroundings by spending his waking hours jacked into the OASIS, a sprawling virtual utopia that lets people be anything they want to be, a place where they can live, play and fall in love on any of 10,000 planets.
Wade dreams of being the one to discover the ultimate lottery ticket that lies concealed within this virtual world. Somewhere inside this giant networked playground, OASIS creator James Halliday has hidden a series of puzzles that will yield fortune – and remarkable power – to whoever can unlock them. Halliday's riddles are based in the pop culture of the late 20th century. When Wade stumbles upon the first clue, he finds himself surrounded by players willing to kill to take this ultimate prize.
The book weaves together several academic disciplines. Breu said there is a huge business element throughout the book, and the themes of computer science, history, ethics and philosophy also are prevalent.
"Ready Player One" follows other science fiction or adventure Community of Reader novels – "World War Z: An Oral History of the Zombie War" in 2011 and "The Hunger Games" in 2012.
"We're not deliberating choosing science fiction," Akins said. "We're choosing books about ideas that explore some of the great questions of life, which often is the backbone of really good science fiction."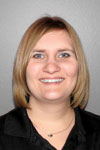 Amanda Breu
Every year, the Community of Readers Committee reviews books recommend by UHV faculty, staff and community members. Breu said committee members narrowed the list down to eight books and then read them all.
"It was fairly close between 'Ready Player One' and 'Machine Man,' a book by Max Barry," Breu said. "It was the closest selection since I've been on the committee. The reason the committee ultimately decided to go with 'Ready Player One' is there are more opportunities to build academic and social events outside the classroom."
While the committee hasn't started event planning, Breu said there are many potential event tie-ins with UHV Student Life. There also will be a faculty lecture series this fall. In fall 2013, nine UHV faculty members made presentations involving aspects of "Escape From Camp 14," the 2013 Community of Readers book. Students enjoyed attending those lectures, she said.
While "Ready Player One" has wide audience appeal, fans of 1980s pop culture have particularly embraced the book. There are numerous references to movies, TV shows, music and games from that decade. Breu and Akins said even though most incoming freshmen weren't born until the mid-1990s, they will get most of the references.
"Many of the movies named in the book still get brought up today," Breu said. "The musical artists still are mentioned or have songs on the radio today. UHV Student Life always puts on a '80s skating night, and it's usually one of the best attended events of the year."
Freshmen will get their copy of "Ready Player One" at the beginning of the fall semester, and other UHV students, faculty and staff can request a free copy by going to the Request a Book link on the Community of Readers website, www.uhv.edu/community-of-readers/ . Books will be delivered in early fall.
"Ready Player One" also is available for purchase at local and online retail outlets, and copies can be checked out from the Victoria Public Library and the VC/UHV Library.
"It's a good book for community members to read," Breu said. "It's a quick read and very entertaining."
The University of Houston-Victoria, located in the heart of the Coastal Bend region since 1973 in Victoria, Texas, offers courses leading to more than 80 academic programs in the schools of Arts & Sciences; Business Administration; and Education, Health Professions & Human Development. UHV provides face-to-face classes at its Victoria campus, as well as an instructional site in Katy, Texas, and online classes that students can take from anywhere. UHV supports the American Association of State Colleges and Universities Opportunities for All initiative to increase awareness about state colleges and universities and the important role they have in providing a high-quality and accessible education to an increasingly diverse student population, as well as contributing to regional and state economic development.