Close
UHV launches student giving program with Spirit Cords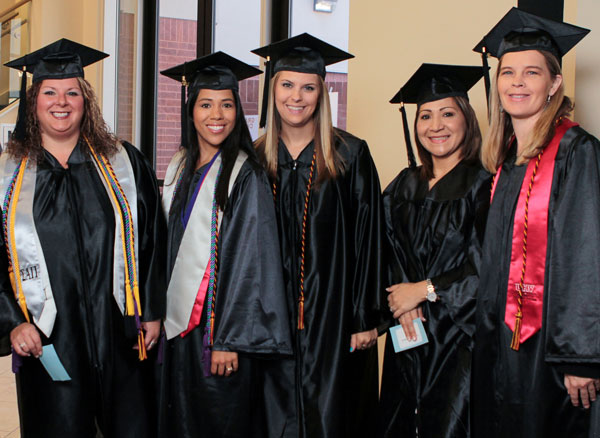 University of Houston-Victoria graduates wearing Jaguar Spirit Cords pose for a group photo before one of Saturday's commencement ceremonies. More than 120 graduates each donated $20.14 to UHV and got to wear one of the red, black and gold cords during commencement.
The red, black and gold cords worn by about 120 graduates at the University of Houston-Victoria commencement ceremonies on Saturday signified a desire to help future students make it to their own graduation day.
UHV recently launched Jags Give Back, the university's first student giving program. A total of 121 graduates each donated $20.14 – an amount chosen since the Class of 2014 was graduating. Those donating wore Jaguar Spirit Cords on their robes.
Crystal Simmons, UHV director of annual giving, said a simple question prompted many donations.
"We just asked them if they ever thought about giving a gift back to UHV," Simmons said. "Not a single one replied, 'Why should I?' They thought it would be a really good idea."
A total of $2,441 was raised from cord donations because a few donors rounded up and gave a little more. Graduates directed their contributions to one of five areas: Friends of Arts & Sciences, School of Business Endowed Professorship, School of Education & Human Development Scholarships, Friends of Nursing or General Athletic Scholarships Fund.
"The graduates were excited they had a choice for how the money would be designated," Simmons said. "One woman decided to give to athletics because her children were into sports. Another woman was graduating with a business degree but planned to obtain a master's degree in education, so she gave to the School of Education & Human Development Scholarships."
Simmons said Jags Give Back gave some graduates something to wear on their graduation robes. Graduates with cords from honor societies wanted an additional one. But the biggest reason they were popular was the promotion of higher education and athletic opportunities for other students.
"I am the first college graduate in my family," said Fandell Walker, who graduated Saturday with a Bachelor of Business Administration. "Giving back is a part of the call, so that in time, everyone will be blessed to have experienced higher education."
April Perritano, a Victoria resident who earned a Master of Arts in Interdisciplinary Studies, also was happy to give back to her alma mater.
"I never thought college was possible in high school, and I wanted to give back in the hope that others could realize their dreams," she said.
Simmons said the UHV Office of University Advancement modeled Jaguar Sprit Cords after a similar program at UH. The office teamed up with the Student Government Association to get word out about the cords. Students also found out about them through social media.
"To have this many graduates participate on the first try was monumental," Simmons said. "While not everyone who graduates can attend commencement, about 40 percent of the graduates who did attend Saturday wore Jaguar Spirit Cords. I've already had some emails from December graduates about the cords. Graduates will be looking forward to this before every commencement."
Linda Urbish, an accountant in the UHV Finance Department, purchased 10 cords. The deans of the four schools and UHV Athletic Director Ash Walyuchow chose how to distribute them.
"The students receiving the cords were so excited," Simmons said. "They felt honored that their dean or athletic director picked them to wear one."
The Spirit Cords were the first step for Jags Give Back. In the fall, the Office of University Advancement will introduce piggy banks to the freshman class. Spare change will be collected for a senior gift four years later.
Another Jags Give Back activity will be a dorm challenge called Stuff the Pig. Each residence hall will compete to see which one can raise the most money for residential scholarships. UHV also will celebrate National Philanthropy Day in November with activities around campus where students can learn about giving back.
For more information about student giving, contact Simmons at simmonscm@uhv.edu or 361-570-4869.
The University of Houston-Victoria, located in the heart of the Coastal Bend region since 1973 in Victoria, Texas, offers courses leading to more than 80 academic programs in the schools of Arts & Sciences; Business Administration; and Education, Health Professions & Human Development. UHV provides face-to-face classes at its Victoria campus, as well as an instructional site in Katy, Texas, and online classes that students can take from anywhere. UHV supports the American Association of State Colleges and Universities Opportunities for All initiative to increase awareness about state colleges and universities and the important role they have in providing a high-quality and accessible education to an increasingly diverse student population, as well as contributing to regional and state economic development.