Close
UHV awards more than $20,000 to professors for research projects
| | | | |
| --- | --- | --- | --- |
| | | | |
| Beverly Tomek | Ricardo Teixeira | Richard Gunasekera | Mary Lasater |
A quartet of University of Houston-Victoria faculty members will receive 2014-2015 Internal Research Grant Awards to further their research in biology, education, history and mathematics.
This is the third year UHV has awarded grants to selected faculty members. Recipients will receive between $4,320 and $6,000, depending on project budgets. The total amount awarded is $21,172.
The recipients and titles of their research projects are:
Beverly Tomek, assistant professor of history, "Slavery and Abolition in Pennsylvania"
Ricardo Teixeira, assistant professor of mathematics, "Ranking of Complex Information"
Richard Gunasekera, director of biology graduate programs and professor of biology and biochemistry, "Diagnosis of Secondary Samples from Kashin-Beck Disease and Control Subjects from Tibet as Preliminary Evidence for NIH Grant Proposals and Research"
Mary Lasater, assistant professor of education, "Utilizing Online Fluency-Building Games to Enhance Exam Preparation for Teacher Education Students"
UHV began the internal grants in 2011 to contribute to faculty members' ongoing professional development and the advancement of overall knowledge in their professional fields. The awards are for tenured and tenure-track faculty members, and support pilot projects that can lead to developing and submitting proposals to external agencies for significant grant funding.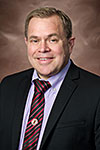 Jeffrey Cass
"Once again, we received a number of impressive faculty research projects during the grant application process," said Jeffrey Cass, UHV provost and vice president for academic affairs. "I have no doubt that these four faculty members will put to good use this funding to develop impactful research that could lead to external grants down the road."
Tomek's project examines Pennsylvania antislavery from its beginning in 1688 to the years after the U.S. Civil War. It will show that Pennsylvania remained central to the abolition movement and showcase the cooperation between black and white abolitionists.
Tomek plans to use the grant money to purchase a microfilm reader to use with her home computer. She also will travel to Philadelphia.
"The only place you can access all of the papers, pamphlets, letters, newspapers, ledgers and other records of all antislavery groups in Pennsylvania is the Historical Society of Pennsylvania in Philadelphia," Tomek said. "I have found some real treasures in those files while working on my previous books, and this book will trace the story further in time into and beyond the Civil War. I am excited to see what I find pertaining to this later period."
Tomek plans to apply for a fellowship from the Library Company of Philadelphia Mellon Scholar Program in African American History next summer. She also is writing two books about the subject.
Teixeira also was awarded a $10,000 summer research grant for 2014. He will spend part of the summer developing a mathematical prediction tool for NBA and NFL outcomes. During the 2014-2015 school year, he will extend the research to predict consumer decisions using the same mathematical tool.
"That's a lot of applications for this tool," Teixeira said. "For example, we can ask consumers to give grades to certain products. We can then set a number to those grades. This would help us predict what would happen in the future regarding the decisions consumer make. It also helps companies like Netflix or Hulu suggest what products users will like."
Teixeira said a portion of the grant will be used to hire a graduate student to perform computer simulation research. He also will spend the money on books, supplies and travel. His collaborator on the project works at Trinity University in San Antonio.
In the summer of 2007, Gunasekera and UHV student Jeff Cokenour embarked on a research and humanitarian project in Tibet, China, to examine the cause and a therapy for Kashin-Beck disease. The disease is a degenerative form of osteoarthritis involving both growth and joint cartilage that often affects children and teenagers, usually between ages 5 and 15.
Gunasekera and his students resumed the research last year to see if genetic elements and environmental factors trigger the genesis of the disease. In a pilot study using 11 samples, they did sequence analysis of DNA from swabs collected in the field.
Now, Gunasekera wants to expand the study by completing the analysis of 189 DNA samples to learn what the effect this DNA mutation has on Kashin-Beck disease patients.
"With the internal grant funding, we should be able to test all the samples in more than one method and obtain the necessary data to write a federal grant with much more preliminary data as evidence," Gunasekera said.
Lasater's project is about using gaming to build the vocabulary of education students practicing to take their teacher certification, specifically the Pedagogy and Professional Responsibilities exam.
"It's a preliminary study to focus on vocabulary that is essential to the competencies covered in the PPR," Lasater said. "While there are some flashcards and tutorials available online, it's just static definitions and answers – lacking feedback. For this preparation tool, data will be gathered on students' progress with activities through pre- and post-tests and feedback surveys. The long-term goal is to extend the PPR preparation games and have a public domain app on mobile devices so that students across Texas can review at anytime, anywhere."
Lasater will work with Alireza Tavakkoli, director of the UHV digital gaming and simulation program. The funding will be used to hire UHV gaming students to work on the study.
"We are going to reach across two different schools for this project, Arts & Science and Education & Human Development," Lasater said.
The University of Houston-Victoria, located in the heart of the Coastal Bend region since 1973 in Victoria, Texas, offers courses leading to more than 80 academic programs in the schools of Arts & Sciences; Business Administration; and Education, Health Professions & Human Development. UHV provides face-to-face classes at its Victoria campus, as well as an instructional site in Katy, Texas, and online classes that students can take from anywhere. UHV supports the American Association of State Colleges and Universities Opportunities for All initiative to increase awareness about state colleges and universities and the important role they have in providing a high-quality and accessible education to an increasingly diverse student population, as well as contributing to regional and state economic development.