Close
UHV purchases Red River property for future residence hall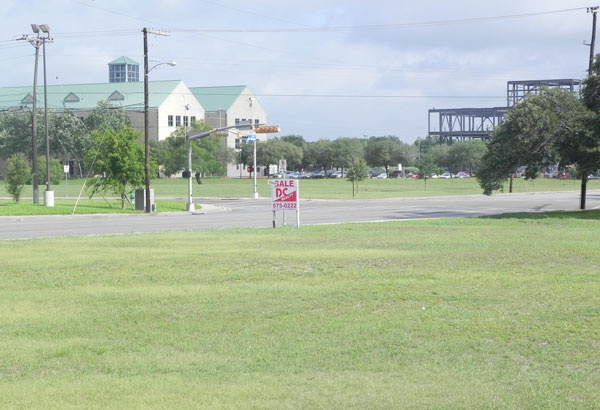 A sold sign is now posted on vacant land at the southeast corner of Red River and Ben Wilson streets. The University of Houston-Victoria recently purchased the property to eventually use for student housing.
The University of Houston-Victoria set in motion plans to expand its campus by recently acquiring 1.4 acres of land at the southeast corner of Red River and Ben Wilson streets.
UHV leaders eventually would like to use the property for additional student housing as the campus grows. The property currently has no structures.
"We are pleased we had the opportunity to acquire a piece of vacant land close to our academic buildings," UHV Interim President Vic Morgan said. "The university already has experienced rapid growth since adding freshmen and sophomores in fall 2010, and we foresee continued expansion in the future. Having additional room to operate is a critical factor in our plans, so this addition is welcome news."
This purchase eventually will put higher education buildings on three corners of the intersection. UHV owns the two pieces of property to the northeast of the intersection, while Victoria College owns the land on the northwest side. A parking lot for Dairy Queen is on the southwest corner.
"This location is ideal because of the proximity to our current and future academic buildings," said Wayne Beran, UHV vice president for administration and finance. "Although this is a high-growth area of Victoria with plenty of new housing and retail development, this particular section is now more established to be set aside for higher education."
UHV purchased the land from Kiran and Jagruti Dayavan, and used general operating funds.
In November, UHV purchased nearly 5 acres of land on the east side of Ben Wilson Street across from the university. The land eventually will be used for a new academic building, which UHV will seek approval to build when it submits its construction bond package in 2014 as part of its appropriation request for the 2015 Texas legislative session.
UHV also owns three residence halls side by side on the Houston Highway. Jaguar Hall and Jaguar Court are renovated hotels. In August, UHV opened Jaguar Suites, a newly constructed 82,000-square-foot apartment-style dorm. There are more than 600 beds for UHV students at the three residence halls, which are known collectively as Jaguar Village.
The number of beds may need to increase in the future as UHV continues to grow. The university set a new fall enrollment record of 4,491 students in 2013 and a new freshman enrollment record of 311. Freshmen are required to live at UHV residence halls unless they receive an exemption. A total of 461 students lived in Jaguar Village during the 2013-2014 school year.
Beran said UHV eventually may have all freshmen live at Jaguar Village, while sophomores and upperclassman would reside in a new complex on Red River Street.
"The long-term concept is for sophomores to have their own residential complex," Beran said. "We hope to get building plans created in the next two years."
Beran and Morgan said UHV's recruiting team has done a great job bringing new students to Victoria.
"Getting to show off Jaguar Suites has been a real asset during tours and recruiting visits," Morgan said. "Having available, attractive student housing will continue to be crucial down the line."
Beran said it's important to stay ahead of the enrollment increases.
"If we ever get behind, we might run into a situation where we have to turn some students away," he said. "We still feel that freshmen and sophomores living on campus lead to better retention. That's why we're starting to make plans for future student housing."
Overall, Beran said UHV has more than doubled its available square footage since 2009. The university has added three residence halls, made two land purchases and is constructing its first new academic building since 2000.
"We've probably added around 200,000 square feet in the last five years," he said. "We're not going to slow down."
The University of Houston-Victoria, located in the heart of the Coastal Bend region since 1973 in Victoria, Texas, offers courses leading to more than 80 academic programs in the schools of Arts & Sciences; Business Administration; and Education, Health Professions & Human Development. UHV provides face-to-face classes at its Victoria campus, as well as an instructional site in Katy, Texas, and online classes that students can take from anywhere. UHV supports the American Association of State Colleges and Universities Opportunities for All initiative to increase awareness about state colleges and universities and the important role they have in providing a high-quality and accessible education to an increasingly diverse student population, as well as contributing to regional and state economic development.