Close
UHV assistant professor's book sheds new light on Holocaust
People have debated why the Holocaust happened for more than 60 years.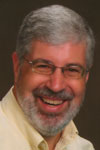 Mark Ward Sr.
The question may never be answered because no single reason tells the whole story, said Mark Ward Sr., a University of Houston-Victoria assistant professor of communication. But Ward's latest book provides a new perspective.
"Deadly Documents: Technical Communication, Organizational Discourse, and the Holocaust – Lessons from the Rhetorical Work of Everyday Texts," examines everyday documents – letters, memos, requisitions, field reports, telegrams, technical proposals – of Nazi bureaucrats who administered programs to gas Jewish people. Many of these bureaucrats later gave postwar testimony, which also was examined by Ward, relating their daily experiences in the office.
"What I found in my research has applications for business ethics today," said Ward, who teaches organizational and business communication. "When we communicate, we create the culture of our workplace. As that culture comes to seem normal, we tend not to question it. This is what happened in the Nazi bureaucracy. What we can learn is that being ethical may mean questioning the assumptions in our organizations."
"Deadly Documents" chronicles how fiercely competitive Nazi bureaucrats employed euphemisms in their everyday correspondence. Gassing was called "special handling," genocide was referenced as a "public health measure" or "military operation," and Jews were "prisoners" whose murders were "executions."
"By using these terms, the Nazi bureaucrats hid the reality of mass murder from themselves," Ward said. "The ambiguousness of the terms also allowed competing bureaucrats to temporarily cooperate since each office could interpret the documents in its own way."
Ward said his research contradicts the popular idea that the Nazis functioned like a well-oiled machine.
"The Nazis believed in survival of the fittest, so they organized their bureaucracy into competing offices," Ward said.
Ward said the materials in the book can be a warning to his UHV students and anyone who works in an organization.
"Traditional ethics prescribe right actions when confronted by a moral choice, but being ethical in the workplace may also mean thinking critically about everyday activities and office relationships that seem normal in the culture of that organization," Ward said. "For example, many college students think the purpose of education is to maximize their productivity so they can help an employer be more profitable. While that's not wrong, it has the potential for problems if it's uncritically accepted."
Ward says workplace ethics are a central theme of a new textbook on organizational communication that he recently co-authored. The book is scheduled to be released this fall.
"Deadly Documents" is now available from Baywood Publishers of Amityville, N.Y. It can also be purchased from several online booksellers.
The University of Houston-Victoria, located in the heart of the Coastal Bend region since 1973 in Victoria, Texas, offers courses leading to more than 80 academic programs in the schools of Arts & Sciences; Business Administration; and Education, Health Professions & Human Development. UHV provides face-to-face classes at its Victoria campus, as well as an instructional site in Katy, Texas, and online classes that students can take from anywhere. UHV supports the American Association of State Colleges and Universities Opportunities for All initiative to increase awareness about state colleges and universities and the important role they have in providing a high-quality and accessible education to an increasingly diverse student population, as well as contributing to regional and state economic development.