Close
New concentration to prepare UHV students for educational technology
Fred Litton, dean of the University of Houston-Victoria School of Education & Human Development, last year asked an advisory group of area superintendents whether the university should start teaching graduate-level educational technology courses.
The answer was a resounding yes. The superintendents said they were eager to hire graduates with technology experience and training.
To meet those needs, the UHV School of Education & Human Development will begin offering an educational technology concentration this fall for students earning a Master of Education in curriculum and instruction.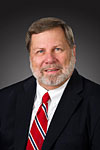 Fred Litton
"The superintendent's reaction reaffirmed there is a need for an educational technology concentration," Litton said. "Technology is becoming more predominant when teachers prepare class instruction. Our faculty members are using technology more often. Offering this concentration and developing a master's degree in educational technology will make us a more well-rounded school and one that attends to best practices and current trends in the field."
The concentration requires 30 credit hours. Students will take four core curriculum and instruction courses and five new courses emphasizing educational technology. Also required is a research course during which students will conduct a school-based research project. All the courses will be offered online. New UHV students pursuing the concentration are eligible for a $500 scholarship.
The idea for the new concentration came from a faculty task force Litton put together in 2013 to review undergraduate and graduate programs. Given the technology growth in schools, the committee agreed it made sense to prepare future educators for educational technology roles. Educational technology also was the topic of the school's Spring Symposium in April.
"Students are learning more with technology than ever before," Litton said. "From both learning and teaching points of view, technology is here to stay. We need to be a player in that market."
The concentration is designed to give students expertise in the integration of curriculum and technology in the classroom. It also is intended to fill increasing demands for education professionals with skills in technology and digital learning environments.
Litton said almost every elementary and secondary school now has a technology specialist. The specialist usually operates the technology lab and assists teachers with instructional strategies. Many larger school districts have a supervisor of technology, although that position usually requires a master's degree.
"For those people working in educational technology with a bachelor's degree or who are self-taught, this concentration gives them legitimacy and an advanced degree," Litton said.
With the help of a consultant from College Station, five new courses were developed for the concentration. The courses are "Integration of Curriculum and Technology in Education," "Social Networks and Media-Infused Learning," "Digital Learning Environments," "Creating Advanced Technology Learning Environments" and "Internship in the Integration of Curriculum & Technology in Education."
Sherry Vafa, who has taught at UHV as an adjunct instructor, has been hired as an assistant professor. She will teach the new courses.
Vafa earned a doctorate in curriculum and instruction educational technology from UH. She has spent the last five years working as the assistant director of the Education Resource Center at the Baylor College of Medicine. She also has served as a lead instructional designer and Blackboard system administrator in her role at Baylor.
Besides teaching and advising, Vafa will help recruit students for the concentration and work with faculty on technology integration.
"We're excited to welcome Dr. Vafa to lead our educational technology efforts," Litton said. "She's extremely knowledgeable in the subject matter and instructional methodologies."
Vafa's other role will be to help shape the educational technology master's degree the school hopes to offer in the future. Litton said the school plans on developing four or five more courses. He would like the future courses to be useful for students in other degrees or programs UHV offers and within the School of Education & Human Development, such as those studying to become principals or teachers of special needs students.
This is the fifth available concentration for graduate students pursuing a curriculum and instruction degree. The other concentration categories are elementary education, elementary math education, secondary education and literacy/reading.
For more information about UHV's education programs, call 361-570-4252 or visit www.uhv.edu/education/.
The University of Houston-Victoria, located in the heart of the Coastal Bend region since 1973 in Victoria, Texas, offers courses leading to more than 80 academic programs in the schools of Arts & Sciences; Business Administration; and Education, Health Professions & Human Development. UHV provides face-to-face classes at its Victoria campus, as well as an instructional site in Katy, Texas, and online classes that students can take from anywhere. UHV supports the American Association of State Colleges and Universities Opportunities for All initiative to increase awareness about state colleges and universities and the important role they have in providing a high-quality and accessible education to an increasingly diverse student population, as well as contributing to regional and state economic development.