Close
UHV education associate professor honored by national social science group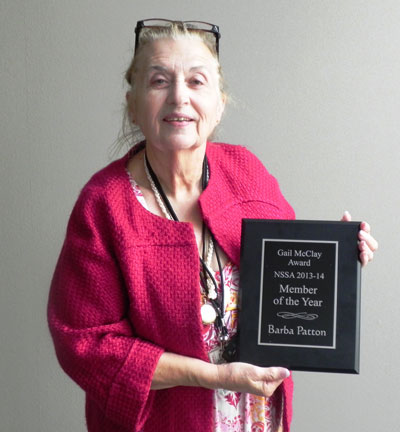 Barba Patton, a University of Houston-Victoria associate professor of curriculum and instruction, displays the award she won from the National Social Science Association at the organization's spring conference in Las Vegas.
Hearing her name called as the National Social Science Association 2013-2014 Member of the Year came as a surprise to Barba Patton, a University of Houston-Victoria associate professor of curriculum and instruction.
"While I have participated in NSSA activities quite a bit during the last decade, I didn't think that I had done anything outstanding enough to deserve an award," Patton said. "Nevertheless, I was delighted to receive this honor from my colleagues and friends."
Patton, who has taught math education full time since 1999 in the UHV School of Education & Human Development, received the Gail McClay Member of the Year Award at the NSSA's spring conference in Las Vegas. McClay was a former NSSA president who was active in growing the organization's membership.
The National Social Science Association is an interdisciplinary association devoted to interaction among social scientists through conferences, seminars and publications. There are more than 3,000 members.
Patton has been a NSSA member for about eight years. She serves on the NSSA board and is a fixture at the organization's conventions. She said her willingness to get involved likely made her a good candidate for the award.
"I've always been willing to work on committees and perform review work," she said. "We're revising the NSSA constitution, so I'm involved with that project right now. I've also been active on the awards committee in the past. When selecting the journal article of the year, I would review about 20 different 30-page articles. I've dedicated a lot of hours to the organization."
Fred Litton, dean of the UHV School of Education & Human Development, said he was pleased to find out about Patton's award.
"Dr. Patton always is eager to lend a hand to professional education and social science organizations," Litton said. "She is passionate about her research and her service to those disciplines. While she may have been caught off guard by this award, I know it's well deserved."
In 2008, Patton's paper, "Synchronous Classrooms," was published in the National Social Science Journal. The next year, the journal published two more of her papers, "Lesson Plans and the Teacher Candidate: Is the Internet Helping or Hindering?" and "Personality Learning Style Preferences and Student Achievement in Online University Learning Environments." Patton also had one other paper and a number of peer-reviewed proceedings published in the journal.
A year ago, the organization presented the top journal article of the year award to Patton and three UHV School of Education & Human Development colleagues: professors Diane Prince and Paul Carlson, and Teresa LeSage Clements, an assistant professor of curriculum and instruction. Their paper was titled "Billions of Dollars Wasted: New Teacher Preparation Models Needed."
The association holds the National Social Science and Technology Conference every spring in Las Vegas. The conference features presentations by professors and students from across the U.S. Patton complimented the NSSA for helping nurture newer social science educators.
"They really push for members to publish their work, and they especially encourage up-and-coming educators," she said.
Patton said she makes a point to visit with members to discuss research, lessons learned and happenings from other conferences.
"It's not necessarily a formal mentoring situation, but I do try to visit with young educators, and I am happy to help them when I can," she said.
The University of Houston-Victoria, located in the heart of the Coastal Bend region since 1973 in Victoria, Texas, offers courses leading to more than 80 academic programs in the schools of Arts & Sciences; Business Administration; and Education, Health Professions & Human Development. UHV provides face-to-face classes at its Victoria campus, as well as an instructional site in Katy, Texas, and online classes that students can take from anywhere. UHV supports the American Association of State Colleges and Universities Opportunities for All initiative to increase awareness about state colleges and universities and the important role they have in providing a high-quality and accessible education to an increasingly diverse student population, as well as contributing to regional and state economic development.