Close
Crowdfunding opportunities, obstacles to be explained at SBDC workshop
Area small business owners and entrepreneurs can learn about the advantages and pitfalls of online funding solicitation during a free University of Houston-Victoria Small Business Development Center workshop.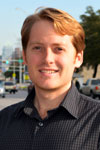 Lance McNeill
A crowdfunding workshop will take place from 1:30 to 3:30 p.m. Wednesday at the SBDC office, 3402 N. Ben Wilson St. The main presenter is Lance McNeill, a business development specialist at Businesses and Community Lenders of Texas in Austin.
Crowdfunding is the practice of soliciting financial contributions from a large number of people. It is typically done online. Crowdfunding is used in many different ways, such as raising money for movie productions, real estate development and civic projects. A Wisconsin brewer has even tapped into it for beer-making investments.
"Online crowdfunding has become a groundbreaking new financial frontier that creates opportunities for entrepreneurs, artists, do-gooders and anyone looking to access capital for his projects without the traditional capital loans or investments," McNeill said. "It's exciting to see crowdfunding used in support of a wide variety of initiatives, from start-up capital for new businesses, nonprofits, social enterprises and operating funds for existing businesses."
The workshop will provide an introduction to crowdfunding. Participants will learn what works and how they can take advantage of this funding approach.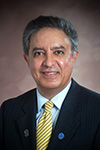 Farhang Niroomand
"Crowdfunding is quickly growing in popularity, so this is a timely presentation," said Farhang Niroomand, dean of the UHV School of Business Administration. "Successful crowdfunding projects have been widely reported, but it's not always obvious why some ventures succeed and others don't."
Annie Hudspeth, a lender relations specialist with the San Antonio Small Business Administration District Office, will kick off the presentation before turning it over to McNeill. He will explain different types of crowdfunding and why they can be challenging
"The majority of projects on even the most popular crowdfunding sites fail to raise their funding goals with success rates of less than 46 percent," he said.
McNeill wrote "The Comprehensive Crowdfunding Guide," an interactive guide designed to help entrepreneurs launch successful online campaigns.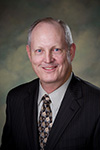 Joe Humphreys
"Mr. McNeill also started Keep Austin Funded, which provides entrepreneurs with the knowledge, tools and, ultimately, access to the crowdfunding capital they need to succeed," SBDC Director Joe Humphreys said. "He has a great deal of advice and stories to tell that will be helpful for small business owners and entrepreneurs, whether they are new to crowdfunding or have tried it before."
The UHV SBDC offers assistance on starting, growing and financing a business; contracting opportunities; and recovering from disaster. Most of its services are free to area small business owners in Aransas, Bee, Calhoun, DeWitt, Gonzales, Goliad, Jackson, Karnes, Lavaca, Refugio and Victoria counties. It is part of a nationwide small business assistance program serving the small business community and federal, state and local governments.
To register for the free workshop, call 361-485-4485 or email sbdc@uhv.edu.
The University of Houston-Victoria, located in the heart of the Coastal Bend region since 1973 in Victoria, Texas, offers courses leading to more than 80 academic programs in the schools of Arts & Sciences; Business Administration; and Education, Health Professions & Human Development. UHV provides face-to-face classes at its Victoria campus, as well as an instructional site in Katy, Texas, and online classes that students can take from anywhere. UHV supports the American Association of State Colleges and Universities Opportunities for All initiative to increase awareness about state colleges and universities and the important role they have in providing a high-quality and accessible education to an increasingly diverse student population, as well as contributing to regional and state economic development.