Close
UHV introduces fixed four-year tuition plan
Students and parents wanting to know up front the exact tuition cost of a four-year University of Houston-Victoria degree can sign up for the university's new fixed tuition rate plan.
UHV will offer a fixed tuition option to freshmen and transfer students for the first time this fall. It's up to each student and their family whether to lock in tuition ahead of time or accept tuition on a year-to-year basis as it is decided.
A participating student would pay a fixed rate for four years, regardless of whether traditional tuition rates increase during that time. Fixed-rate plans are more expensive at the start but also can guard against sharp increases during a student's academic career.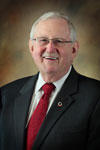 Vic Morgan
UHV Interim President Vic Morgan said the fixed tuition rate won't appeal to everyone because of higher upfront costs.
"But one important advantage of fixed tuition is it clearly establishes the tuition rate ahead of time," Morgan said. "It's a budgeting tool designed to help students and parents. It eliminates concerns about potential future tuition hikes. Tuition and fees are known before a student's first day of class."
A bill passed by the Texas Legislature in 2013 requires that all state public universities offer a four-year fixed tuition plan starting this fall. In February, the UH System Board of Regents approved tuition rates for the next four school years for students on the fixed tuition plan and the next two school years for those paying the yearly tuition rate.
UHV students who start school in fall 2014 and choose the fixed tuition rate will pay $3,283 for 15 credit hours each semester for the next four years. The rate will not change.
UHV students paying the variable yearly rate will be charged a 15-credit-hour rate of $3,164 a semester in 2014-2015 and $3,311 a semester in 2015-2016. Variable tuition rates for 2016-2017 and 2017-2018 are not yet set, UHV bursar Lois Lemke said.
Looking at it from a two-year, 60-credit-hour perspective, students on the fixed tuition rate would pay $13,132 or $182 more than those who forgo fixed tuition. The savings would kick in during the last two years, said Wayne Beran, UHV vice president for administration and finance.
Students on the fixed tuition rate plan would play $26,264 total to get their bachelor's degree in four years. For students paying the variable yearly rate, the total is unknown because tuition is not yet set for 2016-2017 and 2017-2018.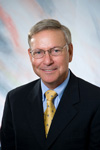 Wayne Beran
"At first glance, there may not seem like much incentive to go the fixed tuition route," Beran said. "But for those students committed to attending school all four years, they could see quite a bit of savings in years three and four. It's not for everyone, but it's nice to have this option available at UHV for those families that want it."
Lemke said university officials met weekly during the spring to come up with the fixed rate plan and discuss how to implement it. While the institutions in the UH System have similar plans, each university made a few tweaks. At UHV, mandatory fees were included in the fixed tuition rate.
All first-time freshmen beginning in the fall are eligible for the fixed tuition rate. Transfer students admitted for the fall also are eligible. Students are required to complete 30 semester credit hours each academic year to stay eligible. They also must remain in good academic standing.
Lemke said enrolled freshmen have until late July to opt into the fixed tuition plan. Those who opt in will receive a formal contract.
Since UHV has many first-generation college students, Lemke isn't expecting a large number of fixed tuition takers the first year.
"Many families may not be as willing to commit to a four-year plan right off the bat," Lemke said. "It is an obligation and a greater cost up front. I can see a more conservative approach of seeing how their child adjusts to college by paying year to year."
Lemke said affordable tuition continues to be one of UHV's selling points, and the fixed tuition plan will offer an even less expensive alternative.
The University of Houston-Victoria, located in the heart of the Coastal Bend region since 1973 in Victoria, Texas, offers courses leading to more than 80 academic programs in the schools of Arts & Sciences; Business Administration; and Education, Health Professions & Human Development. UHV provides face-to-face classes at its Victoria campus, as well as an instructional site in Katy, Texas, and online classes that students can take from anywhere. UHV supports the American Association of State Colleges and Universities Opportunities for All initiative to increase awareness about state colleges and universities and the important role they have in providing a high-quality and accessible education to an increasingly diverse student population, as well as contributing to regional and state economic development.