Close
Regency donates $150,000 for UHV health care management endowed professorship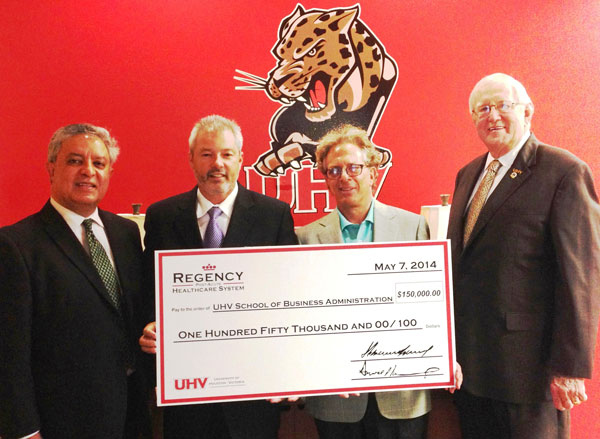 Regency Post-Acute Healthcare System Inc. leaders donate $150,000 to the University of Houston-Victoria School of Business Administration to create the Regency Endowed Professorship. Pictured, from left, are Farhang Niroomand, dean of the UHV business school; Heber Lacerda, Regency president and CEO; Don Kivowitz, Regency founder and chairman; and Vic Morgan, UHV interim president.
A longstanding partnership between the University of Houston-Victoria and Regency Post-Acute Healthcare System Inc. has paved the way for the hiring of a new faculty member specializing in health care management.
Donald Kivowitz, Regency founder and chairman, and Heber Lacerda, president and CEO of the Victoria-based company, recently donated $150,000 to the UHV School of Business Administration. The money will be used to set up the Regency Endowed Professorship.
"We are honored and delighted that Regency Post-Acute Healthcare System has provided a generous contribution for the creation of our school's second endowed professorship," said Farhang Niroomand, dean of the UHV School of Business Administration. "UHV and Regency have worked well together for two decades to benefit our students. I'm grateful to Mr. Lacerda and Mr. Kivowitz for their continued support."
Lacerda said Regency cherishes its longtime partnership with UHV. The company employs more than 45 UHV graduates, including about 30 in the corporate office.
"Regency is fully committed to our mission of improving the quality of life for our employees, residents and the people with whom we come in contact," Lacerda said. "We believe in fulfilling our mission by establishing different means for students to obtain the outstanding education that UHV provides, while combining our own on-the-job training after graduation."
Currently celebrating its 25th anniversary, Regency provides a wide range of long-term health care services at 30 facilities across Central and South Texas. Lacerda reached out to university leaders when the company first moved its corporate headquarters to Victoria in 1994. Regency received UHV's Community Partnership Award during the 2012-2013 President's Annual Report & Excellence Awards.
"Regency has been an important collaborator in the growth of our university in Victoria and points beyond," UHV Interim President Vic Morgan said. "Company leaders have stepped up to sponsor events, recruit at our business conferences and speak to our students during the school's Alumni Week and The Willis Group Distinguished Speaker Series. While this latest example of generosity is not surprising, it is definitely appreciated. This donation will benefit our students for years to come."
Niroomand said the business school is advertising for an additional faculty member to bolster its health care management teaching and research efforts. UHV offers a Bachelor of Business Administration with a concentration in health care administration.
"The endowment will help make this an attractive position," he said. "Having endowed and partner professorships help recruit and retain top-notch faculty members."
The first endowed UHV School of Business Administration professorship was in honor of Ron Sardessai, a management professor and faculty leader at UHV for 25 years before he died in 2011. Massoud Metghalchi, a UHV finance professor and longtime colleague of Sardessai's, was awarded the professorship.
The business school also annually names Partnership Professors and awards each professor $3,000 to facilitate ongoing research and other scholarly efforts. The money comes from small donations from partners and supporters. Many of the donors, including Lacerda, serve on the UHV School of Business Administration Dean's Advisory Council.
"The support from the members of the Dean's Advisory Council has meant so much," Niroomand said. "They volunteer their time and provide valuable advice and financial support."
The formation of a second endowed professorship stemmed from conversations with Lacerda, who also is a member of the Dean's Advisory Council. While the school has many distinctions, Niroomand said he always is looking for ways to improve.
"In order to continually get better, we need to create opportunities and retain what we have now," he said. "Therefore, I have relied on private donors to improve our curriculum and make it more relevant and updated so that we are more industry focused."
Kivowitz founded Regency in 1989. Since then he has opened, owned and operated 30 post-acute health care and rehabilitation centers with 3,800 beds and more than 4,000 employees. Today, Kivowitz manages a conglomerate of more than 120 limited partnerships and corporations.
The Kivowitz family is actively involved in a number of philanthropic organizations and for the past several years has created academic scholarships benefiting students across Texas.
Lacerda celebrated his 25th anniversary with the company in December. He worked in entry-level operations, accounting and financing before being promoted to president in 1996. CEO was added to his title in 2002.
Lacerda kicked off the 2012-2013 UHV School of Business Administration Willis Group Distinguished Speaker Series by presenting a speech on the future of health care.
"It is our hope this endowment will motivate other businesses to become involved with our local university to provide the youth with a pathway for a successful life," he said.
The University of Houston-Victoria, located in the heart of the Coastal Bend region since 1973 in Victoria, Texas, offers courses leading to more than 80 academic programs in the schools of Arts & Sciences; Business Administration; and Education, Health Professions & Human Development. UHV provides face-to-face classes at its Victoria campus, as well as an instructional site in Katy, Texas, and online classes that students can take from anywhere. UHV supports the American Association of State Colleges and Universities Opportunities for All initiative to increase awareness about state colleges and universities and the important role they have in providing a high-quality and accessible education to an increasingly diverse student population, as well as contributing to regional and state economic development.