Close
UHV alumna helps shapes the future of K-12 art education
In helping rewrite national art standards the past three years, Betsy Logan called upon her educational training received at the University of Houston-Victoria three decades ago.
Logan, an art teacher at Auburn Junior High School in Auburn, Ala., served on the National Coalition for Core Art visual arts writing team. She and 10 other visual arts educators from around the country developed new voluntary standards, which were unveiled last month. About 400 educators applied to serve on the coalition writing teams.
"It was a great deal of work, but I enjoyed the process of putting together the new standards," Logan said. "It's something I really wanted to do. If I hadn't learned how to work on and write curriculum while pursuing my master's in curriculum and instruction at UHV, I would never have been able to serve in this role. My education laid the foundation."
Logan has spent 33 years teaching. She will soon be starting her 22nd and possibly final school year teaching art at Auburn Junior High. She was named the National Middle Level Art Educator of the Year in 1996.
Small classes sizes, important lessons
Logan taught from 1981 to 1989 at what was then called Howell Intermediate School. Her husband, Rusty, was band director at Victoria High School at the time.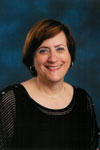 Betsy Logan
Betsy attended UHV from 1982 to 1985, obtaining a master's degree in curriculum and instruction with an emphasis in history.
"I chose history because Hal Smith was an awesome teacher," Logan said of the longtime UHV history professor who semiretired last year. "They didn't have art education and I enjoyed Dr. Smith's classes, so I just kept taking them. As for the curriculum part, the VISD was working on curriculum at the time, and I wanted to know more about it."
Logan said she enjoyed her experience at UHV because of small class sizes.
"The graduate students got to know each other and the professor's well," she said. "One of the education teachers would have us over for cookouts. It was a small and welcoming atmosphere. It was a much better atmosphere for me than a large school."
Logan said one of the most difficult classes she took at UHV turned out to be the one that was most helpful to her career.
"All of the graduate students disliked taking multi-cultural education, but I have used what I learned in that class more than any other," Logan said. "Auburn is a university town and we have large African American, Hispanic, Korean and Vietnamese populations. The class made me aware of differences in other ethnicities."
Logan is originally from Alabama and went to Auburn as an undergraduate. She and Rusty moved back to Auburn when he took over as Auburn High School band director. The couple returned to Texas this week to catch up with old friends and visit their son, Jeremy, who is the director of percussion studies at McArthur High School in San Antonio. Jeremy was born the same day Betsy would have participated in UHV's commencement ceremony.
"My professors let me take my finals early and my son arrived late, so it worked out," she said.
Getting involved
In 1995, Logan was named the Alabama Middle Level Art Educator of the Year. Five years later, she became was the first art teacher in the state to become nationally board certified. Now, there are more than 40 certified art teachers.
In 2011, Logan won the National Marion Quinn Dix Leadership Award. The award is handed out by the National Art Education Association to recognize outstanding contributions and service to the profession.
"A lot of teachers just teach and go home," she said. "I don't agree with that approach. It's important to get out and share what we know with other teachers. I got involved with my state organization first to network and share ideas. That led to getting involved with the national organization. Doing so gave credence to my position as an art teacher. When my students see me involved, I think it helps spur them on to be active and get involved in things they are interested in.
Logan's involvement with the National Art Education Association led her to a spot with the writing team shaping what students should know and be able to do in art at various grade levels. Other teams of educators rewrote standards for dance, media arts, music and theater.
College and career ready
The new, voluntary grade-by-grade web-based standards are intended to affirm the place of arts education in a balanced core curriculum, support the 21st century needs of students and teachers, and help ensure that all students are college and career ready, Logan said. The standards emphasize big ideas, philosophical foundations, enduring understandings and essential questions, all of which are intended to guide the curriculum development and instructional practices that leads to arts literacy.
"Our task was to take the old national standards adopted in 1994 and rewrite them according to a prescribed formula," she said. "We developed standards for K-12 that were progressive. The standards would build on each other. What took so long is that every time we had a draft, we sent them out for public view. Teachers around the country would give us advice and suggestions. Then we would readjust the standards so that everyone had a voice."
The National Core Arts Standards were launched on June 4 along with the website, www.nationalartsstandards.org.
There will be upcoming webinars and workshops," Logan said. "We're doing a Facebook blog this week where teachers can make comments, and we'll respond to them."
Logan said a lot of states will use the national standard to develop their own state standards.
"The standards are voluntary, so there is no requirement for states to adopt and follow them," Logan said. "A lot of states will use them though, and Alabama had already started that process. Some states will use them as a guideline while others could adopt the national standards as is."
The University of Houston-Victoria, located in the heart of the Coastal Bend region since 1973 in Victoria, Texas, offers courses leading to more than 80 academic programs in the schools of Arts & Sciences; Business Administration; and Education, Health Professions & Human Development. UHV provides face-to-face classes at its Victoria campus, as well as an instructional site in Katy, Texas, and online classes that students can take from anywhere. UHV supports the American Association of State Colleges and Universities Opportunities for All initiative to increase awareness about state colleges and universities and the important role they have in providing a high-quality and accessible education to an increasingly diverse student population, as well as contributing to regional and state economic development.