Close
UHV assistant professor wins nursing excellence award
A combination of teaching, research and community service has made Shainy Varghese a gem to her students and colleagues in the University of Houston-Victoria School of Nursing and to her patients in Stafford.
Appropriately enough, Varghese, a UHV assistant professor, is one of the recipients of the Nurses.com Texas GEM awards. The award stands for Giving Excellence Meaning. She is the first UHV faculty member to receive the award.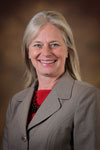 Kathryn Tart
"The award is amazing recognition for her and the university," said Kathryn Tart, dean of the UHV School of Nursing. "Dr. Varghese has touched a lot of people through her teaching and tireless work as a pediatric nurse practitioner. I am so proud of her accomplishment."
Varghese's award came in the Home, Community and Ambulatory Care, one of six categories. Varghese and the five other Texas winners advanced to the national contest to compete against nurses from other regions. The national winners will be announced later this summer.
Readers of Nurse.com annually nominate exceptional nurses they work with who deserve to be considered for a GEM award.
Judges review and evaluate the nominations and narrow them down to regional finalists. In the Home, Community and Ambulatory Care category, three regional finalists were named: Varghese; Kalinda S. Longino, clinical coordinator for Methodist Mansfield Medical Center; and Dana Tian, clinical nurse for the University of Texas MD Anderson Cancer Center in Houston.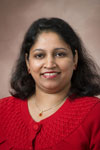 Shainy Varghese
"I knew I was a finalist, but I never thought I would win the award," Varghese said. "I had to read the email about the winner a few times because I didn't think it was intended for me. It finally sunk in a little while later. I was never expecting to win. Even becoming a finalist was a surprise."
Varghese said what may have impressed the award judges is her community involvement. She said her greatest contribution is starting a nurse-managed clinic, which has improved access to primary care in Fort Bend County.
"Not everyone is qualified for Medicare; some families fall in the cracks," Varghese said. "I provide medical care to whoever is in need. It usually is uncommon for a nurse practitioner to start a clinic."
Varghese said she wanted to do something different when she opened the clinic in 2010 with a collaborating pediatrician. She also visits schools to promote the importance of immunization.
"I'm a quiet person, but I'm ambitious inside," she said. "I have my goals, and I try to attain them. That really aided me in my own education, as I pushed myself to get higher degrees. Starting a clinic was so hard in the beginning, but it's so rewarding now. I like interacting with children. A lot of them don't have a mentor or role model because they come from broken families. Talking to them or giving them a pat on the back, gives me a lot of satisfaction."
Varghese earned a bachelor's degree from the M.G.R. Medical University in India. She obtained her Master of Science in Nursing Pediatric Nurse Practitioner from the University of Texas Houston Health Science. She earned a doctorate in 2009 from the University of Texas Medical Branch in Galveston.
Varghese started as a visiting professor at UHV in 2007 before permanently joining the faculty in 2009. Her research specialty is telehealth. In 2012, she won a UHV Research Grant Award for her project, "Integrating the Virtual World of Second Life into Pediatric Nursing Curriculum."
In 2012, Varghese was honored by the Good Samaritan Foundation with an Excellence in Nursing Bronze Medal for her work as a pediatric nursing educator.
Varghese credited Tart for encouraging her to come to the forefront and take on new projects.
"Dean Tart has been an influential factor in my success," Varghese said. "I also want to thank my fellow nursing faculty members. We encourage each other a lot."
For more information about the UHV School of Nursing programs, visit www.uhv.edu/nursing or call 877-970-4848, ext. 4370.
The University of Houston-Victoria, located in the heart of the Coastal Bend region since 1973 in Victoria, Texas, offers courses leading to more than 80 academic programs in the schools of Arts & Sciences; Business Administration; and Education, Health Professions & Human Development. UHV provides face-to-face classes at its Victoria campus, as well as an instructional site in Katy, Texas, and online classes that students can take from anywhere. UHV supports the American Association of State Colleges and Universities Opportunities for All initiative to increase awareness about state colleges and universities and the important role they have in providing a high-quality and accessible education to an increasingly diverse student population, as well as contributing to regional and state economic development.