Close
New student government president strives to boost school spirit
University of Houston-Victoria junior Bola Adebayo didn't initially want to run for president of the Student Government Association.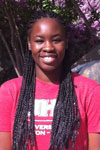 Bola Adebayo
"Being president seemed a bit overwhelming when I first considered it," she said. "But I started talking to my friends about the position, and they thought I would make a good leader. I like being able to make a difference and want to be in a position where students can talk with me about concerns or ideas."
Adebayo will get to do both as the president of UHV's student government. Students elected the biology major from Houston to the position for the 2014-2015 school year.
The association serves as the liaison between students and the university's administration. It also enhances student life by sponsoring and promoting participation in student activities. Adebayo also will serve as the student representative on the UHV President's Cabinet.
"University leaders are interested in what the SGA is discussing and open to hearing the group's ideas," Adebayo said. "I'm looking forward to working with the administration and serving on the cabinet."
Adebayo was an SGA senator during the 2013-2014 school year. She said she learned a lot about communication and how to get tasks accomplished.
"I think I have a good feel for working with other students to solve a problem or improve a situation," she said.
Adebayo said she wants to try to continue student discussions from the previous year about increasing support for student life and athletics. She said she wants to build upon what was started by 2013-2014 President Moses Olukoya. She also has talked with other SGA executives this summer about starting new traditions in the upcoming year. One example is a creating a school song or hand gesture.
"Those things would be a way to keep growing school spirit," Adebayo said. "It's cool that we have a mascot, so now we're looking for something to go along with jaX the Jaguar."
Adebayo said student life has grown considerably since she arrived in fall 2012, and students are attending events more frequently.
"We just need to keep thinking bigger and better, and continue to make new traditions," she said.
Other students elected to the 2014-2015 Student Government Association are:
Michelle Looza, vice president
Lola Ojo, speaker of the senate
Christo Varghese, finance director
Abigail Gonzalez, public relations director
Joel Onemu, School of Arts & Sciences senator
Rajan Ghag, School of Business Administration senator
Arielle McGillis, School of Education & Human Development senator
Charlie Camacho, Cassandra Flores and Jesus Martinez, sophomore representatives
Jessica Acuna, Megan Huerta and Samantha Wooster, junior representatives
Alba Sanchez, Ally Romero and Jessica Loya, senior representatives
Daniela Prado and James Latimer, graduate representatives
Taylor Henderson, chief justice
Brea Matchet, Brandon Jones, Haley Hicks and William Dawson-Hicks, associate justices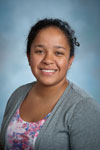 Ashleigh Kellis-Carr
Ashleigh Kellis-Carr, a UHV student success coach, will continue as the SGA advisor. She was a senator and secretary for the organization when she was a UHV student. She said the new group of leaders will do a great job.
"A lot of them were active in SGA and around campus last year," Kellis-Carr said. "The executive board members have been communicating this summer about ideas for next year. They are excited to get started and to have an official office."
A third graduate representative, three senators representing freshmen and a senator representing the School of Nursing could be added to the association at a later date. The first SGA meeting of the school year will be at 7:30 p.m. Sept. 4 in the UHV University Center Multi-Purpose Room, 3007 N. Ben Wilson St.
For more information, visit www.uhv.edu/sga or email sga@uhv.edu.
The University of Houston-Victoria, located in the heart of the Coastal Bend region since 1973 in Victoria, Texas, offers courses leading to more than 80 academic programs in the schools of Arts & Sciences; Business Administration; and Education, Health Professions & Human Development. UHV provides face-to-face classes at its Victoria campus, as well as an instructional site in Katy, Texas, and online classes that students can take from anywhere. UHV supports the American Association of State Colleges and Universities Opportunities for All initiative to increase awareness about state colleges and universities and the important role they have in providing a high-quality and accessible education to an increasingly diverse student population, as well as contributing to regional and state economic development.