Close
UHV's enrollment growth fuels summer construction projects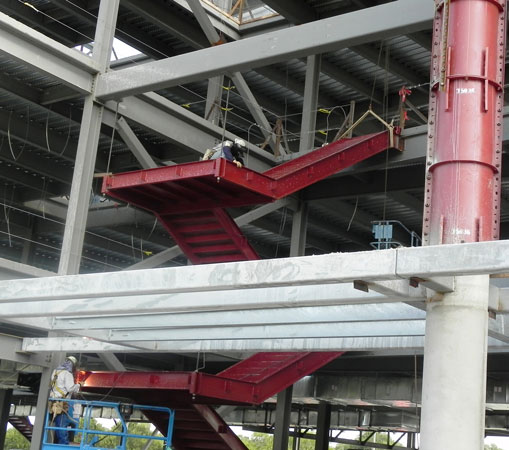 Construction workers assemble the steps of the University of Houston-Victoria Academic & Regional Economic Development Building. The 63,000 square-foot building is scheduled to open in spring 2015.
The ongoing construction of a new academic building and expansion of a biology lab and Jaguar Hall Dining all are part of the University of Houston-Victoria's preparations to serve more students.
"It's an exciting summer to be on campus," UHV Interim President Vic Morgan said. "Faculty, staff and students can see the progress being made. These projects are necessary to accommodate our continuing growth in Victoria. We're running low on available space, but it's a good problem to have."
Construction on the three-story, approximately 63,000-square-foot Academic & Regional Economic Development Building is about a third complete. The building is scheduled to open in spring 2015.
The facility will house the School of Business Administration, Career Services and a job testing area, an office for the Small Business Development Center director, and the new Regional Center for Economic Development. The center will promote area job creation and retention within 11 surrounding counties.
Brenda Svetlik, UHV capital projects director, said the second- and third-floor foundations of the building recently were poured. Workers are putting on the roof, which will be followed by closing in the building.
"Once the shell is complete, multiple trades can get in there, so a number of elements can be worked on at once," she said.
The new $12.7 million building sits just northeast of the UHV University Center, 3007 N. Ben Wilson St. Inside will be a number of shared resources, including a 400-seat Multi-Purpose Room, a 200-seat auditorium, a 60-seat tiered classroom, a finance and gaming simulation lab, and training and conference rooms. Naming opportunities are available for several rooms through the UHV Office of University Advancement. The third floor of the building will not be finished until UHV gets additional funding from the state.
"We only have one large tiered classroom at UHV right now, and it doubles as a small auditorium," Svetlik said. "The new classroom and lab will provide a welcoming learning environment. The new auditorium will be great for a variety of school and public functions, such as the UHV/American Book Review Reading Series. On the second floor, there will be a few relaxed seating areas outside the classroom and the School of Business Administration. It will give students a place to hang out before or after class, or a place to gather for study groups or to talk."
The general contractor for the project is Drymalla Construction Co. of Columbus. Perkins+Will of Houston is the architect, and Rawley McCoy & Associates of Victoria is the associate architect. Urban Engineering of Victoria is serving as the civil engineer.
Work also began this week on expanding a research lab on the first floor of the UHV University Center into a teaching science lab. The expansion is taking over half the space of an adjoining storage area.
"Right now, the lab can only accommodate eight students," Svetlik said. "After the expansion, the capacity will increase to 20 students."
The project is expected to take no more than five weeks to complete and should cost about $100,000. MLP Ventures of Van Ormy is the contractor.
Hashimul Ehsan, a UHV biology lecturer, said he has taught 770 students in various biology courses since fall 2011.
"It's been a real challenge accommodating students because our lab space is limited," he said. "Increasing lab space will not only accommodate more students, but also give opportunities to undergraduates for health-related research."
Because of the lab space shortage, UHV's general physics and chemistry courses have met in Victoria Independent School District's Liberty Academy since January 2013. The lab expansion will allow those courses to be taught at the UHV campus.
UHV's third construction project will enlarge the seating area at Jaguar Hall Dining for the second straight summer. This summer's project will add 100 seats to the dining area, bringing the capacity to 325. With the addition of Jaguar Suites in 2013, there are now more than 600 beds in UHV's three residence halls. All three dorms are expected to be full this fall.
"Not all students come eat at the same time, but this will allow every student staying in the residence halls to eat during each serving time," Svetlik said.
The project will start later this month and should be completed by the time Jaguar Hall opens on Aug. 21.
"It involves knocking out walls, adding doors and putting in new flooring, so it should be a rather quick and inexpensive project," Svetlik said.
The University of Houston-Victoria, located in the heart of the Coastal Bend region since 1973 in Victoria, Texas, offers courses leading to more than 80 academic programs in the schools of Arts & Sciences; Business Administration; and Education, Health Professions & Human Development. UHV provides face-to-face classes at its Victoria campus, as well as an instructional site in Katy, Texas, and online classes that students can take from anywhere. UHV supports the American Association of State Colleges and Universities Opportunities for All initiative to increase awareness about state colleges and universities and the important role they have in providing a high-quality and accessible education to an increasingly diverse student population, as well as contributing to regional and state economic development.