Close
UHV, VC team up on dual degree to keep nursing students in Victoria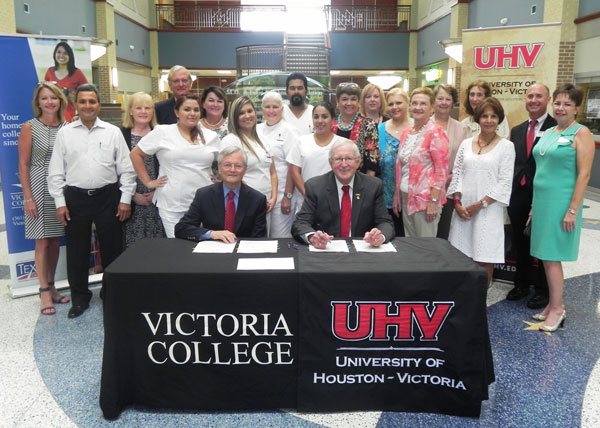 Victoria College President Tom Butler, left, and UHV Interim President Vic Morgan prepare to sign a nursing agreement Tuesday morning in front of nursing students, community members and school administrators. The nursing dual degree will allow students to earn an Associate Degree of Nursing from VC and a Bachelor of Science in Nursing from UHV.
A partnership that became formal Tuesday between the University of Houston-Victoria and Victoria College will ensure students can continue to earn nursing associate and bachelor's degrees in Victoria.
UHV Interim President Vic Morgan and VC President Tom Butler signed a dual-degree partnership in a ceremony this morning at the VC Health Sciences Center. The schools will offer a dual nursing degree that allows a student to earn an Associate Degree of Nursing from VC and a Bachelor of Science in Nursing from UHV.
Morgan said the agreement means students will continue to be able to earn a nursing bachelor's degree in Victoria, even when the UHV School of Nursing transitions to UH in fall 2015.
"Nursing is not closing in Victoria," Morgan said. "There has been a great deal of uncertainty the past few months regarding the future of nursing higher education in Victoria. While more details need to be ironed out, this agreement makes certain that students have a path to obtain excellent nursing higher education without leaving the Victoria city limits. I thank President Butler and his team for their cooperation in pursuing this jointly beneficial agreement."
Butler agreed, adding that this partnership is a win for the entire Crossroads region.
"This proposed dual degree takes full advantage of the best instructional capabilities of both VC and UHV, while ensuring that students in Victoria who want a bachelor's degree in nursing have a clear and uninterrupted path to achieve it," said Butler. "Partnerships of this type benefit the entire Crossroads region by providing our community with well-trained nursing professionals at both the associate and bachelor's degree levels."
To pursue a dual degree, students will first earn a Victoria College Associate Degree in Nursing. They will then take the NCLEX-RN exam to become a Registered Nurse and apply for the RN to BSN program in Victoria. Students who have passed the test, graduated from VC, earned a 2.5 GPA or higher in natural, physical and behavior sciences courses, and completed all prerequisite courses will be automatically enrolled into the RN to BSN program at UHV.
Interested students will sign a BSN Degree Declaration at the time they enroll in Victoria College. The declaration states that students will follow UHV's BSN degree requirement and continuously take a minimum of 12 credit hours each fall and spring semester.
Another benefit of signing the declaration is that the students' tuition for the UHV portion of the program will be locked in to the tuition rate in effect at the time of enrollment as long as all the requirements are met.
"This will protect the student from future tuition rate increases at UHV and help families budget," Morgan said.
Earlier this year, the University of Houston Sugar Land Task Force recommended UHV's existing nursing programs be transferred to UH and made part of its newly organized UH Health Science Center. The recommendation was accepted by the UH System Board of Regents in February.
A UH Work Group has been working on the details of the transition. The group decided on July 11 to delay the transition until Sept. 1, 2015, pending agreement by the Texas Higher Education Coordinating Board and Southern Association of Colleges and Schools Commission on Colleges.
"Even when those agencies agree to move the RN to BSN program to UH, nursing will still be offered in Victoria," Morgan said. "Outside of the UH label, most people probably won't tell the difference. The faculty, classrooms and equipment will remain here. The money used to buy that equipment will continue to serve the people of Victoria."
Morgan said the students already enrolled in the UHV nursing program – or enrolling in the 2014-2015 school year – can proceed with obtaining their degrees.
UHV and VC have a history of teaming up to allow students to seamlessly transition between the schools. In 2011, the schools signed an articulation agreement to smooth the path for nursing students seeking a bachelor's degree. In 2013, UHV and VC signed a 2+2 Plan, which included eight different curricular paths for students to earn their associate degree at VC and easily transfer to UHV to earn a bachelor's degree in a related field.
"We're pleased the cooperative partnership with Victoria College continues with the dual degree," said Kathryn Tart, UHV School of Nursing dean. "Removing obstacles toward obtaining an advanced nursing degree is always beneficial. This agreement provides a clear pathway for students at Victoria College to obtain a bachelor's degree in nursing, so that they in turn provide quality care to the communities where they serve."
Darla Guajardo, VC director of nursing, said the dual degree will further assist in educating the next generation of nurses.
"Across the United States, there has been a significant effort to promote higher levels of education and training for nurses in order to meet today's complex care demands," Guajardo said. "The dual degree will help us continue to address this need at the local and regional level."
For more information about Victoria College, call 361-573-3291 or visit www.VictoriaCollege.edu. For additional information about the UHV School of Nursing programs, visit www.uhv.edu/nursing or call 361-570-4370.
The University of Houston-Victoria, located in the heart of the Coastal Bend region since 1973 in Victoria, Texas, offers courses leading to more than 80 academic programs in the schools of Arts & Sciences; Business Administration; and Education, Health Professions & Human Development. UHV provides face-to-face classes at its Victoria campus, as well as an instructional site in Katy, Texas, and online classes that students can take from anywhere. UHV supports the American Association of State Colleges and Universities Opportunities for All initiative to increase awareness about state colleges and universities and the important role they have in providing a high-quality and accessible education to an increasingly diverse student population, as well as contributing to regional and state economic development.