Close
Movie based on UHV assistant professor's book to air Saturday
When Diana López visits middle schools, she usually hears that the choking game is a problem or students haven't heard of it. It's one extreme or the other.
López, a University of Houston-Victoria assistant professor and director of the university's creative writing program, wrote the book "Choke" in 2012 to raise awareness about the dangerous game where adolescents strangle themselves in order to achieve a brief high.
Now, the risks of the game will reach a new audience when Lifetime airs "The Choking Game" movie. The premiere is at 7 p.m. Saturday.
"I certainly think there is a lot more awareness about the game compared with when I was first writing the book," López said. "There's a lot more cautionary information than there used to be. I can't say whether or not the game has decreased in popularity, although I do have students tell me that the game is stupid, and they can't imagine why anyone would play it."
Freya Tingley, an Australia-born actress who has a role in the "Jersey Boys" movie, stars as the main character in the movie. Peri Gilpin, Roz Doyle's character on "Frasier," plays her mom. The movie was shot earlier this year in Winnipeg.
The premise of the movie is similar to the book, but screenplay writer Jen Klein went in a different direction with some characters in order to appeal to the older teen and adult audience.
The book is set in San Antonio, where López taught at Horace Mann Middle School. It was there that she first learned about the game when a couple of girls came into her class with bloodshot eyes.
The main character is Windy, an eighth-grader who wants to change everything about herself if her parents would let her. Windy's name in the movie was changed to Taryn, and she's a 17-year-old senior who feels like the only girl in the world with no control over her life. Nina takes Taryn under her wing and tells her about the game, and Taryn quickly gets addicted to the adrenalin rush.
López said her image of the book's characters is different than how they were cast.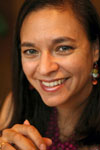 Diana López
"I think that happens with all authors," López said. "I imagined the main character's family as Hispanic. When I found out they were going to make a movie, I just decided to let it go. It's a completely different medium, and filmmaking has its own restrictions. I was OK with them re-imagining it."
López said she's seen a few clips of the movie but has not watched the whole film. She did not read the screenplay either, so she will be surprised when she watches it on Saturday.
López said she's curious to see how the age change impacts the storytelling, since the characters drive, have jobs and relate to boys differently.
"That will be a major change, but the part of the book that is not being altered is the friendships between the girls, how they influence each other and how seductive it is to be part of the popular crowd," López said. "The friendship themes are being carried through."
López knew that a film based on her book was a possibility even before she finished writing it.
López met Marilyn Atlas, best known as film producer for the HBO movie "Real Women Have Curves," at a conference after "Confetti Girl" was released. López said Atlas enjoyed reading "Confetti Girl," López's first book for a middle-school audience, but that it wasn't adaptable to film. When López told her she was writing "Choke," Atlas asked López to send her a copy when the book was finished.
"The process takes a really long time, but when she got the book, Marilyn said she would try to sell making it into a movie," López said.
Lifetime notified Atlas it would air a movie version of "Choke" if she could get it produced.
"So, it was a half yes," López said. "Another year went by before I got word this movie would be made. By then, I was used to the idea of this story being told on TV. That said, I was really excited it got a green light."
López said she hopes the movie opens discussion between adolescents and their parents.
"I think dialogue is the most important prevention of any type of objectionable behavior," she said.
The movie is directed by Lane Shefter Bishop and executive produced by Atlas, Jonathan Eskenas, Lane Shefter Bishop and Orly Adelson from Orly Adelson Productions. It will be rebroadcast on Lifetime several times next week.
For more information about the film and broadcast times, follow Choking Game Film on Twitter at twitter.com/chokinggamefilm or like it on Facebook at www.facebook.com/ChokingGameFilm. Log on to www.youtube.com/watch?v=uwupPO9aNyQ to see the movie trailer.
The University of Houston-Victoria, located in the heart of the Coastal Bend region since 1973 in Victoria, Texas, offers courses leading to more than 80 academic programs in the schools of Arts & Sciences; Business Administration; and Education, Health Professions & Human Development. UHV provides face-to-face classes at its Victoria campus, as well as an instructional site in Katy, Texas, and online classes that students can take from anywhere. UHV supports the American Association of State Colleges and Universities Opportunities for All initiative to increase awareness about state colleges and universities and the important role they have in providing a high-quality and accessible education to an increasingly diverse student population, as well as contributing to regional and state economic development.