Close
Good Samaritan Foundation awards medal to UHV associate dean
Kathleen Reeve soon will become the sixth University of Houston-Victoria School of Nursing faculty member to receive a medal from the Good Samaritan Foundation.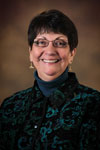 Kathleen Reeve
Reeve, an associate dean and associate clinical professor, will be honored Sept. 3 during the 2014 Excellence in Nursing Awards Luncheon at the Royal Sonesta Hotel in Houston. She won a silver medal in the nursing faculty category.
Reeve said she was stunned by the news, especially since there were 187 faculty applicants.
"I am honored to receive an award for my life's work," Reeve said. "It's a prestigious honor, and I'm pleased to be selected."
Reeve has 20 years of Advanced Practice Registered Nurse experience in Houston and Katy. She has taught at UHV since 2010. She serves as the nursing school's graduate director and is the M.G. and Lillie A. Johnson Foundation Endowed Chair.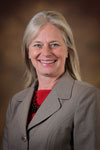 Kathryn Tart
"Dr. Reeve has been instrumental in the achievements of our nursing school," said Kathryn Tart, dean of the UHV School of Nursing. "I am thrilled she is being recognized for her work as a faculty member. She's done a fantastic job preparing our students for advanced careers in nursing."
Reeve said her students keep her on her toes.
"Teaching is so dynamic," she said. "The faculty has to stay up to date on current developments because our students are asking about them," she said.
Reeve is the second UHV silver medalist, joining assistant clinical professor Eugenia Blomstrom, who won the award in 2011. The past bronze medal recipients from UHV were Tart; Shainy Varghese, assistant professor; Angela Willis, instructor and simulation lab coordinator; and Linda Dune, former UHV associate professor.
"The reason I think we've been able to win six medals in a short amount of time is we have good faculty," Reeve said. "We brought a great track record of education and experience to our jobs. We also have a supportive dean who has helped us achieve remarkable growth and success."
Tart and Terry Kirk, a UHV associate clinical professor, have served on the Good Samaritan Foundation Selection Committee for five years.
The Good Samaritan Foundation is a fundraising and grant raising organization dedicated to promoting nursing excellence in Texas. Since 1951, the foundation has given more than $15 million in scholarships to more than 15,000 students across the state. Along with granting nursing student scholarships, the foundation works with nursing schools to create innovative solutions to address faculty shortages and rewards nurses who exemplify the finest qualities of the nursing profession.
"The foundation has made it easier for many nurses to advance their education," Reeve said. "They provide two scholarships to the UHV family nurse practitioner program for geriatric studies. Those scholarships make a difference. With the baby boomer population aging, there is going to be an increased need for care of older Americans."
For more information about the UHV School of Nursing, visit www.uhv.edu/nursing or call 877-970-4848, ext. 4370. For information about the Good Samaritan Foundation nursing scholarships, visit www.gsftx.org.
The University of Houston-Victoria, located in the heart of the Coastal Bend region since 1973 in Victoria, Texas, offers courses leading to more than 80 academic programs in the schools of Arts & Sciences; Business Administration; and Education, Health Professions & Human Development. UHV provides face-to-face classes at its Victoria campus, as well as an instructional site in Katy, Texas, and online classes that students can take from anywhere. UHV supports the American Association of State Colleges and Universities Opportunities for All initiative to increase awareness about state colleges and universities and the important role they have in providing a high-quality and accessible education to an increasingly diverse student population, as well as contributing to regional and state economic development.