Close
UHV expands master's counseling program to boost student preparedness
Starting this fall, University of Houston-Victoria counseling graduate students can enroll in a 60-credit-hour mental health degree program to satisfy new requirements and attain advanced career skills.
The launching of UHV's clinical mental health counseling master's program is in response to changes adopted by the Texas Legislature and the Council for the Accreditation of Counseling and Related Educational Programs.
The new degree will include online and face-to-face classes. More than a dozen students will start the degree this fall.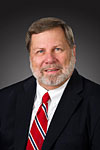 Fred Litton
"We're excited to launch the 60-credit-hour program to meet the career needs of our students and the latest requirements of our accreditation and state agencies," said Fred Litton, dean of the UHV School of Education & Human Development. "With small class sizes, excellent faculty and affordable tuition, we think this program will attract many students who want to expand their knowledge in clinical mental health counseling."
UHV already offers a 48-credit-hour community counseling master's degree. The education school has enhanced the existing degree by adding four additional classes to meet the new Texas Administrative Code educational requirements.
Sandra Wilson, a master's counseling student who lives near League City, was getting close to graduating with a community counseling degree. She decided to extend her graduate work and obtain the 60-credit-hour degree instead. Students already working on the community counseling degree can finish it or complete the new mental health counseling program. All new clinical mental health counseling students have to seek admission to the new program.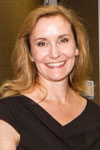 Sandra Wilson
"I was contemplating taking some of the new courses as electives because I thought they were important," said Wilson, who wants to work in children's play therapy after graduation. "I decided to go ahead and get the 60-credit-hour degree because I'd like to have greater knowledge and more experience when working with clients."
UHV is the only CACREP-accredited school in the area and one of 13 in Texas. CACREP is requiring all 48-credit-hour counseling programs to convert to 60-hour clinical mental health counseling programs. CACREP accreditation is significant because it's the gold standard of academic training and education of counselors, said Katherine Bacon, a UHV assistant professor of counseling.
The state of Texas also moved from a 48-credit-hour degree to a 60-credit-hour degree for Licensed Professional Counselors eligibility when legislation was approved in December.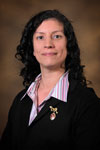 Katherine Bacon
"The graduates of our program are licensure eligible, which means they meet all the academic requirements that are mandated by the Texas State Board of Examiners for Professional Counselors," Bacon said. "A graduate coming out of our master's counseling program is eligible to sit for the National Counselor Exam used by most states for LPC licensure."
Of the four additional classes, two of them have historically been offered at UHV – "Addictions Counseling" and "Crisis in Trauma Response."
"Advanced Psychopathology and Psychopharmacology" is a new course. The focus of the class is on advanced abnormal diagnosis and medications that are used in conjunction with counseling.
The other new course is "Ethics and Law."
Another significant aspect of the new degree is the use of electronic health records. UHV will be one of less than 25 higher education institutions in the country to have its own customized electronic health records system.
"The profession is moving toward integrated behavioral health care, where the primary care physician and the counselor are in the same clinic," she said. "If a patient needs counseling, continuity of care is streamlined from the physician to the counselor."
Bacon said students with an interest in counseling members of the military and veterans also will benefit from this degree. The Department of Defense, Office of Veterans' Affairs, recently passed legislation requiring newly credentialed counselors working with military members, veterans and their families to have a 60-credit-hour clinical mental health counseling degree from a CACREP-accredited program.
For more information about the clinical mental health program, contact UHV education recruitment coordinator Reese Alexander at alexanderjr@uhv.edu or 281-275-3370. A full list of courses needed for the degree can be found by visiting www.uhv.edu/education/counselor/mental-health/.
The University of Houston-Victoria, located in the heart of the Coastal Bend region since 1973 in Victoria, Texas, offers courses leading to more than 80 academic programs in the schools of Arts & Sciences; Business Administration; and Education, Health Professions & Human Development. UHV provides face-to-face classes at its Victoria campus, as well as an instructional site in Katy, Texas, and online classes that students can take from anywhere. UHV supports the American Association of State Colleges and Universities Opportunities for All initiative to increase awareness about state colleges and universities and the important role they have in providing a high-quality and accessible education to an increasingly diverse student population, as well as contributing to regional and state economic development.