Close
Walker family donates $250,000 to name UHV's auditorium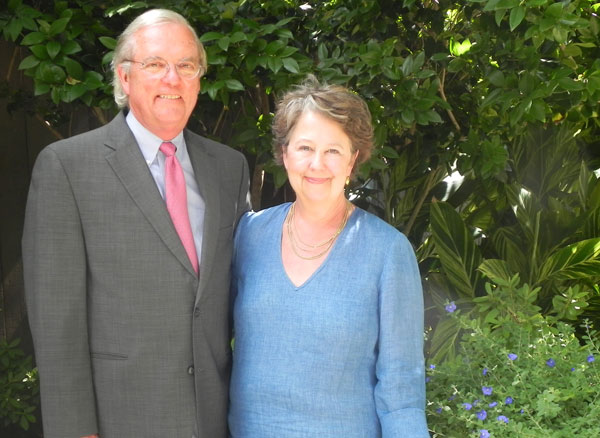 Ron and Kay Walker donated $250,000 to the University of Houston-Victoria to name the auditorium inside the university's new Academic & Regional Economic Development Building.
The Kay and Ron Walker Auditorium will be home to the University of Houston-Victoria/American Book Review Reading Series and a variety of other events when the university's new academic building opens in 2015.
The Walkers donated $250,000 to UHV on Monday to name the auditorium inside the UHV Academic & Regional Economic Development Building scheduled to open in the spring. The gift is the third largest donation from individuals in school history.
"We feel strongly about the presence of the University of Houston-Victoria and what it represents in our community," Kay said. "We are big supporters of higher education and realize what a vibrant university means to the future of Victoria and the surrounding areas."
Kay served on the UH System Board of Regents from 1993 to 1999 as vice chair, secretary and member of the executive committee. She played an integral role in helping UHV acquire tuition revenue bonds for the purchase of land and a new building. Since that time, Kay has remained active with UHV, serving on various search and art committees. She is a member emeritus on the UHV President's Regional Advisory Board. The Kay Kerr Walker Scholarship is awarded annually to an area UHV student.
Ron, a partner at Walker Keeling law firm, has served on the Victoria College Board of Trustees since 1985 and has been board president since 2008.
"We feel making this gift is one of the most meaningful things we can do," Ron said. "We have been given a lot of opportunities and fully realize the importance higher education and economic development plays in Victoria now and for years to come."
UHV Interim President Vic Morgan thanked the Walkers for their gift.
"The Walker family has been a tremendous friend to higher education in Victoria for decades," he said. "This latest contribution is another example of their generosity and their aspiration to see students get a first-rate education. We can't thank them enough for all they have done for UHV through the years."
Construction on the three-story, approximately 63,000-square-foot Academic & Regional Economic Development Building is about a third complete. The $12.7 million building sits just northeast of the UHV University Center, 3007 N. Ben Wilson St. The facility will house the School of Business Administration, Career Services, an office for the Small Business Development Center director, and the new Regional Center for Economic Development.
A longtime supporter of economic development and former president of the Victoria Economic Development Corp., Ron said one outcome of the building's opening will be further cooperation among Crossroads counties.
"Victoria has many regional partners," he said. "The programs in this facility will play a part in those continued partnerships. The building itself is important because it will enhance UHV's academic courses and events. But I also really like the fact that it will be another resource to promote and carry out regional economic development."
The new auditorium will seat about 200 people, providing ample room for the ABR Reading Series and other public events. The Walkers are ABR patrons and have hosted a number of Reading Series receptions at their home.
"Naming funds support the bricks-and-mortar needs of UHV and also the intellectual work and services within our buildings," said Greg Rutzen, UHV associate vice president for university advancement and chief advancement officer. "With this gift, the Walkers join Dr. Josie Rivera and UHS Regent Roger Welder, who also have named prominent spaces in the building. I'm confident their collective generosity will inspire additional support for naming other rooms and the building itself."
Charlie Alcorn, UHV director of corporate and foundation relations, said the Walkers' contribution will generate goodwill and be an influence on additional external support.
"This gift provides an urgent reminder and undeniable challenge to stakeholders across the area of the importance of higher education and economic development in our hometown," Alcorn said. "The message is clear: It's time to step up and help grow UHV into the comprehensive destination university that the Coastal Bend deserves."
The Walkers said the building will make an attractive addition to the Victoria campus.
"I'm pleased with the investment made in this building and the plans for future growth," Kay said. "The university is committed to full development of becoming a destination university."
In 2008, Ron served as co-chair of the Commission on Expanding Access to Higher Education. The commission unanimously recommended that UHV add freshmen and sophomores. Walker said the committee realized creating a successful destination university would require support from Victoria residents.
"This gift is meant to be another step to fulfill the pledge that was made," he said.
The University of Houston-Victoria, located in the heart of the Coastal Bend region since 1973 in Victoria, Texas, offers courses leading to more than 80 academic programs in the schools of Arts & Sciences; Business Administration; and Education, Health Professions & Human Development. UHV provides face-to-face classes at its Victoria campus, as well as an instructional site in Katy, Texas, and online classes that students can take from anywhere. UHV supports the American Association of State Colleges and Universities Opportunities for All initiative to increase awareness about state colleges and universities and the important role they have in providing a high-quality and accessible education to an increasingly diverse student population, as well as contributing to regional and state economic development.