Close
Tejano musicians, scholars to visit UHV for de León Symposium
KQQK was Houston's leading Spanish-language radio station during the 1990s. The station played strictly Tejano music, a particular form of music developed by Texans of Mexican descent in the early 20th century.
"Tejano Music: A Texas History" is the theme of the 28th annual Martin de León Symposium on the Humanities at the University of Houston-Victoria. This year's event will feature two musicians and two music scholars. The free public event will take place from 8:30 a.m. to noon Sept. 13 in the UHV University Center Multi-Purpose Room, 3007 N. Ben Wilson St.
The closing speaker of the event, Guadalupe San Miguel, wrote a paper in 2008 about why KQQK quit playing Tejano music in 1999 and then tried to return to the format soon thereafter.
San Miguel, an associate professor of history at UH, said for more than a century and a half, Tejanos experienced a daily barrage of institutional and personal assaults regarding their cultural heritage, language and traditions. San Miguel is the author of five books, including "Tejano Proud: Tex Mex Music in the 20th Century."
"Anglo American institutions and officials, for instance, consistently repressed, distorted, dismissed or ignored the rich cultural heritage of the Mexican origin population born and raised in Texas," San Miguel wrote in his paper. "KQQK contested these historical policies and practices by publicly recognizing the cultural heritage and musical tastes of Tejanos on the radio. For Tejanos then, KQQK was culture; it reflected, legitimized and affirmed the rich cultural and musical heritage that had developed under oppressive socio-economic and political conditions."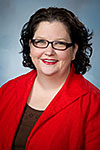 Beverly Tomek
The vibrant history of Tejano music and its cultural influences were among the reasons the topic was chosen for this year's symposium, said Beverly Tomek, a UHV assistant professor of history and chair of the 2014 Symposium Advisory Committee.
"Music is power in a lot of ways," she said. "Whether it's Tejano music or hip-hop, music helps people tell their stories by recounting the struggles and the push for social justice."
The event is presented by the UHV School of Arts & Sciences and the de León Club of Victoria. Named after Victoria founder Martin de León, the de León Club is a nonprofit organization dedicated to promoting business and encouraging civic participation to improve the quality of life in Victoria.
The symposium is usually held in the spring, but the committee decided to move this year's event to the fall.
"Having the event in September allows us to tie in with other Hispanic Heritage Month events happening around campus," Tomek said. "We felt it was a good fit for the symposium, and we hope it enhances the other celebrations of Hispanic heritage at UHV."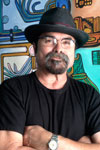 Juan Tejeda
A light breakfast will be served at 8:30 a.m., and the program will begin at 9 a.m. with a presentation by Juan Tejeda, a San Antonio musician, writer, arts administrator, educator, editor and publisher.
Tejeda is an instructor of music and Mexican American studies at Palo Alto College in San Antonio. He spent 18 years as the xicano music program director for the Guadalupe Cultural Arts Center, where he created the internationally renowned Tejano Conjunto Festival. He has written books of poems, short stories and songs. Tejeda and his wife, Anisa Onofre, are co-publishers and editors of Aztlan Libre Press, an independent publishing house dedicated to the promotion, publication and free expression of xicano literature and art.
"Mr. Tejeda has such a wide range of expertise that he will be able to approach the presentation like he's telling a story," Tomek said. "He will give us a good overview of the music scene."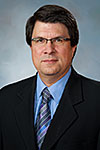 Jeffery Di Leo
Jeffrey Di Leo, dean of the UHV School of Arts & Sciences, said another highlight of the event will be an informal panel with two musicians – Robert Ojeda and Linda Escobar.
"Having musicians discuss their experiences with Tejano music adds a personal touch to the symposium," he said. "I'm sure some of the attendees have heard their music or attended their performances. It will be fascinating to hear the perspectives from the musicians themselves."
Ojeda is a vocalist and plays the trumpet, guitar and bass. He has performed, recorded and toured with such notables as Big Lu y Los Muchachos, Little Joe y La Familia, La Orquesta de Roberto Sustaita and The Crystals. He founded Musica Chicana ensemble Bronze. He co-founded Calhoun County's annual Ancestors Parade and developed the monthly Tejano Cantantes Music Series at Faye Sterling Park in Port Lavaca.
Escobar has a five-decade career, starting with her childhood hit record, "Frijolitos Pintos." Natives of Alice, Linda and her father, Eligio Escobar, were a father and daughter team that toured nationwide with a caravan of stars. Escobar later formed her own band, ZAMEN. In memory of her father and all veterans, Linda founded the El Veterano Conjunto Festival in San Antonio. On July 13, Escobar was awarded the Lifetime Achievement Award at the South Texas Conjunto Music Awards.
For more information about the symposium, contact Tomek at 361-570-4363 or tomekb@uhv.edu.
The University of Houston-Victoria, located in the heart of the Coastal Bend region since 1973 in Victoria, Texas, offers courses leading to more than 80 academic programs in the schools of Arts & Sciences; Business Administration; and Education, Health Professions & Human Development. UHV provides face-to-face classes at its Victoria campus, as well as an instructional site in Katy, Texas, and online classes that students can take from anywhere. UHV supports the American Association of State Colleges and Universities Opportunities for All initiative to increase awareness about state colleges and universities and the important role they have in providing a high-quality and accessible education to an increasingly diverse student population, as well as contributing to regional and state economic development.