Close
New UHV Staff Council chair takes reins
Veronica Bures is used to handling lots of responsibility. She has plenty of experience after working in the world of education for 25 years.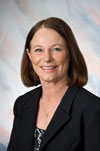 Veronica Bures
After working at the University of Houston-Victoria for seven years as the senior administrative assistant in Administration & Finance, she is taking on a new level of responsibility as the 2014-2015 UHV Staff Council chair. In this position, she will represent the university's staff on the UHV President's Cabinet.
Of all the responsibilities of the Staff Council, Bures said the most important is maintaining open communication at all levels, whether it is between the staff and administration or departments. It is important for staff members to know their concerns and comments are heard.
"It gives the staff a voice," she said. "When an institution starts growing quickly, as UHV has done in the past five years, it can lose track of what its employees need or their wants and questions. The council gives a forum where the staff can present their concerns, and the executive board can take those concerns and get answers for them."
Bures said communication will be her main priority this year, so she intends to brief the staff about President's Cabinet meetings and other events and meetings she will be attending. She also plans to address some questions that have previously gone unanswered involving topics such as staff pay plans and how positions are determined.
"I know there have been some questions that have lingered over a long period of time," she said. "I would like to get those questions and concerns resolved. Communication is a very important part of anything successful."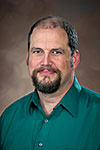 Harry Bashaw
Bures, who also is an alumna of the UHV School of Business Administration, is excited to take over as chair after serving as vice chair in 2013-2014 under Harry Bashaw, multimedia specialist for the UHV School of Education & Human Development. Watching Bashaw and 2012-2013 chair Billy Lagal helped her prepare for the task ahead.
"I've had good leadership before me, and it helps," she said.
Bashaw will be staying on the council to serve as past chair. He knows from working with Bures that she is ready for this next step.
"One of her big strengths is her institutional knowledge of policies and how things work at the university," he said. "We have an excellent team coming on as the executive board. With Veronica's knowledge and leadership, we'll continue to build on the momentum of the past year."
Serving with Bures and Bashaw on the 2014-2015 Staff Council are:
Vice Chair – Magen Besancon, F1 international student services coordinator, School of Arts & Sciences
Secretary – Holly Thomas, academic records analyst, Registrar & Student Records
At-Large Exempt Staff Member – Natalia Ruiz, senior administrative assistant, University Advancement
At-Large Non-Exempt Staff Member – Erin McKamey, senior secretary, University Advancement
At-Large Representative (Sugar Land) – Keikei Wilson, instructional technology specialist, School of Education & Human Development
At-Large Representative (Cinco Ranch/Houston Community College Katy campus) – Rosie McCusker, student recruitment and marketing manager, School of Business Administration
USSEC At-Large Member – Eric Camarillo, testing and tutoring manager, Student Success Center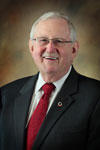 Vic Morgan
"The staff at UHV is a strong, vital part of the university," UHV Interim President Vic Morgan said. "I value our staff and look forward to working with the new executive board to ensure university employees have a voice in shared governance and their accomplishments recognized. We especially look forward to continuing the open, positive communication that makes UHV a strong, cohesive university."
To help improve communication within the university, Bures plans to bring in speakers to discuss relevant topics. Morgan; Wayne Beran, vice president for administration and finance; Laura Smith, director of human resources; and Susan Nester, an independent compensation consultant, will speak at a meeting from 2 to 3 p.m. Sept. 25.
They will touch on topics including a market analysis of the university positions, the employee evaluation process, information from the budget committee, the pay plan schedule and more. The meeting will be in Room 303 of the UHV University Center and will be available on other campuses through Interactive Television. Staff members at UH Sugar Land will be able to participate in Room 301A of Brazos Hall. UHV staff in Katy may participate from Room 123 at the UH System at Cinco Ranch.
October's meeting will feature a presentation by Smith and Title XI Coordinator Chari Norgard to help ensure that staff members are aware of what is required under Title XI. Future events will be geared toward anything the staff is interested in hearing and learning about, Bures said.
The Staff Council meetings are the second Thursday of each month. Rooms will be specified in an email sent out three days before each meeting.
The University of Houston-Victoria, located in the heart of the Coastal Bend region since 1973 in Victoria, Texas, offers courses leading to more than 80 academic programs in the schools of Arts & Sciences; Business Administration; and Education, Health Professions & Human Development. UHV provides face-to-face classes at its Victoria campus, as well as an instructional site in Katy, Texas, and online classes that students can take from anywhere. UHV supports the American Association of State Colleges and Universities Opportunities for All initiative to increase awareness about state colleges and universities and the important role they have in providing a high-quality and accessible education to an increasingly diverse student population, as well as contributing to regional and state economic development.