Close
Counseling professor ready to lead UHV Faculty Senate
Elsa Soto Leggett has added the position of University of Houston-Victoria Faculty Senate president to her list of leadership and service.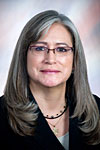 Elsa Soto Leggett
After the UHV associate professor of counseling and coordinator of the counseling education program served as Faculty Senate vice president last year, she thinks she is ready for her new role.
"I started shadowing our 2013-2014 president, Ron Salazar, earlier than usual, so that was really helpful for me to connect with some of the key people I will be working with this year," Leggett said. "I've also been a president of a state counseling organization division and a national counseling division, so I've had a little practice."
Salazar, an associate professor of management in the School of Business Administration, will remain a member of the executive committee as past president. He has known Leggett for about five years and said Leggett already has demonstrated her ability as a leader.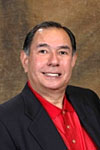 Ron Salazar
"Continuity of leadership is something all of us recognize as important," Salazar said. "Dr. Leggett has been involved for the last year as vice president in every step we've taken. She is eminently qualified for the role. She is an outstanding scholar and has been quite active in her specific area of counseling. She's served on several national boards of directors and is passionate about our university and our goals. She can be relied upon to be an advocate for the needs of our students and faculty."
As president, Leggett has several goals for the Faculty Senate and the university this year. One of these is ensuring faculty members feel represented during UHV's time of growth and transition, and giving them a chance to have their opinions and questions heard and passed along to the people who make the decisions. The Faculty Senate has a responsibility to advocate for faculty members as changes are made so they are not left feeling underrepresented or marginalized, she said.
"The Faculty Senate is a shared government within the university, so we do speak a lot with the provost, the president and his cabinet, and any other groups that govern the university because the faculty is a vital part of that," Leggett said "Faculty members need to play a role in policy decision-making, short-term plans and more. It's a very important role."
In addition, Leggett intends to continue to advocate for sufficient faculty resources as UHV grows its online and face-to-face programs.
"As we are working toward the university becoming a destination for students, we also want to keep in mind what would make UHV a destination institution for scholars and faculty," Leggett said. "This is how UHV grows in new ways, programs are introduced and students are encouraged to enroll. It's key that you have faculty members who can support and initiate those programs and put them into place. It's important for those faculty members to have a scholarly background, be highly qualified and be encouraged to stay and grow their careers with UHV."
Leggett joined the UHV faculty at UH Sugar Land in fall 2008 after working at Texas Southern University. She enjoys the smaller size of UHV, which allows her to spend more time with students and get to know other faculty members and people at the university.
"UHV's smaller size makes people more comfortable when they want to participate or have comments and questions," she said. "They recognize their senators and the executive committee, so it's easier to talk to people than it would be at a larger institution."
Joining Leggett and Salazar on the Faculty Senate are:
Executive Committee
Vice President – Jifu Wang, associate professor, School of Business Administration
Secretary – Justin Bell, assistant professor, School of Arts & Sciences
School of Nursing Representative – Vivian Nowazek, assistant clinical professor of nursing
Senators
Jeffrey Sartain – assistant professor, School of Arts & Sciences
Dmitri Sobolev – assistant professor, School of Arts & Sciences
Mark Ward – assistant professor, School of Arts & Sciences
Joseph Ben-Ur – professor, School of Business Administration
Nazif Durmaz – assistant professor, School of Business Administration
Ziad Swaidan – professor, School of Business Administration
Rachel Martinez – associate professor, School of Education & Human Development
Joann Olson – assistant professor, School of Education & Human Development
Barba Patton – associate professor, School of Education & Human Development
Lisette Barton – assistant professor, School of Nursing
Eugenia Blomstrom – assistant clinical professor, School of Nursing
Terry Kirk – associate clinical professor, School of Nursing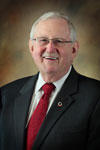 Vic Morgan
"The Faculty Senate is instrumental in the forward development of UHV," Interim President Vic Morgan said. "The faculty is at the core of building a student-centered university, and I look forward to working with the Faculty Senate to continue offering a quality education for our students and a positive environment for our faculty."
Leggett is looking forward to working with other members of the Faculty Senate. In addition to some experienced senators, there are some new members. She is glad to see the young members taking an interest in learning how they can lead and make a difference at UHV.
"I think we have a good bunch," Leggett said. "I'm looking forward to spending time with the faculty and making sure that the faculty's voice is heard in the midst of all the changes going on in the university."
The Faculty Senate meets once a month. Faculty members are welcome to attend any meeting. Twice a year, meetings are called for all faculty members. Meeting days, times and locations are posted on the Faculty Senate website.
The University of Houston-Victoria, located in the heart of the Coastal Bend region since 1973 in Victoria, Texas, offers courses leading to more than 80 academic programs in the schools of Arts & Sciences; Business Administration; and Education, Health Professions & Human Development. UHV provides face-to-face classes at its Victoria campus, as well as an instructional site in Katy, Texas, and online classes that students can take from anywhere. UHV supports the American Association of State Colleges and Universities Opportunities for All initiative to increase awareness about state colleges and universities and the important role they have in providing a high-quality and accessible education to an increasingly diverse student population, as well as contributing to regional and state economic development.