Close
Chax Press founder joins UHV faculty, publishing center
Charles Alexander, director of Chax Press, one of the nation's most innovative and active small literary presses, recently was named the new Poet and Designer in Residence at the University of Houston-Victoria and will move the press to the university.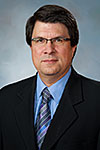 Jeffrey Di Leo
"The addition of Charles Alexander and Chax Press to UHV is another milestone in establishing one of the strongest and most vibrant literary arts programs in the nation," said Jeffrey Di Leo, dean of the UHV School of Arts and Sciences. "The students in our design and publishing programs will have the opportunity to study with one of the great figures in the contemporary letterpress world. We are truly humbled and very excited that he has joined our faculty."
Chax Press will become part of the UHV Publishing Center, which already includes the American Book Review, Huizache, Society for Critical Exchange, symploke, CentroVictoria and the Cuneiform Press.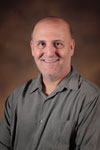 Charles Alexander
In addition to Alexander's work at Chax Press, he will direct UHV's Master of Fine Arts in creative writing program and the undergraduate program in communication design. Many of Alexander's classes will be held at the new home of Chax Press, the UHV Center for the Arts, which opened downtown in early September at 204 N. Main St.
"What a delight to bring my life in poetry, publishing and the book arts to Victoria and UHV," Alexander said. "I look forward to joining forces with UHV's strong publishing center and with innovative colleagues to serve literature, the arts, the community and our great students. We're going to make some terrific things happen."
Chax Press is known for a wide, inclusive, innovative and experimental vision in poetry, publishing poets that include Ron Silliman, Jackson Mac Low, Alice Notley, Linh Dinh, Nathaniel Mackey, Myung Mi Kim and many others.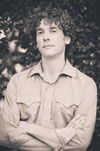 Kyle Schlesinger
"Chax Press is an important part of an American renaissance in book design," said Kyle Schlesinger, associate professor and director of UHV's Master of Science in publishing. "Our students are extremely fortunate to have the opportunity to study with Charles Alexander, a truly inspiring authority in the field."
Chax began as a press publishing books made by hand, employing handset type, letterpress printing and hand bookbinding. Trained in these arts at the University of Wisconsin-Madison by master bookmaker Walter Hamady, Alexander began putting such arts and crafts in the service of contemporary poetry while still a student in the early 1980s.
The press was created after Alexander moved to Tucson, Ariz., in 1984, and in 1989, it began to augment its fine letterpress book arts works by publishing literature in trade paperback editions. From 1993 until 1996, Chax was located in Minneapolis, where Alexander was executive director of the Minnesota Center for Book Arts.
Chax Press has been a nonprofit, 501(c)(3), independent press since 1986 and will remain so in Victoria while also contributing to the UHV Publishing Center and to education in the fields of design, publishing and creative writing. Chax has throughout its existence been a significant community and arts cultural builder, fomenting collaborations among artists of diverse disciplines, convening public conferences and symposia on a variety of poetic subjects, and presenting several public series that have included poets, performance artists and media artists.
In the past, the National Endowment for the Arts, state and local arts councils, and several private foundations, including the Fund for Poetry, have supported Chax Press.
Alexander has received the state of Arizona Distinguished Artist Award, been invited to participate in the TAMAAS poetry seminars in Paris, France, and consistently is recognized as a leader in his field. As a poet, he is the author of 15 books and chapbooks, including "Pushing Water," published by the Cuneiform Press of Victoria.
The University of Houston-Victoria, located in the heart of the Coastal Bend region since 1973 in Victoria, Texas, offers courses leading to more than 80 academic programs in the schools of Arts & Sciences; Business Administration; and Education, Health Professions & Human Development. UHV provides face-to-face classes at its Victoria campus, as well as an instructional site in Katy, Texas, and online classes that students can take from anywhere. UHV supports the American Association of State Colleges and Universities Opportunities for All initiative to increase awareness about state colleges and universities and the important role they have in providing a high-quality and accessible education to an increasingly diverse student population, as well as contributing to regional and state economic development.