Close
UHV's freshman, undergraduate enrollment continues growth
The University of Houston-Victoria has set a record with a 17.4 percent increase in new freshmen and first-time-in-college students starting classes at the university this summer or fall, according to preliminary enrollment figures.
The 12th-class-day count shows that a total of 355 freshmen started classes at UHV this summer or fall. An additional 23 students are also considered "first time in college," meaning they have not been college students before but are coming to UHV with some college credit because they took dual credit courses in high school. Comparable figures in fall 2013 showed 312 freshmen starting UHV classes in the summer or fall and 10 additional first-time-in-college students.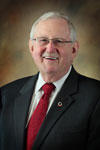 Vic Morgan
"We are thrilled that UHV continues to grow as a comprehensive, regional university," UHV Interim President Vic Morgan said. "More people are learning about all we have to offer students with our small class sizes, outstanding faculty and staff, affordable tuition and personalized attention."
Although overall preliminary enrollment at the university remained nearly the same as last year, with 4,479 students attending UHV this fall compared with 4,515 in fall 2013, the total number of undergraduate students increased 5.7 percent, from 2,906 to 3,072 students.
In addition to the upswing in the number of freshmen and first-time-in-college students, the increase in the number of undergraduate students this fall also can be attributed to higher retention rates, said Jeffrey Cass, UHV provost and vice president for academic affairs. Fifty-six percent of the freshmen who started at UHV in fall 2013 came back this fall, compared with 48 percent the year before.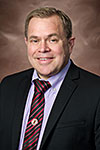 Jeffrey Cass
"This is great news considering that we have only offered classes for freshmen and sophomores since fall of 2010," Cass said. "We are working to not only increase our freshmen enrollment each year but also increase the number of students who return to finish their undergraduate degrees."
As part of its goal to increase retention rates, UHV has started a new program this fall that focuses on residential learning communities. Freshmen in these groups of 20 to 25 students will together take part in academic and social activities that university administrators hope will increase grade-point averages, team work, engagement with faculty and retention. The residential learning communities are part of UHV's Quality Enhancement Plan, a required component of the university's 2014 accreditation review by the Southern Association of Colleges and Schools Commission on Colleges.
UHV's freshmen will take part in some of these activities at Jaguar Village, where the university's three residence halls are located. Jaguar Hall, Jaguar Court and Jaguar Suites are at 90 percent occupancy right now, compared with 76 percent occupancy at this time in 2013. Out of 606 available beds in Jaguar Village this fall, 544 are filled.
"We've gotten off to a great start, and you can feel the excitement in the air on campus," Morgan said. "It's going to be a terrific academic year."
Final fall enrollment figures will be released later in the semester after certification from the Texas Higher Education Coordinating Board.
The University of Houston-Victoria, located in the heart of the Coastal Bend region since 1973 in Victoria, Texas, offers courses leading to more than 80 academic programs in the schools of Arts & Sciences; Business Administration; and Education, Health Professions & Human Development. UHV provides face-to-face classes at its Victoria campus, as well as an instructional site in Katy, Texas, and online classes that students can take from anywhere. UHV supports the American Association of State Colleges and Universities Opportunities for All initiative to increase awareness about state colleges and universities and the important role they have in providing a high-quality and accessible education to an increasingly diverse student population, as well as contributing to regional and state economic development.